Key points:
Bimoe Tech has been down as much as 64% this morning
This is on the back of the interims which are not good
It's not just interims, it's customer resistance to bioplastics
Biome Technologies (LON: BIOM) shares are down 64% and counting this morning on the release of their interim results. It has to be said that BIOM shares have not done well by investors, they're down to 70 pence odd at pixel time, the high a year back was 432p. A near 84% destruction of shareholder value just isn't a good look. 18 months back there was a run up in Biome as they gained funding. The BIOM jumped again on US sales. This all started to come apart just over a year back for Biome Tech.

Well, that's the sort of thing that can happen with small caps chasing new markets. And Biome is in a new market. There's the RF tech systems business and then the bio plastics. Trying to get biologically sourced plastics to replace oil derived ones. That second, at least, is running with the fashionable flow these days. But pioneering new markets is always difficult.
But the problem with the interim results isn't really quite that. The difficulty of new markets – rather, it's the difficulty of the current economic structure. This coming in two parts. The first is the well known logistical problems that so many are having. Chip shortages have cut even the production of car giants, let alone RF tech manufacturers. That's all part of lockdown and then reopening and it, at least we all hope it is, a one off event that will be overcome in time.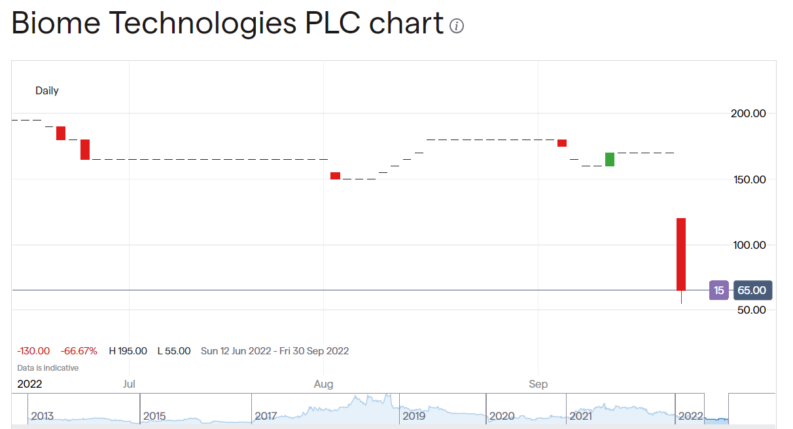 Also Read: The Best UK Small And Microcap Stocks
What worries more though is the prediction for the future. It is, of course, that future which determines share prices, not the past. In their interims Biome say:"The Board now believes that Group revenues for the years ending 31 December 2022 and 2023 will be substantially below current market expectations with a consequential substantial impact on the Group's loss/profit" That is, this isn't something that's about to go away as those logistics problems – hopefully – recede. That's not good news of course.
This effect tho' is split. The RF business does seem to be overcoming logistics problems and the board indicates that there will be recovery there. It's the other part that worries more: "Biome Bioplastics is also experiencing other customer launch delays related to raw material supply, logistics and uncertainty of end-consumer behaviour in the current economic climate". It's possible to put a very dark interpretation upon that. Bioplastics might be a luxury good – something we spend smaller portions of our income upon as our incomes fall. Another way to put this, sure, we'll give up oil based plastics when we continue to get richer. Because the planet and all that. But if we start to feel the squeeze the Heck with Gaia and give me price performance. If that's true then bioplastics are going to be a significant casualty of the coming recession.
A reasonable guess at Biome's future valuation is that it's a test of how much we'll all still be green if it costs us money in hard economic times.