Key points:
Canadian Overseas (COPL) shares spiked 14.2% on oil confirmation.
The company received an independent report showing 993.5m barrels of oil.
COPL will start its next drilling camping in Q4 2022.
The Canadian Overseas Petroleum Limited (LON: COPL) share price spiked 14.17% after an independent report prepared by Ryder Scott confirmed the company's oil discovery in Converse and Natrona counties, Wyoming, USA.

Investors cheered the Report that confirmed the presence of 993.5 million barrels of oil within the company's Wyoming license area. In addition, the Report was prepared in compliance with Canada's regulations on conservatism in evaluating oil and gas resources.
Also read: Long Term Prospects of The Top Energy Shares.
The independent Report confirms the presence of significant oil reserves within COPL's Wyoming license areas, which the company first discovered in January 2022. However, COPL shares had given up most of their initial gains as of writing.
The markets' initial positive reaction was quickly superseded by the reality that the company would now have to commence its drilling program. As a result, it would take a while before COPL can start generating revenues from the Oil deposits.
The Canadian Overseas Petroleum Limited confirmed that it would drill one horizontal Frontier 1 well and two horizontal Frontier 2 wells starting in Q4 2022 as part of its 2022-23 drilling campaign. Two horizontal wells drilled will offset the 14-30V discovery well finished in Q3 2021.
Arthur Millholland, COPL's President & CEO, commented: "This independent Report validates what we announced at the start of the year and highlights the significant potential of our fantastic Wyoming asset. Compiled to Canadian regulatory standards, the Report gives a conservative view. We expect to see further exploration upside in due course once our drilling program gets underway in the coming months. Following on from the recent financing and completion of the Cuda Energy acquisition, this Report is another step forward as we transform into an oil producer of scale."
So, should you buy COPL shares? The company's shares look pretty attractive at current prices, especially to long-term investors who can buy and wait for the firm to start producing oil in a few years.
*This is not investment advice. Always do your due diligence before making investment decisions.
COPL share price.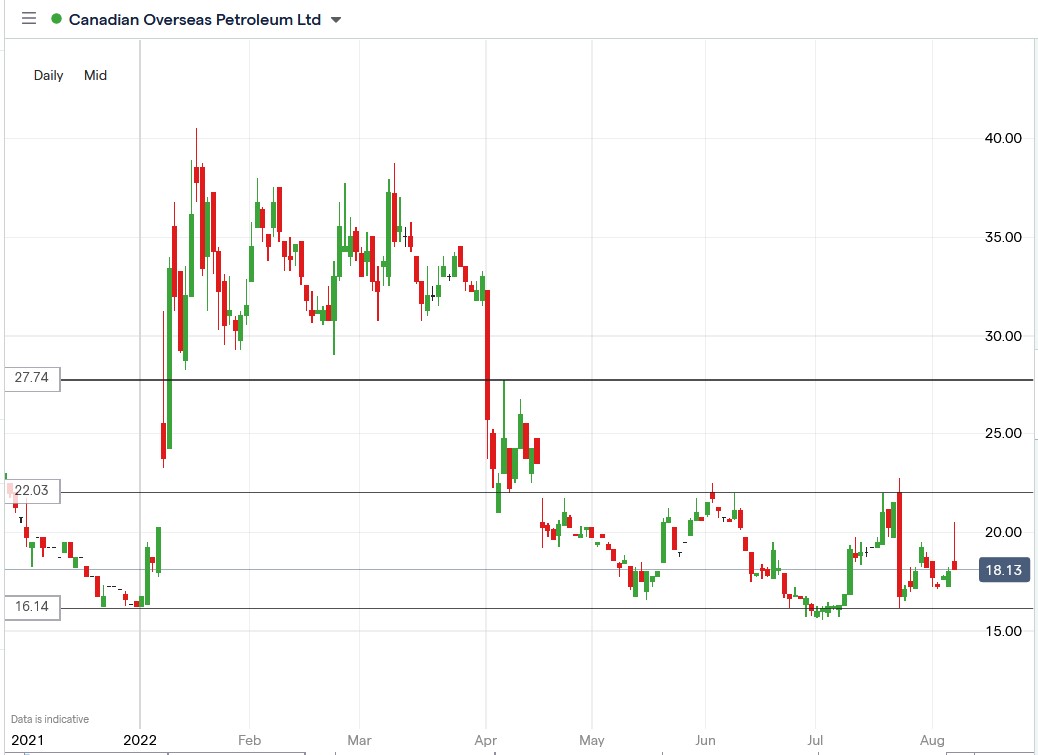 The COPL share price spiked 14.17% higher to trade at 20.55p, rising from Thursday's closing price of 18.00p.