Key points:
Cardano Has Been Basing Since May
ADAUSD Has Recently Produced Short/ Intermediate-Term Bullish Signals
Cardano Bullish Price Predictions
The cryptocurrency Cardano (ADAUSD) has been in a sideways consolidation phase since May. But over the past 1-2 weeks, upside gains have produced some positive short-term technical signals, that could be seen as more significant intermediate-term charting indications. This leaves the asymmetrical risk for a more aggressive advance for Cardano in the coming weeks and months.

Cardano Has Been Basing Since May
Cardano reached a low of 0.3885 on Thursday 12th May. It is interesting to note that compared to many other cryptocurrencies and notably Bitcoin (BTC) and Ethereum (ETH), ADAUSD did NOT see another significant down final leg of the 2022 crypto bear market in June.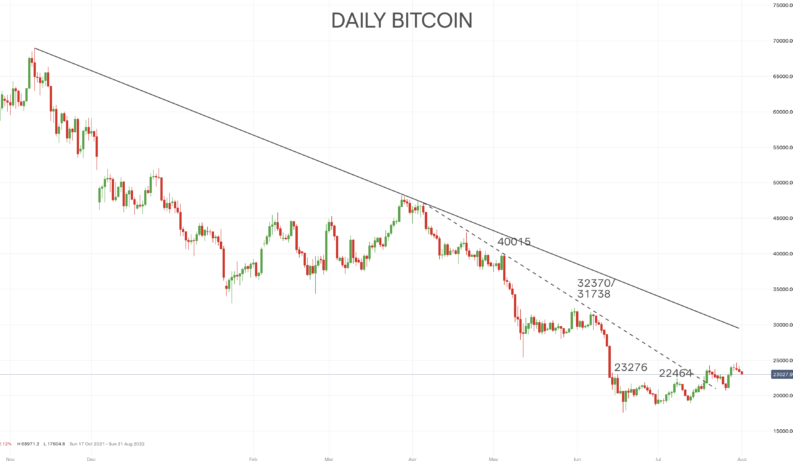 Cardano has been in an elongated, sideways consolidation pattern, which is viewed as a strong, rounding base after a significant bear market.
ADAUSD Has Recently Produced Short/ Intermediate-Term Bullish Signals
Cardano has rallied just over 33% in July from trough to peak, a solid and robust performance. Moreover, the latter July push above the mid-June swing peak at 0.5466 signalled a short-term base with the move to 0.5485. This was followed by a swing back lower and then, over this weekend at month-end, another rally to overcome the 0.5485 peak to 0.5555.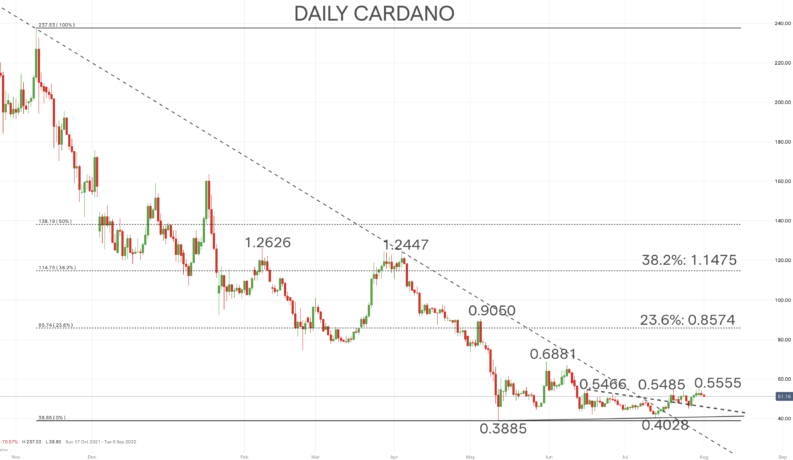 In addition, the push above the Triangle consolidation resistance line and more notably, the downtrend line from the November 2021 swing high, highlights a stronger recovery potential.
The initial July rally to 0.5485 was a short-term bullish signal for a bottom, but the subsequent higher low and higher high to 0.5555 indicates potential for a better, intermediate-term basing pattern and more sustainable recovery phase into August and beyond.
Cardano Bullish Price Predictions
The initial upside target would be for a rally in August towards the late May swing high at 0.6881. However, given the potential for ADAUSD to play catch up with the rallies seen by Bitcoin and Ethereum, there is a threat for a more robust advance through the summer and beyond into September and Q4.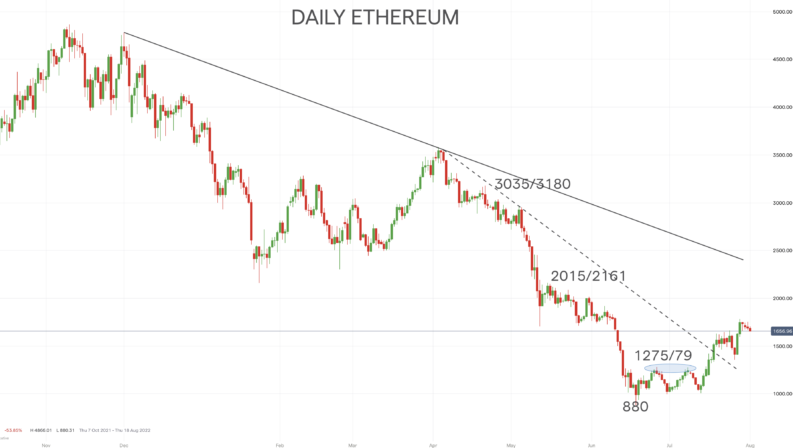 Above 0.6881 would open up a threat to challenge the 23.6% Fibonacci retracement of the November 2021-May 2022 down move, which comes in at 0.8574 and then just above here the early May failure peak at 0.9050.
Further out, the threat above here is for a more bullish FOMO (Fear Of Missing Out) rally to occur and see a leap beyond the summer towards the area describes by the 38.2% Fibonacci retracement and March and February swing highs at 1.1475/1.2447/1.2626.