But while today's cashless society may be a symptom of circumstances we cannot control, the reality is that our future will be impacted by the coronavirus for years to come. Just as the way we work – remote, online, flexibly – is being touted as the 'new normal' for businesses, the cashless society is something those in retail, finance and wider economic concerns will no doubt be expecting to continue once lockdown is lifted.

The following report is based on a study conducted by AskTraders financial analysis team. We asked UK consumers to tell us about their attitudes toward cash, exploring the potential impact of a cashless society.
Cash and the spread of infection
The move toward a cashless society, currently, is being driven by th Covid-19 pandemic. There is recognition amongst consumers and businesses that the handing over of physical cash holds risks and therefore cashless methods – be it online shopping or contactless payments in store – are taking priority.
One of the primary concerns identified in this study of consumer attitudes toward cash is that of the spread of infection through money exchange – with 75% of consumers stating they worry that using cash leaves them vulnerable to germs and infection.
While undoubtedly spurred on by the coronavirus pandemic, the idea of dirty money is not a new one. In 2018, an analysis by London Metropolitan University identified potentially life threatening bacteria on UK coins and notes. Dr Paul Matewele, who sadly lost his own battle with Covid-19 earlier in April 2020, led the research and at the time, said:
"One of the most shocking discoveries was finding so many microorganisms thriving on metal, an element on which you wouldn't normally expect to see germs. The bugs have adapted to their environment, resulting in coins becoming a breeding ground for harmful bacteria.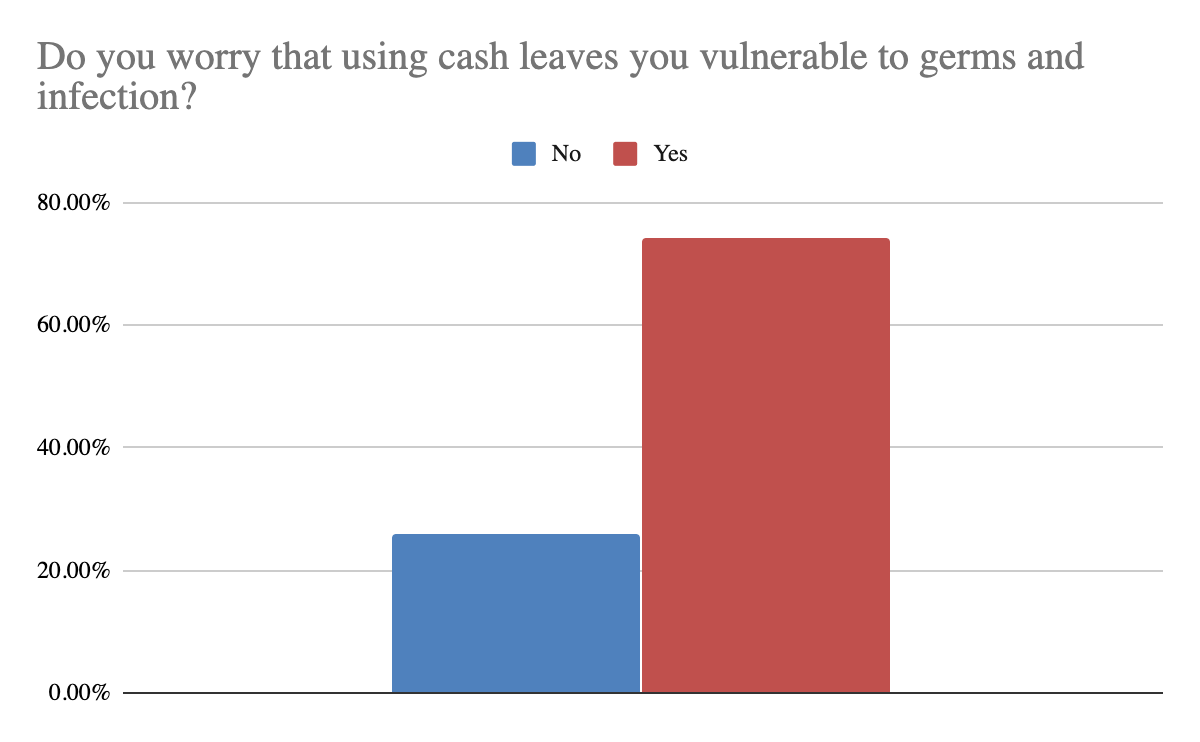 "People who have compromised immune systems could be most at risk from handling dirty money – if you're visiting people in hospital or who might be vulnerable to infection, you could unknowingly transfer bacteria off your cash which is resistant to antibiotics."
Well-placed or not, these beliefs amongst consumers that using cash could be detrimental to their health is one of the key drivers of a move toward a cashless society. Though forced upon us now, this altered perception – along with the fact that many businesses have already had to make changes to facilitate cashless payments – will underpin the growth of cashless as a preferred medium into the future.
Clare Bailey is an independent retail expert. She provides the following insight into the retail impact of consumer worries around cash:
"Cashless society is something we've been nudging toward for some time, but a lot of retailers have previously assumed that taking card payments is more expensive. But what they weren't considering is the cost of using cash; the cost of someone having to cash up the till, get the money to the bank, keep a supply of change, plus the risks around taking the physical cash to the bank – all of these things are a major headache, and represent the true cost of cash in business.
"In these ways, cash actually leaves retailers more vulnerable and incurs costs. There's no reason why all independent retailers shouldn't take all forms of contactless payment.
"If we think of it another way, the members of society who want to stick with cash, typically, tend to be a bit older, and they are actually more vulnerable themselves, so it may be that the cashless effects of the pandemic will change the paradigm around their attitude to cash.
"It's worth noting that anyone over 6 years old can have a contactless card, e.g. Go Henry. There really is no reason for people to cling on to cash if there's that much consumer demand considering cash being unhygienic. We can expect consumers to be much more mindful of their own safety even after lockdown is lifted so this insight into the worries of consumers around using cash is important."
Giving money to others
The use of money isn't done solely in exchange for goods. Cash is used in various other ways and our study explored how consumers see this changing in the years to come.
Tipping in a cashless society
Paying for goods with cashless methods is one thing. But what about the use of cash when it comes to tipping someone for a service such as a waiter in a restaurant or a host in a bar?
In the same study, UK adults were asked about their propensity to tip in a cashless society, with just under two-thirds (63%) saying they would not tip if they weren't able to do so using cash: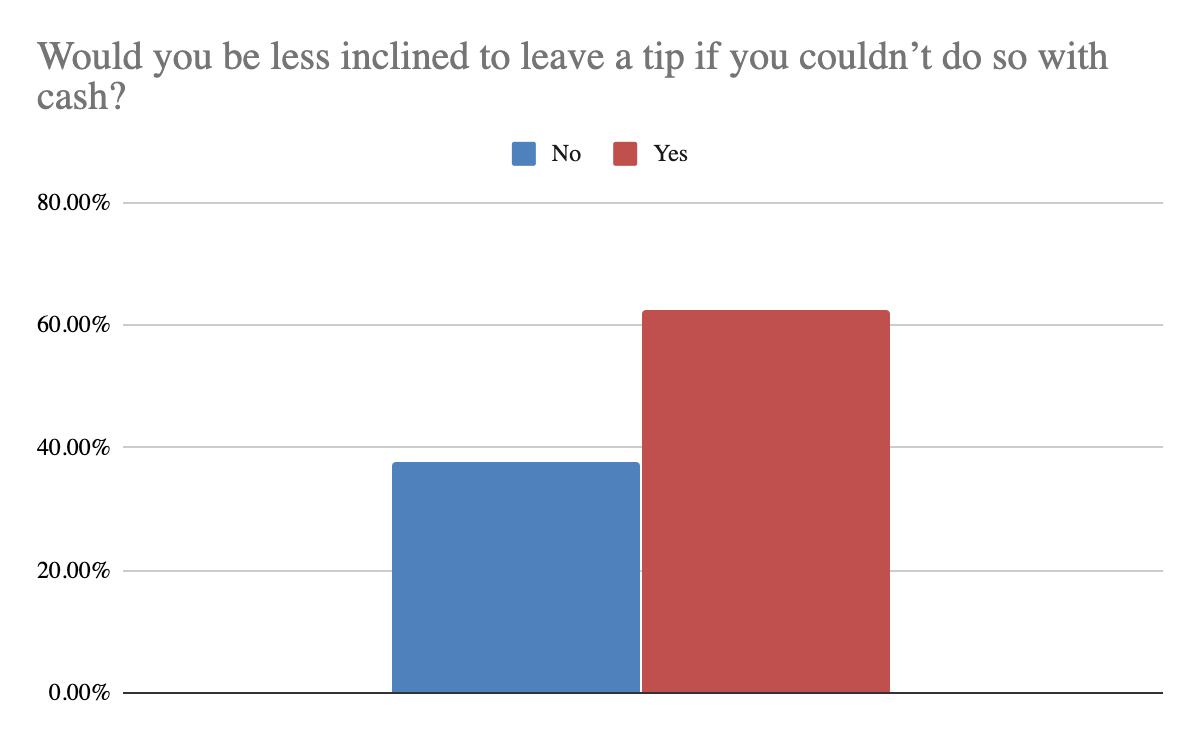 According to Visit Britain, it is customary to tip a minimum of 10% when receiving a service such as a haircut, food service or a taxi ride.
In Britain, the average cost of a haircut for males is £13.70 and for females, £25.00, meaning approximately £81,270,000 could be lost in missed tips every year (assuming every adult has their hair cut just once per year) – unless retailers and consumers are able to adapt and provide cashless tipping facilities. That's over £500 for every one of the 250,000 people employed in the hairdressing sector alone.
Abigail Oleck-Hewett MD BeauSkin London, runs a beauty salon. She said:
"We have advised clients to book  future appointments online and purchase retail from the e-commerce site. We have also suggested setting up Paypal for our customers and clients. We are giving customers plenty of notice on these changes and to date everyone is agreeable and understanding and we are training staff in all the new changes. Clients can make debit, credit card payments on the day though our world pay terminal.
"A cashless society for our business is preferable to us, firstly for hygiene reasons and secondly, it saves time depositing cash at the bank, saving man hours.  We are also recommending  prepaid gift cards purchased through the website, over the phone with a debit or credit card and via Paypal.
"Unfortunately, clients are very much less inclined to tip when using cashless, especially when prepaying for treatments and booking online. Therefore, we will be working on a % commission for our team on all retail orders from their clients, even online orders and treatments bookings."
Clare Bailey added:
"When you talk about tipping, for example, there are forms of contactless tipping. The technology exists and if people move away from cash, those technologies will become more accessible."
Donating to charity
In a report released earlier this month, the Charities Aid Foundation found that, by some measure, cash remains the most common way to give to charity – 53% of people who gave to charity in the last year gave cash – making it both the most popular way to give and essential for spontaneous donations to those in need.
The effect of the crisis on the bottom line of many small charities has been profound and 1 in 10 said they could not afford to buy the technology that would enable them to take cashless donations.
However, the survey also found that many charities have already moved towards digital donations with 4 in 10 (41%) saying they can accept donations through their own website and the same amount said they were set up to accept donations through other digital means such as online platforms.
A further quarter (24%) said are already accepting contactless donations and almost 1 in 5 (18%) reported that they see the COVID-19 pandemic as an opportunity to modernise and some had accelerated their plans to shift their fundraising towards online efforts.
Susan Pinkney, CAF's Head of Research said:
"These results are a true worry for so many charities relying on cash donations – which are vital to charities in the UK and so many have seen that source of income disappear overnight.
"While some have been able to adopt new technology such as digital charity collection tins, the nature of this crisis means that they are unlikely to alleviate the problem as so few people are out on our high streets at the moment.
"It is very good news that some charities are seeing this as a chance to move to digital donations, but we worry about those charities being left behind at a time when their services are in such demand."
Giving cash as a gift or pocket money
Cash is also something we give as a gift to a loved one or as pocket money to our children. According to our study, and in spite of concerns around the hygiene of cash, just under two-thirds of respondents still anticipate giving cash as a gift or allowance – although this still indicates nearly half of consumers will not be doing so.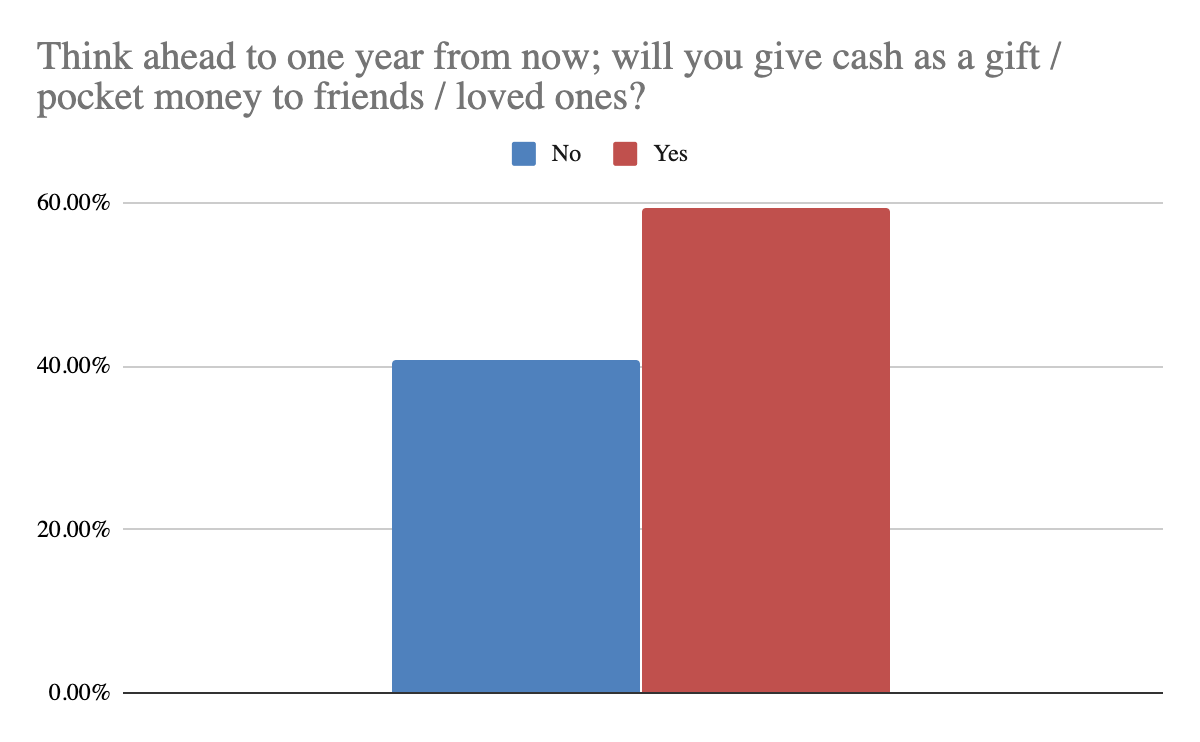 Though recent experiments on the effect of cash on child development are difficult to come by, one such study in 1991 did show that giving children cash at home improved their financial responsibility in test conditions; however, with child bank accounts readily available, other researchers suggest the value of this lesson in money can still be learned digitally.
Getting 'short changed'
While the concerns around using cash lie primarily in hygiene, there are positive effects if consumers and retailers choose to move to cashless methods. Some examples have been shared already – including the lower risk of not having cash on-premises and the recognition of the cost of carrying cash, too.
From a consumer perspective, there are also savings to be made. As the study reveals, one in four consumers has been short-changed by more than £1.00 in the past 12 months, which could equate to savings of around £13 million per year in a cashless society.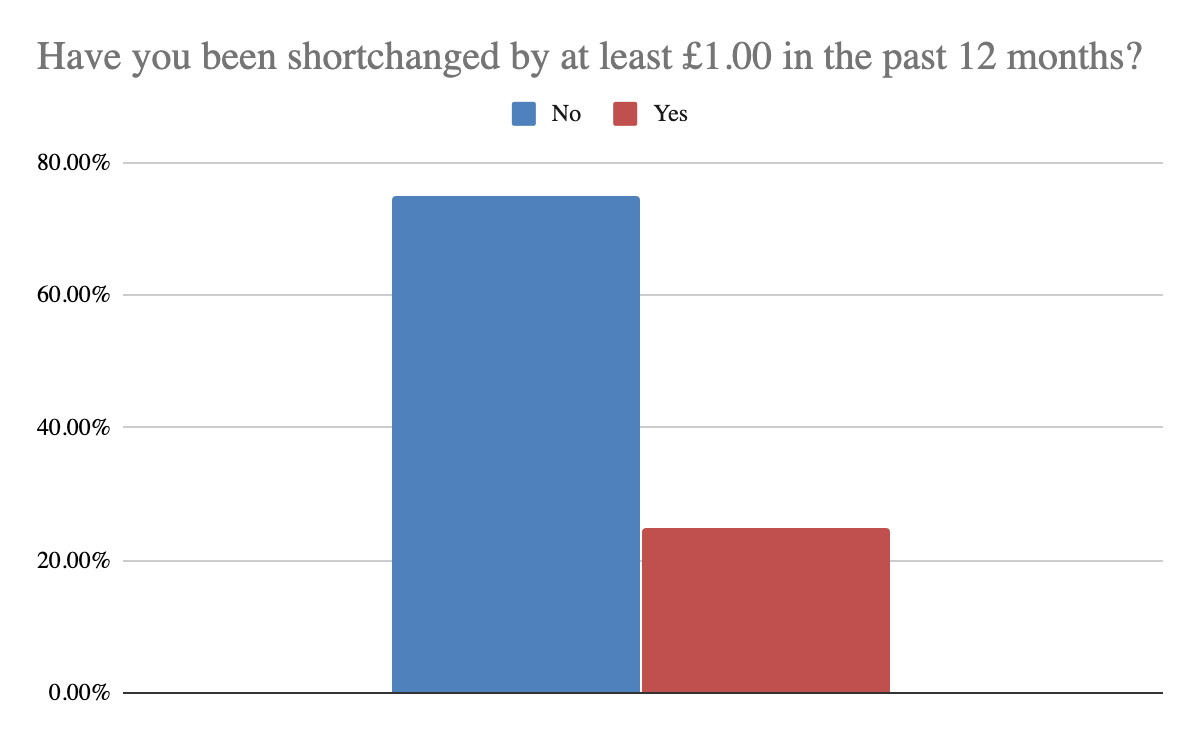 The rise of cryptocurrency?
The increasing reliance on cashless payment has also opened up many conversations on the role of cryptocurrency in society. But while the digital cash format has been growing in popularity in recent years, it has yet to reach the tipping point as a method for payment beyond crypto trading.
According to our study, 85% of consumers remain unsure as to whether they will use cryptocurrency for anything other than trading in the next five years, though 8% have started purchasing currencies like Bitcoin since the pandemic began.
Nigel Frith, senior finance analyst and cryptocurrency expert at AskTraders, explained:
"With good reason people do not like using cash anymore. We all agree it carries many germs and now with Covid-19, it is a big risk.
"Over the last 12 months, there has been a huge rise in Bitcoin ATMs and there are more and more retail outlets accepting BTC (albeit that the growth of this slowed a lot during the BTC crash). We are facing a very uncertain future for Fiat currencies, with so many governments propping up their economies with a form of quantitative easing, and inflation is likely to surge and the value of many Fiat currencies is likely to go down.
"I believe that BTC is not only increasing as a potential safe haven (as crazy as that sounds) but as a potential replacement globally if Fiats go into meltdown. This has always been the promise of the benefits of a decentralised Fiat currency.
"The USD has an especially big risk with a) oil prices and b) the warning shots Trump is making over the $1tr debt repayment to China. If the USA defaults on this then the USA credit rating will be hurt and the value of the dollar will plummet."
Britain's favourite coin, revealed!
In the event of society moving to cashless payments, we wondered what forms of currency would be most missed. Our study asked respondents which coin or banknote they considered their favourite – not in terms of value, but simply the overall look, design and feel.
According to the study, the coin we would miss most in a cashless society is the £2 coin.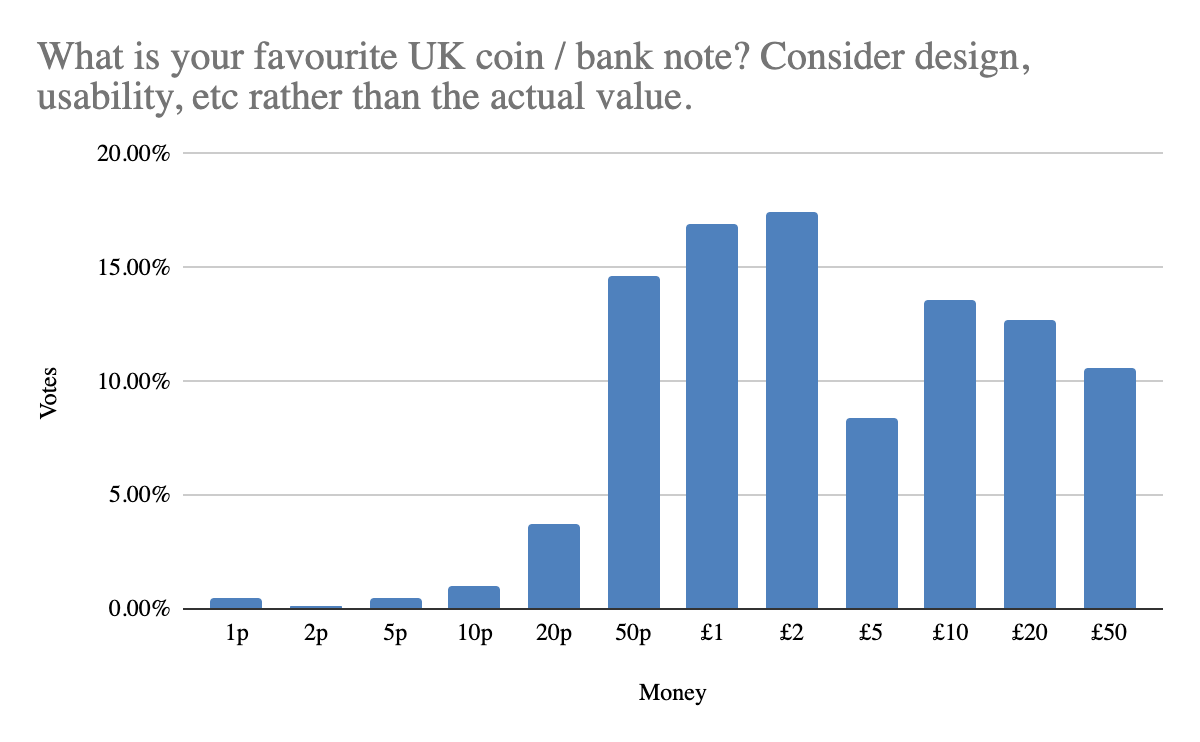 There are an estimated 217 million £2 coins in circulation, with no new £2 coins (other than commemorative editions) being added since 2017. If we are headed to a cashless society, this might be the one to start collecting!
Using foreign currency
The UK isn't the only place where we might utilise cash. Foreign currencies are another consideration for a cashless society; without cash, how would consumers view their options for foreign payments?
According to our study, 8 in 10 consumers still prefers to use cash when travelling abroad: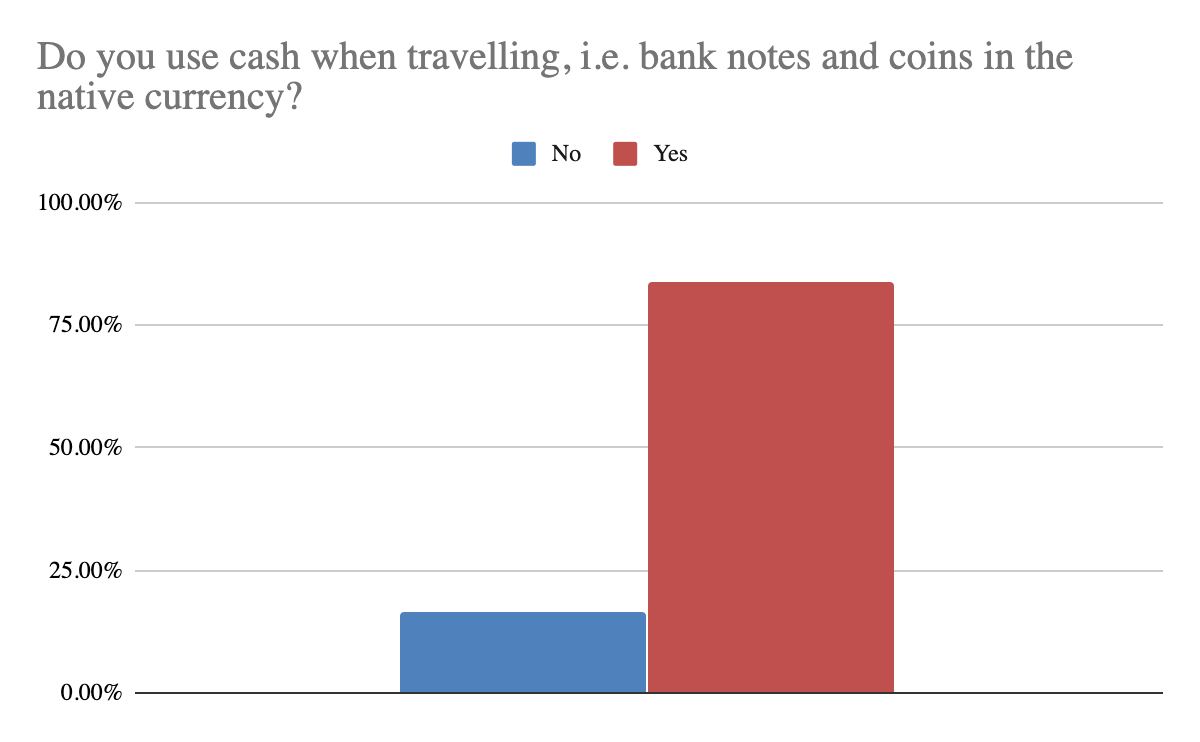 Advice for retailers
Google's data shows that the number of people searching for 'cashless society' is up threefold since the rise of the Covid-19 pandemic.
While the virus itself has driven the current cashless format, the reality is that British consumers are unlikely to want to move back to cash, even post-coronavirus, as concerns around hygiene, combined with a growing comfort level when using cashless methods, drive a longer term change in behaviour.
So, how can retailers respond?
Clare Bailey explained:
"For those businesses who do decide to move to cashless, there are plenty of options. One is to start with the British Independent Retail Association; membership is free at the moment, and they offer lower cost payment options for small businesses.
"There are also the technologies that plug into the bottom of mobile phones that allow card payments, so even retailers without physical stores like market traders can have them. Or for those who are smartphone enabled, you can simply bump phones to take payment using things like Google Pay and Apple Pay."
It may be relatively straightforward, then, for retailers to move to cashless but, according to Andrew Busby, retail analyst, it's important to retain some cash functionality to provide for those less able or unwilling to use alternative methods.
"Even before the coronavirus pandemic, cash usage was dropping, and according to Finextra, in the first few days of lockdown it halved. This trend risks marginalising the elderly and the vulnerable and those near 8 million people who do not have a bank account. Any move towards phasing out the use of cash must be done in a very carefully managed way, as so many people are dependent on it."
"It is now more important than ever to ensure no one is left behind," said Jeni Mundy, UK and Ireland managing director at Visa.
"For some, cash remains the only option and as availabil- ity of cash reduces, we need to find ways to avoid excluding these individuals from the financial system."
How consumers like to pay without cash
If a move to cashless payment is on the cards for your business, it's worth noting that the majority of consumers prefer to pay by card, as opposed to mobile phone or smart watch: