Key points:
Centamin shares edge higher on an upbeat Q2 trading update.
The company produced more gold in Q1 compared to Q2.
However, the muted investor reaction was triggered by the lower gold prices.
The Centamin PLC (LON: CEY) share price edged 4.7% higher after the gold mining company with operations in Egypt released its Q2 trading update showing an increase in total gold production to 110,788 ounces (oz), representing an 11% increase on an annual basis.

The gold produced in Q2 was also 19% higher than in Q1 2022. The company attributed the higher production numbers to its underground mine operations after taking over from the contractor previously running the operations.
Also read: The Five Best Gold and Gold Mining Stocks To Buy Now.
The gold miner generated $207.2 million in revenues in three months after selling 111,027oz at an average price of $1,863/oz. The company highlighted the impact of its cost controls on its cash costs per ounce of gold produced, which fell 2% to $868/oz in Q2 compared to Q1. However, its all-in sustaining costs rose 5% to $1,357/oz sold.
Centamin has a robust balance sheet with liquid assets worth $176.4 million as of 30 June 2022. The company plans to unveil a new capital structure that optimises the cost of its capital and shareholder value in Q3 2022. The mining firm also noted that inflationary pressures would drive up its costs, which it expects to be in the upper part of its range of expectations.
Investors cheered the company's reaffirmed production and cost guidance for the current fiscal year, with an annual production target of 430,000 to 460,000 ounces and cash costs of $900-$1,000/oz. The miner's all-in sustaining costs (AISC) are estimated at between $1,275 and $1,425/oz sold.
Still, investors' reaction to the update could have been more pronounced were it not for the falling fold prices. The yellow metal was trading above $2,000 an ounce in March but has since fallen to just above $1,700, a massive $300 drop. Furthermore, gold prices are expected to keep falling as the US dollar surges higher, driven by the Federal Reserve's interest rate hikes.
Centamin's shares are trading above a long-term support level in place since February 2016. However, there are no guarantees that we will not get a further decline. So, should you buy Centamin shares? Well, that depends on whether you think gold prices will rise in future.
*This is not investment advice. Always do your due diligence before making investment decisions.
Centamin share price.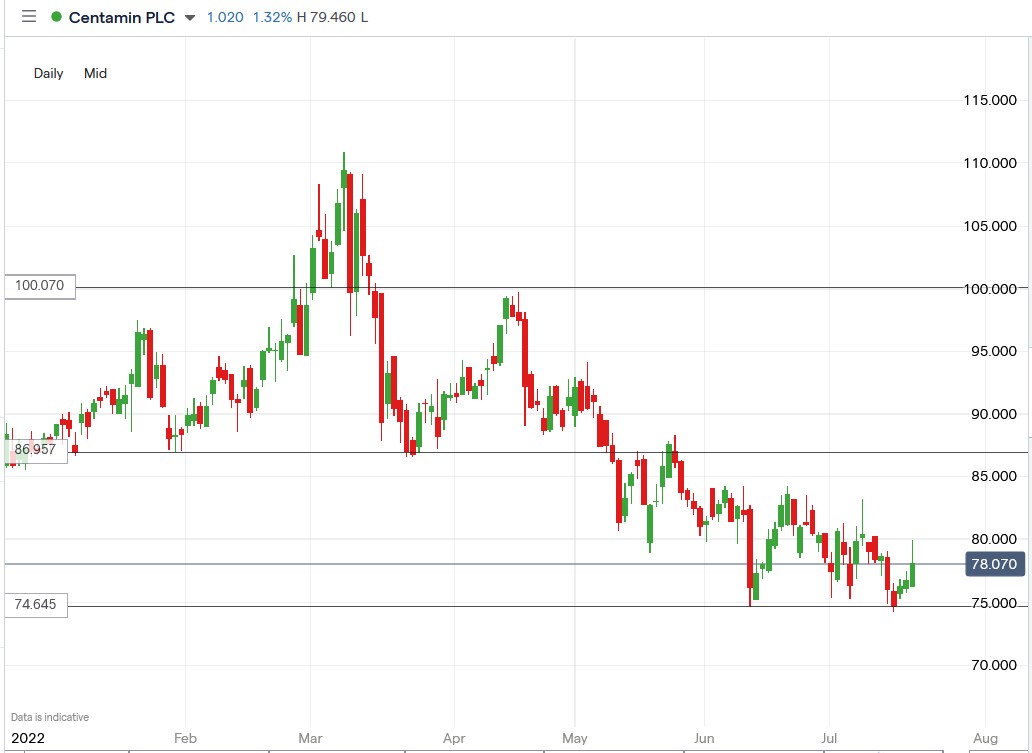 Centamin share price edged 4.7% higher to trade at 79.99p, rising from its opening price of 76.23p.