Key points:
Kazera Global is looking to mine lithium at its tantalite mine
A necessary part of that plan is a tie up with the Chinese lithium processors
That's what Kazera has just achieved
Kazera Global (LON: KZG) shares have jumped 20% on the announcement of a "transformational" lithium deal concerning the activities in Namibia. It is indeed a transformational deal because it puts in place the necessary part for their lithium mining ambitions. But whether it's quite worth that much is another matter. For the price achieved could, by some measures, be regarded as rather low.

We have to admit to having ever such a slight bias here. Nothing important, just something that grates. Kazera talks often enough of "tantalum" mining and production which isn't what the company does at all. It produces tantalite, the ore from which tantalum can be extracted. Perhaps minor but the lack of accuracy does grate.
On the other hand, tantalite and lithium do often go together. The main hard rock lithium ore, spodumene, often is also a source of tantalite – Greenbushes, the major Australian mine used to be a major tantalite source for example. Indeed, at times, the lithium has been seen as a not very useful byproduct. So, if you're a tantalite producing mine, which is extracting from this sort of geology, then sure, lithium could be another material to be co-produced. The thing is, if you're going to be producing lithium from spodumene then you really rather do need a Chinese tie up.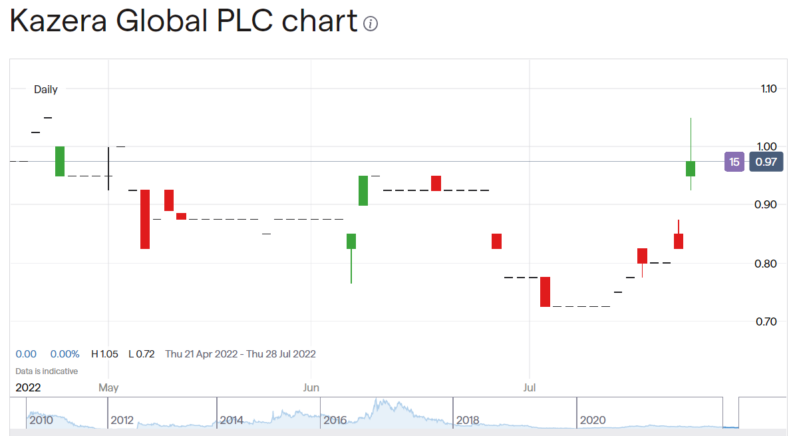 Also Read: The Best Lithium and Lithium Mining Stocks To Buy
The point is that the mine will produce a spodumene concentrate – usually about 6% lithium. That then needs to go to a concentrate processor and the industry is hugely concentrated in China. Therefore a standard part of a hard rock lithium play is to gain some of the investment required by linking up with a Chinese processor. The processor gets the guaranteed feed to run through its plant, the miner gains finance to build the mine. A deal to mutual advantage. There's nothing very odd about this idea then, that Kazera has sold the marketing of the lithium from the proposed extraction to a Chinese company.
What might be less value additive is the price at which it has been sold – 49% of that marketing arm has been sold to provide the capital and machinery to bring the mine into lithium production. That might be considered a high price – from the Kazera side – or a low price from the Chinese.
It's also possible to be more than a bit worried about the sheer scale of other lithium production plans out there. Hard rock mining is always the marginal producer here, brines and geothermal are always cheaper. So if all the mines currently planned come on line there's a significant possibility of lithium overproduction and it will be the hard rock mines that have to worry about that first. Plus, obviously, given that lithium and tantalite can so often be co-produced, what's that expansion of spodumene mining going to mean for tantalite prices?
This specific deal is indeed an advance for Kazera but note needs to be taken of the long term here.