Key points:
Ceres Power shares are currently trading in a wide range after rising 51%.
A break higher could lead to more gains; a break lower could lead to losses.
Therefore, investors should wait for a break out of the range before buying.
The Ceres Power Holdings plc (LON: CWR) share price has risen 51% since bottoming in late February, leaving many wondering what's next for the green energy hydrogen power company.

Ceres Power shares bottomed on 24 February 2022 after Russia invaded Ukraine, triggering concerns about the UK's and Europe's energy security. Russia supplies a significant portion of the natural gas used by European countries.
Investors shifted their focus to companies providing alternative energy sources that could lead to energy security in countries that could be most affected by a ban on Russian oil and gas imports.
Ceres Power benefitted from the shift in investor sentiment towards sustainable energy companies. The company specialises in developing and licensing technologies that lead to the generation of green hydrogen.
The company is increasingly playing a crucial role in developing cutting-edge technologies for the widespread use of hydrogen power as an energy source in the UK, Europe, and maybe globally in the future.
The hydrogen energy company released its full-year earnings results on 17 March 2022, where its revenues surged 44% to £31.7 million, driven primarily by higher licensing fees, which more than doubled.
Investors cheered the results, but the market's reaction was less buoyant than expected since Ceres Power shares traded sideways. As a result, the company's shares have run out of bullish momentum.
Our Ceres Power price prediction starts with the current trading range formed after CWR shares hit a high of 823.5p earlier this month, marking the upper bound of the trading range. The lower boundary of the range can be found at the 697.5p support level, which would lead to a further decline in CWR shares if broken.
A break above the upper resistance level of 823.5p would lead to further gains for investors, with Ceres Power shares heading to the 931.5p resistance level, the next critical level. A break above this level would see the shares rally to the 1098p resistance level.
Therefore, there are multiple ways in which the Ceres Power share price could move from current levels. Therefore, long term investors should wait for a break out of the current range before buying or selling the shares.
However, short-term traders may buy at the bottom of the range and sell at the top with tight stop-loss orders if the price reverses course.
*This is not investment advice. Always do your due diligence before making investment decisions.
Ceres power stock price.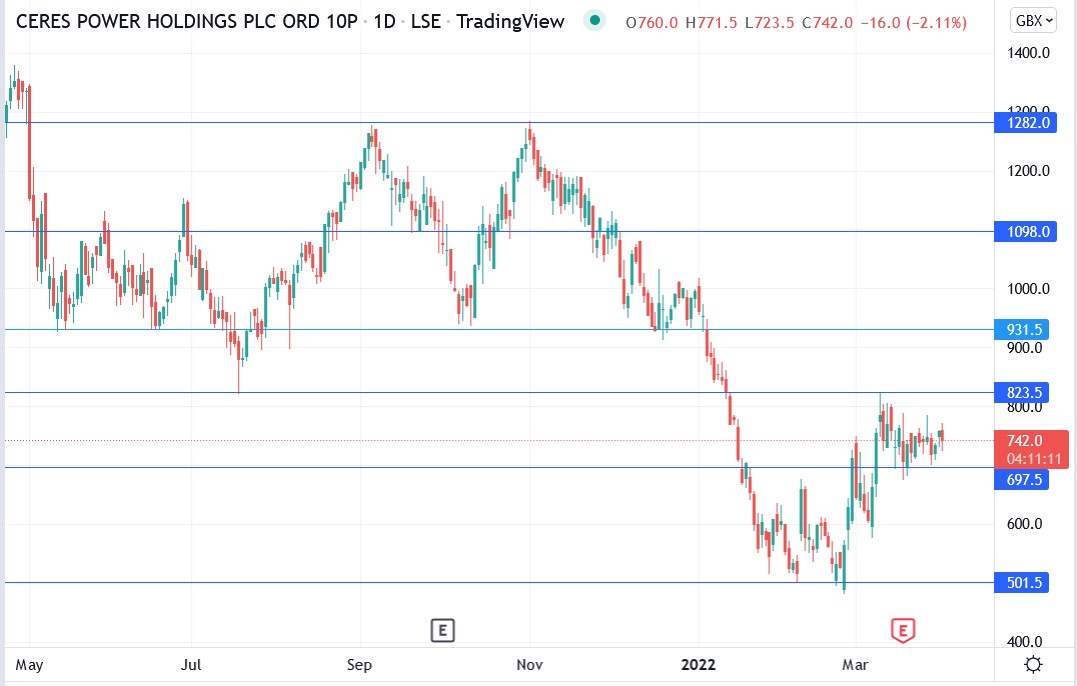 Since late February, Ceres Power shares have risen by 51% to trade at 738.5p, rising from 489p on 24 February 2022.