Key points:
Cineworld shares are range-bound as it works through bankruptcy.
The company has a massive debt pile that must be restructured.
The path ahead for Cineworld is full of challenges, but there is hope.
The Cineworld Group plc (LON: CINE) share price continues to trade in a tight range since the crash occasioned by its chapter 11 bankruptcy protection filing in the United States in early September.

The movie theatre chain is working with its creditors to restructure its over $5 billion debt burden and emerge stronger after the court-supervised process ends. So far, the company got access to the first tranche of a debtor-in-possession loan of $1.94 billion to help it fund its operations.
Also read: Five Best Starter Stocks For Beginners.
However, the cinema chain's future is uncertain as the company recently lowered its movie attendance forecasts for the fourth quarter of 2022 and 2023 and 2024, citing the recent weak recovery.
Cineworld noted that the lack of blockbuster movie releases had contributed significantly to its lower estimates since it is such movies that bring most people to the theatres as opposed to the regular stream of people who go to the movies at any time to enjoy themselves.
Most moviegoers tend to go to the movies when there is a hot new blockbuster movie that everyone is talking about since they do not want to miss out. However, at other times when there are no blockbuster movies, the cinema operator has to rely on a smaller stream of people who visit cinemas at random times.
Cineworld had expected a more vigorous recovery in Q3 and Q4. Still, the same is not forthcoming as the stream of customers going to movie theatres has remained far below the pre-pandemic levels.
Therefore, the company's prospects are not as promising as it was, yet the firm still has over $5 billion of debt that has to be restructured. In addition, the company has a market capitalisation of £34.98 million, making raising funds difficult.
However, all is not lost. Cineworld is still the second-largest movie theatre chain in the world and runs established movie theatre brands that are still popular with moviegoers. Still, the road ahead for the firm is full of challenges.
*This is not investment advice.
Cineworld share price.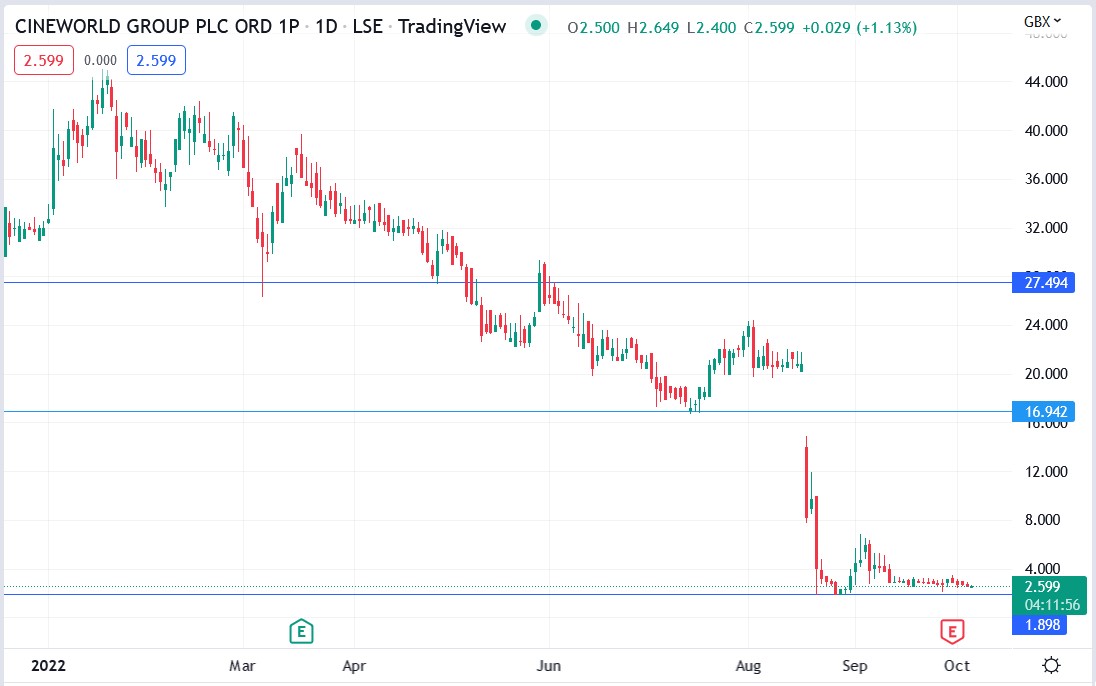 The Cineworld share price has been trading sideways since crashing in mid-to-late August.