Key points:
AMD shares have tumbled 53% this year
Wells Fargo said the firm is surprised by a lack of investor interest
They believe the company is well-positioned
Shares of Advanced Micro Devices (NASDAQ: AMD) are down more than 53% in 2022, as consumer demand for tech products has declined and tech stocks have fallen out of favour with investors.

On Wednesday, Wells Fargo analyst Aaron Rakers cut his price target on the stock to $90 from $130 per share, maintaining an Overweight rating.
Despite the price target cut, Rakers said he continues to be surprised by the lack of inbound investor interest in AMD at its current levels, and feels it "remains well-positioned as a market share gainer w/ continued product roadmap execution." As a result, Wells Fargo believes investor sentiment will eventually return to a belief that shares deserve to trade at a premium.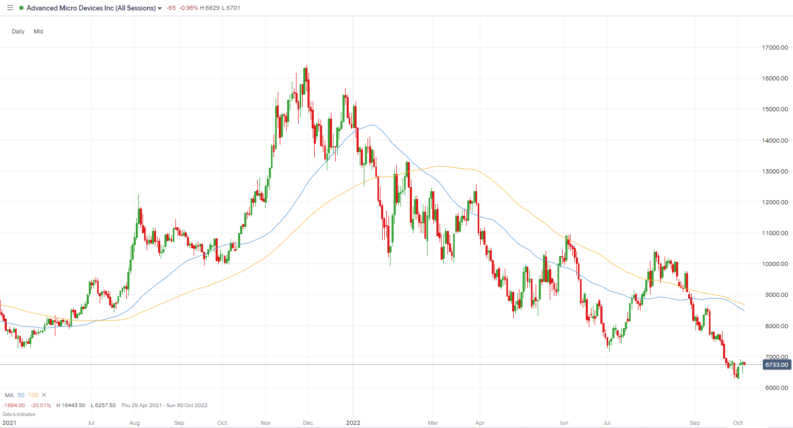 Also Read: The Five Best Recession-Proof Stocks
The note from Rakers helped to lift AMD shares from their lows on Wednesday, although the overall market clawed back its initial losses as well. Wells Fargo's head of equity strategy, Chris Harvey, said that was due to one giant options trade.
On AMD, Harvey's colleague Rakers acknowledged that the semiconductor company's shares are "likely to remain under pressure until confidence that an adequate forward estimate de-risk has taken place."
He added that the "incremental concern is clearly centered on demand weakening/downside risks in AMD's Data Center segment," as the PC weakness is already well known.
In late September, Morgan Stanley analyst Joseph Moore said that for AMD, he continues to witness a broad-based inventory correction hitting the semiconductor industry, but one that is taking a long-time to play out. As a result, Moore cut his price target on AMD to $95 from $102, maintaining an Overweight rating.