Cineworld (LON: CINE) shares have plunged on Thursday after the company reported worse than expected annual losses of over $3 billion.
The cinema chain also revealed it has raised more money to help it get through any future uncertainty stemming from the coronavirus pandemic.
Cineworld shares are currently down 8.7% at 93.80p.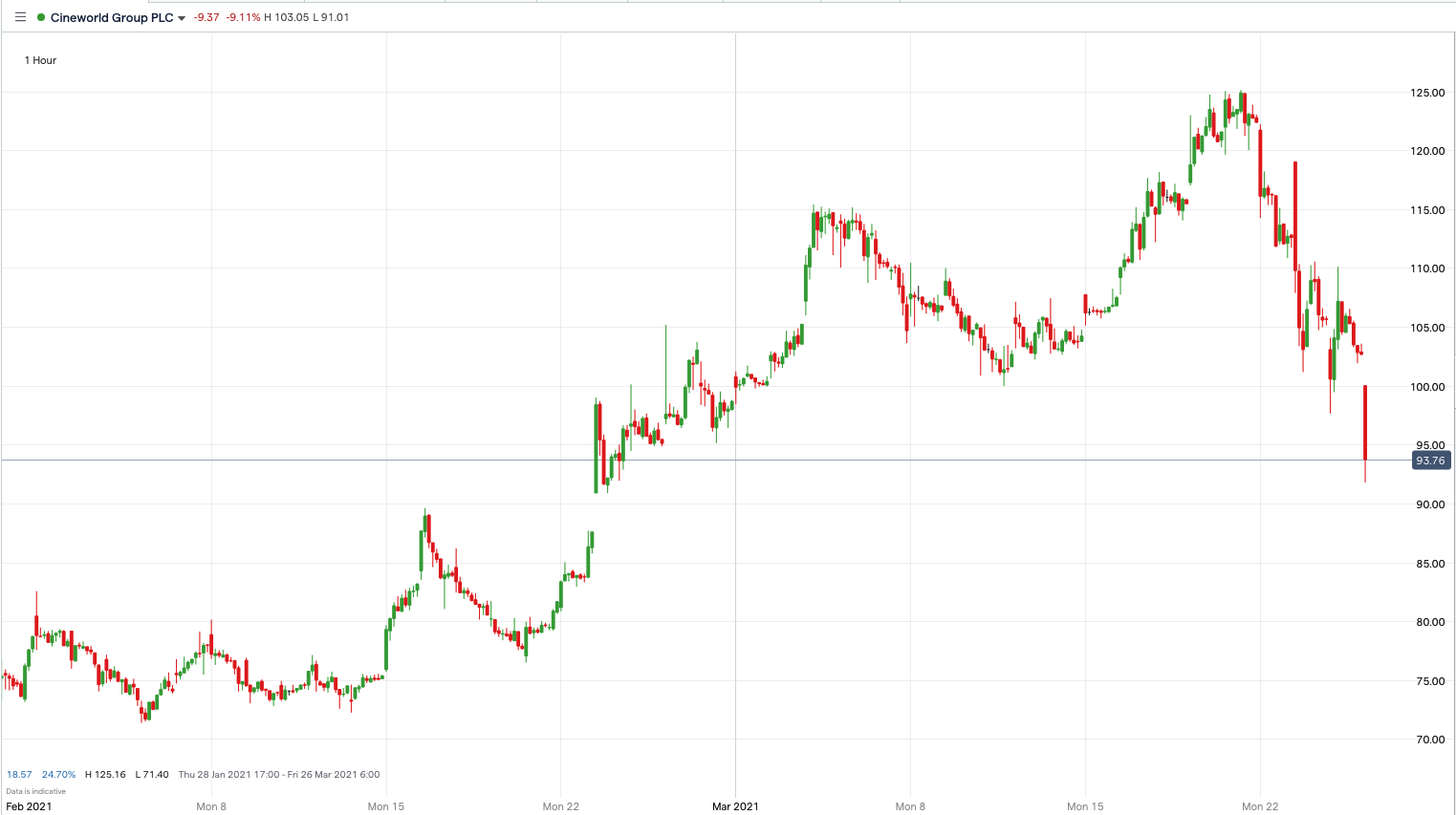 The company, which recently revealed plans to open its screens in the UK and UK, said it has secured binding commitments from a group of leading institutional investors for a new $213 million convertible bond due 2025.
The $213 million convertible bond, plus the expected US CARES Act tax refund, will provide the group with a liquidity runway to year-end if cinemas remain closed, the company said.
Cineworld's venues have been closed since the beginning of the pandemic, and it showed, as revenue fell to $852.3 million compared to $4.37 billion in 2019.
Additionally, the group has taken action, which includes seeking debt waivers to help stabilise its finances.
Looking ahead, Cineworld anticipates Cinemas in the US re-opening from April 2nd, UK cinemas opening from May 17th and branches in the rest of the world re-opening during May also.
They feel there will be strong pent up demand for affordable out-of-home entertainment after re-opening, which was indicated by the theatrical industry performing well in re-opened markets such as China, Japan and Australia.
Mooky Greidinger, CEO of Cineworld Group, said: "COVID-19 has created a huge amount of stress and uncertainty, both in business and in our personal lives. At Cineworld, I never imagined a time that we would see the closure of our entire cinema estate, nor that varying restrictions would remain in place for so long as we continue to navigate our way through this crisis."
"Cineworld enters 2021 confident about the next chapter in our development; not least the intention to re-open our cinemas starting April 2nd," he added.
Should You Invest in Cineworld Shares?
One of the most frequently asked questions we receive is, "what stocks are best to buy right now?" It's a wide-ranging question, but one that we have answered… Our AskTraders stock analysts regularly review the market and compile a list of which companies you should be adding to your portfolio, including short and longer-term positions. Here are the best stocks to buy right now