Key points:
Cineworld shares plunged 6.34% after cineplex filed a cross-appeal.
The cross-appeal means that Cineplex could still be awarded damages.
Even if the appeals court ruled in Cineworld's favour, hence, the decline.
The Cineworld Group plc (LON: CINE) share price plunged 6.34% after announcing that Cineplex had filed a cross-appeal with the Ontario Court of Appeal seeking damages in case the ruling by the Ontario Superior Court of Justice is struck out.

Today's cross-appeal indicates that Cineplex is worried the Court of Appeal could rule in Cineworld's favour, which would mean that Cineworld will not be required to pay the C$1.2 billion (£700 million) damages award.
Cineworld reassured investors that it would not be required to pay any damages until the courts heard its appeal and ruled regarding the punitive award that was almost worth the amount it would have paid to acquire Cineplex.
However, today's decline indicates that investors are worried that Cineworld might have to pay damages even if the Court of Appeal ruled in its favour based on the cross-appeal filed by Cineplex.
The cinema operator is not taking the latest move lying down and told investors that it would respond to the cross-appeal as part of the official appeal process.
The company faces multiple challenges, chief among them being the rapid spread of the Omicron variant of COVID-19 within its two main markets, the USA and the UK, limiting the number of moviegoers just as the industry was recovering.
Cineworld also has a massive debt pile that stood at $8.3 billion, which the company is struggling to repay. The company should generate significant free cash flow to meet its debt servicing costs in future.
Other options available to the cinema operator include listing its Regal Cinemas division in the US markets to raise the much-needed cash to pay down its debt.
Meanwhile, Cineworld is counting on a slate of potential blockbuster movie releases this year to generate significant revenues as moviegoers stream back into theatres.
However, the rapidly-spreading Omicorn variant poses a significant threat to the company's prospects.
Cineworld shares have risen 16.32% since the year started, which is a pretty decent return for investors, but the company still has a long way to go before it can become profitable. So I wouldn't be buying it now, but maybe after its appeal against Cineplex is resolved in the future.
*This is not investment advice. Always do your due diligence before making investment decisions.
Cineworld share price.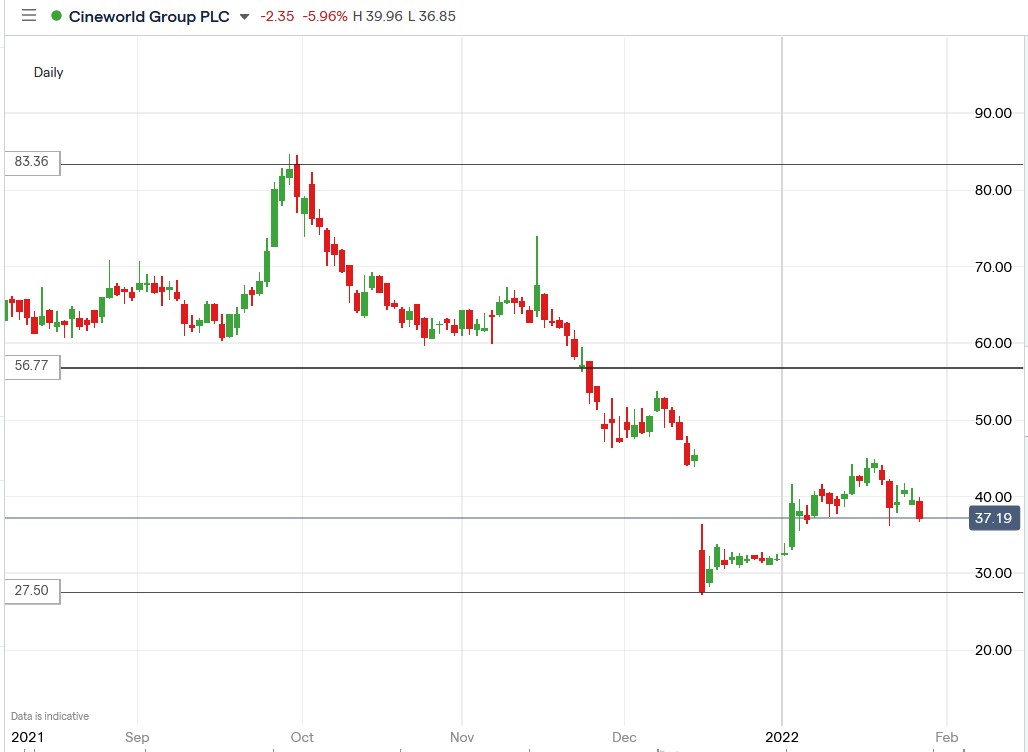 Cineworld shares plunged 6.21% to trade at 36.95p, falling from Thursday's closing price of 39.52p.