Key points:
Cornish Metals has sold a 1% royalty in Sleitat
Given that South Crofty is now funded this is not material
In the long term it's the global tin price that matters
Cornish Metals (LON: CUSN) shares have bubbled up 3% this morning on the sale of a royalty interest at Sleitat. The question really is, well, does this matter? The answer being probably not. In the scheme of things, this is a minor issue. One that's common enough, a sensible way of spreading the risk of mining projects and capital raising, but given where Cornish Metals is now not material to the shares.

The specific announcement is that Cornish has sold a 1% interest in Sleitat to Electric Royalties. This is a royalty interest, as the name of the buyer would likely indicate. So, of the value of metal produced, if any ever is, at Sleitat then Electra will gain that 1% royalty. This is in return for $100,000 cash now and a million shares in Electra.
The point of this sort of deal is to spread the capital costs and risks of them. Cornish Metals now has cash to spend on doing further exploration and checking work at Sleitat. At the cost of having to pay the royalty if the maturing years lead to production there. It's a common enough method of spreading those exploration costs across other shoulders.
The bigger question though is whether this is really material? And the answer is, now, probably not. For the latest financing means that the Cornish Metals prospects are very closely tied to two things. Cornish is now financed to proceed with South Crofty. We know there's tin there – although we're not wholly and entirely sure how economic the deposits are – and with the 40 million now banked, a new strategic investor, that all makes a $100k royalty deal pale into insignificance. What matters to Cornish now is South Crofty and, to a much lesser extent, also United Downs (the copper prospect they've also got in SW England).
This also means that there's that second major influence – the tin price: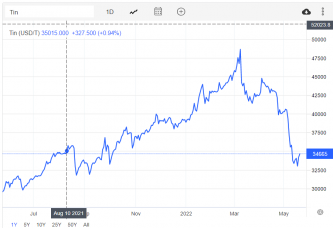 For it's the global tin price that becomes the ultimate determinant of the economics of South Crofty. There is, after all, a reason why the Cornish mines all closed those 3 and 4 decades back. Which is that there are other, lower cost, producers out there – especially in Indonesia, on Bangka and Belitung. If tin demand rises – as the electric revolution is making everyone think it will – then the price will rise and those hard rock mines are priced back into being economy. There is, after all, a limit to how many alluvial deposits there are.
If the EV revolution doesn't happen, or tin-lite technologies become commonplace, the tin demand won't rise so much and so also we start to have troubles with the economics of hard rock tin mines.
Given that Cornish Metals is already funded through the next stage of South Crofty the gyrations of the tin price won't have any immediate effects upon the likelihood of work advancing etc. But they could indeed influence the Cornish share price as future profits look smaller, or further away.
Compared to these two the Sleitat royalty sale is pretty small beer.