Key points:
Avacta shares are rising despite the lack of new releases from the firm.
The shares are rallying due to the positive investor sentiment.
However, AVCT shares are approaching a significant resistance level.
Reason to find out what we think will happen next.
The Avacta Group Plc (LON: AVCT) share price has risen 17.84% in the past week after bouncing off the crucial long term support level at 102p. The level has acted as support in the past and fueled the latest rally in Avacta shares.

However, over a much more extensive timeframe, we find that Avacta shares have risen a mere 2% since the year began. In my last article, I mentioned that Avacta shares had risen 113.65% in a month as part of a rebound after falling heavily at the beginning of the year.
Earlier this month, Avacta moved its therapeutics division to a new therapeutics HQ at Scale Space in Imperial College's White City Campus in London. The team was previously based in Cambridge, a city widely regarded as one of the world's most prestigious life science clusters.
Many questioned the move given that it goes against current trends where many of the firms with teams in Cambridge are expanding their facilities while new companies are opening facilities in the city to capitalise on the solid network of life science firms and professionals in Cambridge.
However, Avacta stood by its decision, saying it wanted to house its entire research and development team under one roof to enhance workflows and collaboration. The move was also meant to support Avacta's pre-clinical and clinical development pipelines of innovative cancer therapies.
Avacta's AffyXel joint venture with Daewoong Pharmaceutical also recently expanded its manufacturing partnership with GenScript ProBio regarding cell therapies. Therefore, there are multiple reasons to be optimistic about Avacta's prospects.
Still, Avacta's shares are trading close to the 140p resistance level that has held since July 2021. So before buying, I would wait for the price to break above the resistance level or for a pullback to the 102p support level.
*This is not investment advice. Always do your due diligence before making investment decisions.
Avacta share price.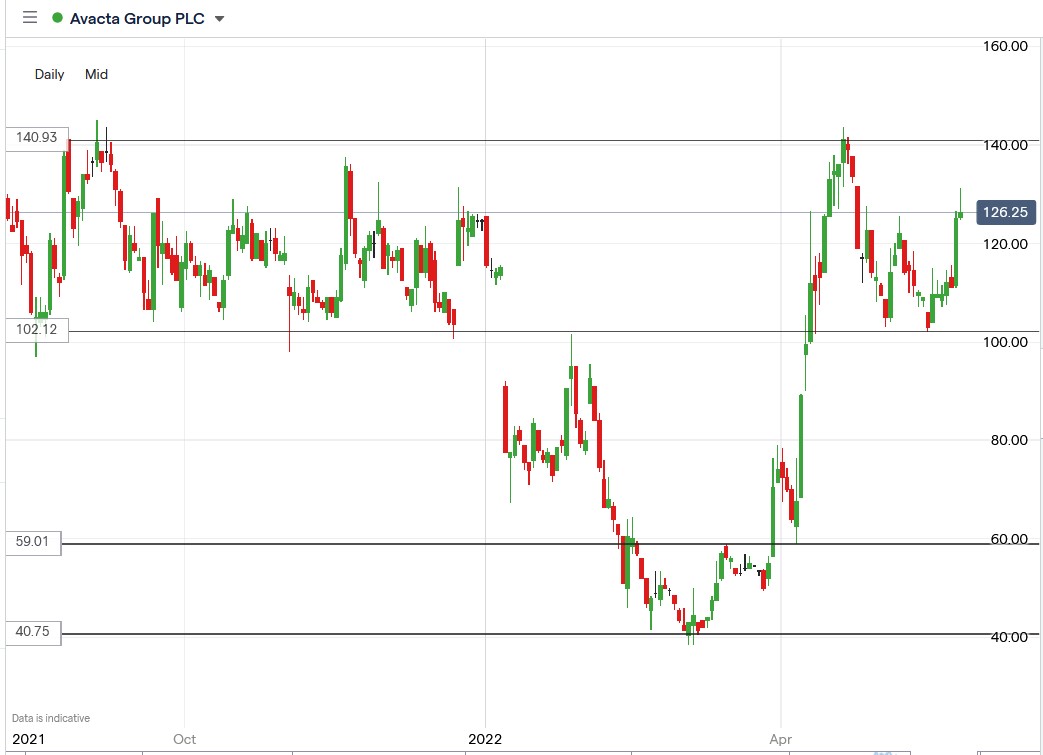 Avacta shares surged 5.20% to trade at 131.25p, rising from Friday's closing price of 125.00p.