Key points:
Cronos Holds Above Key Support
Cronos Chart Analysis Price Projections
Cronos Recap/Explainer
Cronos (CRO) has weakened alongside the wider cryptocurrency market in September, primarily driven by the far higher-than-expected US inflation report, which we featured in our recent post Crypto Plunges With Hot US Inflation. However, for now, this has seen CRO hold above the June bear market low (at 0.09825), bouncing Monday from just above here. However, today sees the much-anticipated decision from the US Federal Reserve Open Market Committee (FOMC), which is likely to have a significant impact on wider financial markets and also on the cryptocurrency space. Here we look at the Cronos chart, give some analysis and price forecasts, as well as a brief Cronos recap/ explainer.

Cronos Holds Above Key Support
A plunge lower for the broad cryptocurrency market through mid-September as riskier financial market assets widely sold off in the wake of notably higher than expected US inflation data. This saw CRO push down to .10020, just holding and bouncing on Monday from here, just above the key June bear market low at .09825. Key today will be the decision from the US Fed, a more hawkish tone than the market is expecting, or a larger rate hike than the priced in 75bp, could see a more negative outcome for Cronos and the broader cryptocurrency space.
Cronos Chart Analysis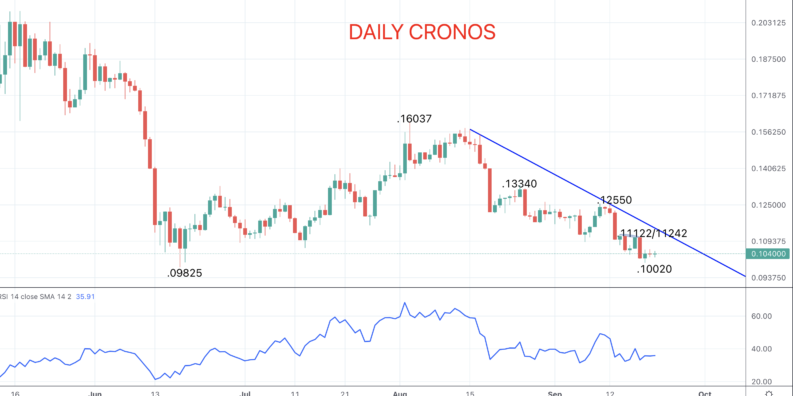 Also Read: Best Way To Buy Bitcoin
Whilst holding above the June bear market low at .09825 as a key support factor, the bigger picture threat is for a rebound from current price levels. Upside targets to overcome are the ceiling resistance area at .11122/11242, and the down trend line from mid-August, currently in the .11500 area. Above here would then see the threat into Q4 even higher towards .13340 and possibly even as high as the August peak at .16037.
But a surrender of .10020, then .09825 would likely see a far more bearish theme resurface. The threat would then be for a significant extension of the 2022 bear market, possibly towards .07285, a key 2021 low.
Cronos Recap/ Explainer
Cronos is the token of the blockchain designed by CRO Protocol Labs, which is also known as Crypto.com. The company provides decentralized finance exchange and application. According to the Crypto.com website:
"Cronos is the first blockchain network that interoperates with both the Ethereum and Cosmos ecosystems, supporting DeFi, NFTs, and the metaverse. It aims to massively scale the Web3 user community by providing builders with the ability to instantly port apps and crypto assets from other chains with low cost, high throughput, and fast finality."