Key points:
Darktrace shares plunged 33.3% after talks with Thoma Bravo ended.
Investors were disappointed since they wanted Darktrace to be acquired.
As a result, the cyber security company faces an uncertain future. Is it a buy?
The Darktrace PLC (LON: DARK) share price plunged 33.3% after announcing that preliminary talks with Thoma Bravo had been terminated after the two companies failed to reach an agreement over the terms of a firm offer.

Investors expressed their disappointment by selling Darktrace shares, as evidenced by the massive drop in the company's share price as investors rushed for the exits following today's announcements.
Also read: The Best UK Tech Stocks To Buy Right Now.
The markets ignored the upbeat full-year 2022 results announced by Darktrace earlier today. The company recorded a 45.7% surge in revenues to $415.5 million from the $285.1 million generated in the 2021 financial year.
Darktrace told investors that its new sales model based on multi-year service contracts has paid off, resulting in the company's higher revenues. The firm also reported that its operating expenses remained low due to the pandemic restrictions that limited travel and accommodation expenses from its staff.
The cyber security company's gross margins remained high at 89.2% compared to last year's 90% margin, given that most of its costs are associated with developing and deploying cyber security systems, not physical goods.
Darktarce reported a net profit of $1.46 million compared to last year's $145.8 million loss. Still, investors' attention was solely focused on the company's potential acquisition, which would have led to its delisting while unlocking significant shareholder value.
The primary reason behind today's crash is the looming doubts about the company's association with British tech mogul Mike Lynch who is facing extradition to the United States to answer fraud cases over the $11bn (£8.5bn) sale of Autonomy to HP.
A High Court judge is expected to rule on whether Mike Lynch has the right to appeal the extradition order to the US, with a ruling against him setting in motion the extradition process.
Market analysts have also cast doubt on Darktarce's aggressive sales strategies.
Today's decline demonstrates the significant uncertainty hanging over Darktrace. Hence, I would not rush to buy DARK shares after today's decline.
*This is not investment advice.
Darktrace share price.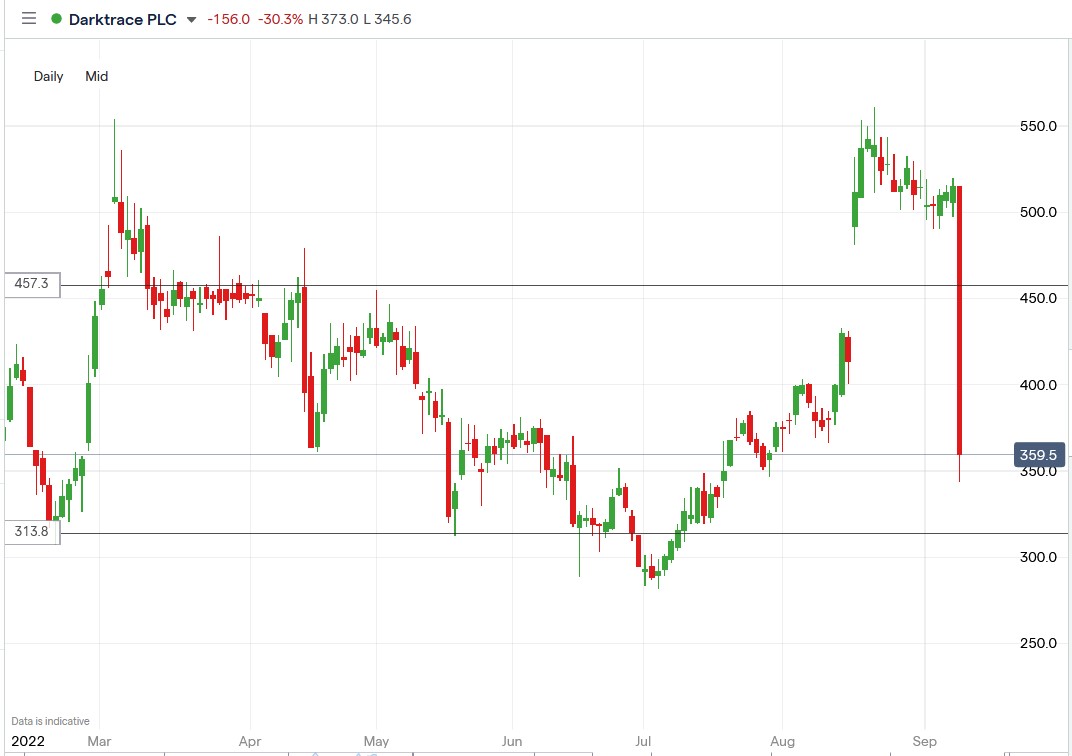 The Darktrace share price plunged 33.34% to trade at 343.3p, falling from Wednesday's closing price of 515.0p.