Methodology
We analysed 33,500 crowdfunding campaigns dating back to 2017 on JustGiving, a world leading online fundraising platform. The data included:
Campaign launch date
Campaign close date
Target crowdfunding amount (£s)
Final crowdfunding amount (£s)
Number of supporters
Fundraising category
Campaign title
Crowdfunding is slightly different to fundraising. The aim of both is to raise money, but 'fundraising' is usually about raising money for a charity by doing something in return, e.g running a marathon. Crowdfunding can be done to make money to fund a project or to donate on to something else. This data looked at campaigns specifically in the 'crowdfunding' category, rather than 'fundraising' to get a broader view, meaning campaigns by the likes of Captain Tom Moore were not included in these findings.
Seasonal changes in crowdfunding success
If you're looking to raise the highest amount of money through a crowdfunding campaign, the best time to launch is the autumn. According to our study, those campaigns launched through September to November achieved the most money on average.
Winter 2019/2020, spring 2020 and summer 2020 (so far) have all raised more money than the same season the previous year, suggesting that, providing this trend continues, 2020 is set to be a record year of generosity.
Michelle Wright, founder and CEO of Cause4, commented on the reason timing is important:
"The time of year makes a difference. The sight of people experiencing homelessness on the winter streets does inspire many to dig deep, and charities like Crisis at Christmas understand how to capture that seasonable desire to help.
"Other more personal circumstances can encourage donors; whether a family member or friend has suffered with an illness and been cared for by a charity, or a windfall following an annual bonus has allowed individuals to be generous with their additional cash.
"It doesn't surprise me that Autumn is a popular time for donations. There's a 'back to school' vibe that exists for many. Returning from holiday and reconnecting with their regular lives exposes people to social media campaigns, news of communities experiencing hardship and a desire to get things done. The commercial world understands this with a disproportionate number of products launched in Q3, well before the run up to Christmas."
Crowdfunding in 2020
To analyse 2020 like for like, we have compared the exact date range of Jan 01 – July 22nd against the same range for previous years.
2020 has been a challenging year already for a variety of reasons but in spite of this, has exceeded all previous years in our data set in terms of the amount of money raised through crowdfunding campaigns. The average amount raised by a crowdfunding campaign in 2020 is up by a huge 1,006% compared to 2019 – suggesting that, even in difficult times, the generosity of the British public prevails.
The chart below shows the average amount raised per campaign each year:
In the same timeframe, individuals have been donating more money, with the average amount donated in 2020 to a crowdfunding campaign being £36.36 – 27% more than 2019 and 13% more than 2018: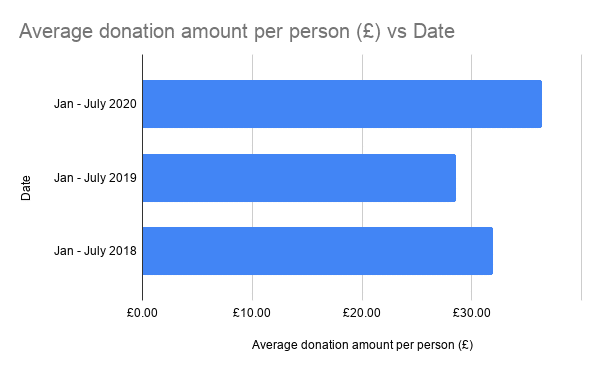 It seems more people have been rallied into donating in 2020 amidst the pandemic, with the average number of supporters per crowdfunding campaign up by 769% year-on-year.
Crowdfunding trends during the global pandemic
Most of the world experienced the full force of COVID-19 in Spring 2020 (March, April, May). Focussing on this period for 2020, compared to the same in 2019, there was a 32.6% uplift in the average donation amount per person, with the average amount raised by a campaign during the peak of the pandemic being  £5,691.56, as shown in the chart below: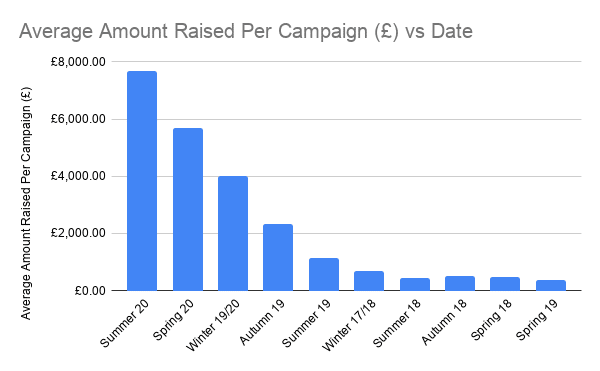 Topical trends in crowdfunding
Analysing the top 5,000 grossing campaigns from the past decade, we found that the category 'Health and Medical' was the most prevalent, suggesting people are most likely to donate to a crowdfunding campaign in this space. 1,216 of the top 5,000 grossing campaigns were in the 'Health and Medical' category – or just under a quarter, at 24%.
Looking at every crowdfunding campaign of the past decade, 'Children and Youth' was the most common category overall, followed by 'Health and Medical', 'Local Community', 'In Memory' and 'Disability Support'.
Categorisation of campaigns may seem something of an afterthought, but this data shows that selection of your category can affect the amount raised, making it worthy of proper consideration.
Summary of findings
The period of Jan to July 2020 has beaten all previous years for the same period with crowdfunding campaigns raising the most money on average during this time – 1,006% more than 2019, with the average amount of supporters per campaign up by 769%
So far in 2020 for the period of Jan to July, people are donating more on average – 27% more than 2019 and 13% more than 2018
The pandemic correlated with a 32.6% increase in the average donation amount per person
Autumn is the best time to launch a crowdfunding campaign to raise the most money on average
Adding to the full research and offering advice for those looking to raise funds, Michelle said:
"There are many factors that motivate people to donate and all charities work hard to tap into them. There's not one motivator for all donors – charities that address the welfare of animals, for example, will be looking to spark donations in a different way to those who might be looking for sponsorship for the arts.
"Some charities can see a rise in donations following breaking news, such as an increase in support of Black Lives Matter-related charities after the international outrage at the death of George Floyd. After President Donald J. Trump's 2016 election, many progressive organisations experienced an influx of rapid-fire online donations in so-called 'rage based' philanthropy. This can be effective in the moment but there is a real risk of rage-exhaustion, especially when we are bombarded with bad news.
"Each charity needs to consider its own case. The best fundraisers use great storytelling, explaining how donations positively affect outcomes and change lives. Recognising what motivates their own donors will help each charity craft their fundraising strategy, touching the hearts of those people who will understand their mission, care for their cause and reach into their pockets to support it."