Shares of Deepverge PLC (LON: DVRG) rallied 4% after the company revealed that it had added two new Containment Level 3 (CL3) labs within its York headquarters.
The two high-tech labs will act as the control centres for the company's upcoming AI-powered Skin Trust Club, a skincare app that is yet to be launched.
The two facilities will also be used as research centres for its EcowaterOS consortium, focused on green technology and data management.

Deepverge will also use the labs to host various projects based on its Labskin artificial skin technology, picked up by the Liverpool Tropical School of Medicine and Unilever who are working on a joint project using the technology.
Investors did not mind that Dagmara Brandon, wife of Deepverge CEO, Gerry Brandon recently sold her shares in the company after he explained that she wanted to invest in newly listed Microsaic Systems PLC, which appointed him as non-executive chair.
Insider selling is usually not a good sign for investors, company insiders, and executives usually know much more about a firm's operations. They may decide to sell their shares early if the firm is in trouble.
However, the CEO did not sell any of his shares, which boosted investor confidence triggering yesterday's rally.
Gerard Brandon, DeepVerge's CEO, said: "The centre of excellence and the addition of two CL3 laboratories, at our York, UK headquarters is the culmination of the successful outcome of handling with SARS-CoV-2 at the University of Aberdeen and the University of Liverpool and used to test dangerous viruses such as Ebola and Lassa as far back as 2015."
Adding:
"With Labskin services filling our existing space the 95% conversion rate of pre-registration of the Skin Trust Club is a major achievement and additional space is to be added to accommodate the demand for home test kits which will roll out in March."
Deepverge share price.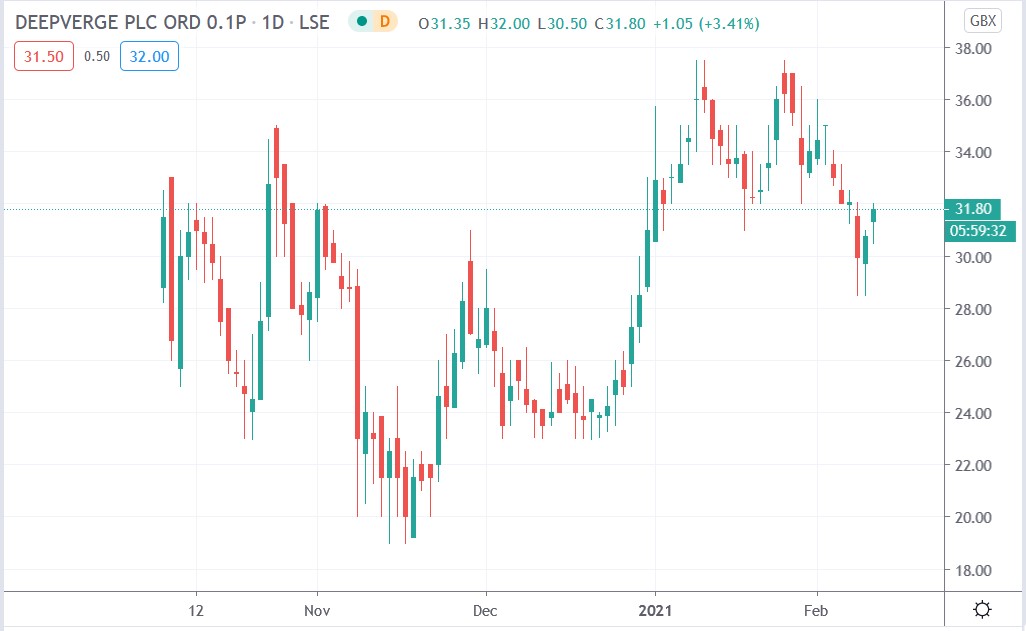 Deepverge shares rose 4.06% to trade at 32p having rallied from Tuesday's closing price of 30.75p.