Key points:
The Direxion S&P Oil & Gas 2X Bear (DRIP) shares soared 935.2%.
The move was fueled by the 10-1 reverse stock split that came into effect.
The inverse bear ETF had lost 57.8% of its value this year as oil prices rose.
The Direxion Daily S&P Oil & Gas Exp. & Prod. Bear  2X Shares (NYSEARCA: DRIP) soared 935.2% today after the ETF issuer affected a 10 for 1 stock split.

Since the year started, the 2X inverse bear ETF has lost 57.8% of its value and was headed lower, necessitating the reverse stock split to boost its share price.
DRIP tracks the performance of the S&P Oil & Gas Exploration & Production Select Industry Index (SPSIOPTR) index, which is issued and managed by the Standard & Poor's Index Provider.
The 2X inverse ETF has been falling as oil prices and oil stocks rally, which has seen it lose 57.8% of its value so far this year.
The ETF targets day traders who want to profit from the intraday and daily price moves of the underlying S&P Oil & Gas ETF but want to turbocharge their returns.
Unfortunately, as an inverse bearish ETF, DRIP's primary target is to generate a negative 200% return on the daily movements of the S&P Oil & Gas ETF. Hence, the traders who will benefit from the DRIP ETF as those who want to short the oil markets.
The ETF's prospectus from Direxion clarifies that its primary goal is to generate a daily return for traders and that the ETF does not track the long term performance of the underlying index.
Long term investors should generally avoid inverse short ETFs, given that they tend to lose value over time. Investors should also approach leveraged ETFs with caution since they could easily double or triple their losses.
Inverse, short and leveraged ETFs are sophisticated investment products that should be treated cautiously. Investors should always be aware of the higher risk they are taking on when trading such products instead of simply buying and selling stocks.
The 10 for 1 stock split has boosted the DRIP ETF share price significantly, giving traders more leeway for their trades to play out as they continue shorting the underlying ETF that tracks the performance of different oil industry sectors.
*This is not investment advice. Always do your due diligence before making investment decisions.
DRIP stock price.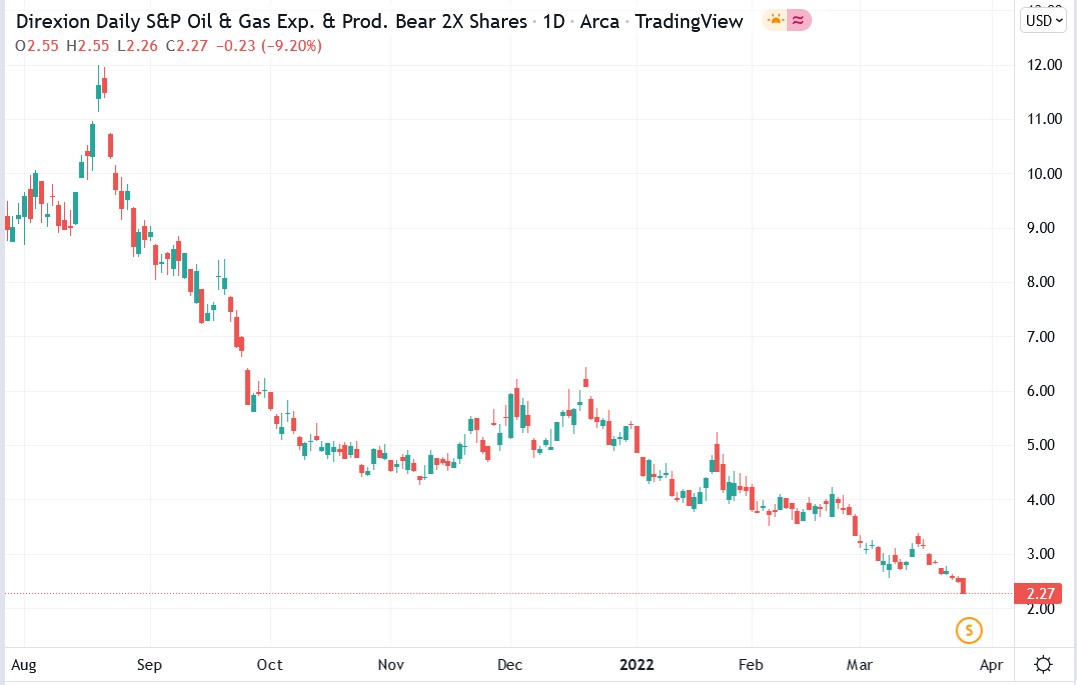 DRIP stock price soared 935.24% to trade at $23.50, rising from Friday's closing price of $2.27.