Key points:
Easyjet's load factor is up but capacity is constrained
As with Wizz and IAG, the interaction of these is complex
But it's that interaction which will determine profit
Easyjet (LON: EZJ) has released its Q3 2022 trading statement. The numbers are good, with capacity up to 87% of 2019 and load factors approaching 92% for June. That we need to look at both numbers is what makes airline valuations so difficult in these troubled times. How many planes are they flying and how full are those that they are? The two do not necessarily run in the same direction.
The results from EZJ are largely in line with market expectations. The issue is, perhaps, how much do these tell us about the IAG (LON: IAG), the owner of BA, and the Wizz Air (LON: WIZZ) operations? Each of the three addresses a slightly different part of the airline market so we can expect some divergence. One the other hand each of those three also faces the same basic performance metrics.
We've also those results from yesterday for Ryanair and they simply don't want to provide a forecast for profits for the year given uncertainties about fuel costs and the effects of the Ukrainian events. Which, given those uncertainties, seems reasonable enough.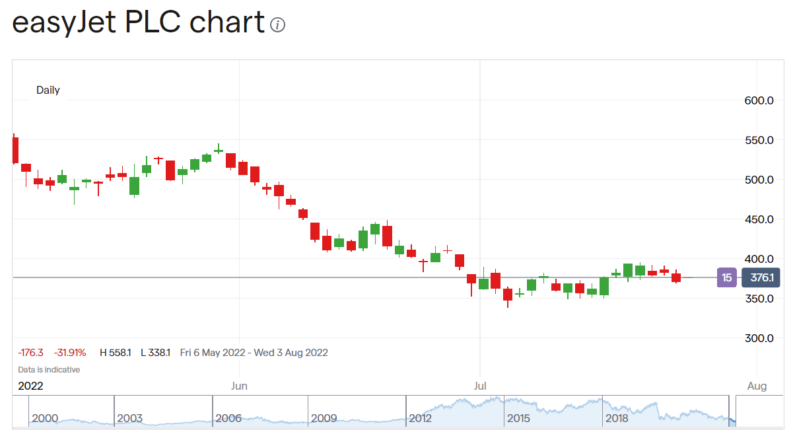 Also Read: How To Buy British Airways Shares
There's a certain perversity to how current events are affecting airlines and Easyjet is no exception. The obvious question that needed answering is whether we'd all flock back to going to the beach once lockdowns were truly over. The answer there seems to be yes. So, flight capacity is expanding back up to where it was before all this. Good, that's good for airlines. For there are significant overheads, fixed costs, in the business. Not just the management etc, but the leases on the airplanes themselves. So, running more flights means more opportunity to earn something to cover those overheads.
On the other hand, there are also significant variable costs with running each flight. Fuel being the largest, staff second. But there are near no costs to selling an extra seat on a flight that is already operating. So, load factors also play a very large part in profit determination. We want the airline to be "right sized" in the sense of being able to deploy all of its fixed assets but also we want them to fly with near no empty seats.
Current events are rather pulling in opposite directions here. The airports can't handle all the flights airlines would like to run. Easyjet mentions this at Gatwick and Schipol for example (no, it's not Brexit, it's everywhere). So capacity is constrained. But that, of course, pushes up load factors.
So we've this oddity where overheads loom larger in airline profit calculations simply because they can't run as many flights as they'd like. But those they do run are more profitable because of the capacity constraints, thus higher load factors and, yes, higher ticket prices.
That's what makes working out what final profits are going to be like so difficult – to the point that as above, Ryanair won't provide a forecast. Until we know the answers Easyjet, Wizz and IAG shares are also likely to be volatile.