Key points:
Embark Technology stock is up 1,765% this morning
Or the real EMBK stock price is down 10%
So, which is the important number for us here?
Embark Technology (NASDAQ: EMBK) stock is up 1,765% this morning premarket. This is also known as a 10% and change fall in EMBK stock. In there is the difference between nominal prices and real. For given the technical move which took effect overnight Embark stock should be up 2,000%. The amount by which it failed to rise 2,000% is the amount that it has really fallen. And the 235% that it's failed to rise by could be, among friends, considered to be a roughly 10% fall from where it should be.

As to what Embark Technology actually does it makes self-driving software for trucks. This might seem a little odd, as self-driving for cars might be considered to be the same problem. Except, in reality, it's not, not quite. It's long been assumed that trucks will be, for significant parts of their journeys, the easier to automate. By definition some good portion of them spend their working lives out on the freeways doing hundreds of miles trips. That bit out on the open road is thought to be an easier computational task than urban driving where cars spend most of their time. This may or may not be true of course but they are considered to be slightly different problems.
However, one thing we have found out in recent years is that automating driving is a bigger and harder task than it was first thought to be. Embark came to market through a SPAC deal beck at the end of last year and the stock has fallen 91% since then. Quite possibly a reflection firstly of the SPAC optimism and secondly the difficulty of the task being undertaken.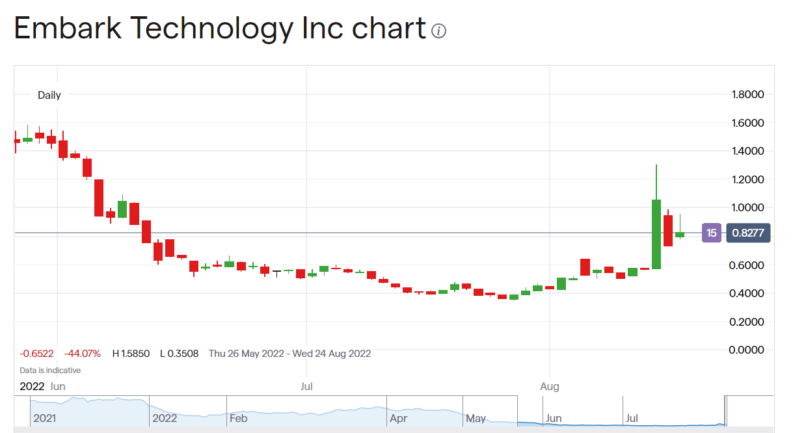 Also Read: How To Buy Uber Shares
The real problem for EMBK is that the stock price has fallen below the NASDAQ minimum bid price of $1. If that continues for long enough then that NASDAQ quote will be lost, with all the implications for liquidity and capital raising being relegated to the OTC would have. So, something must be done.
In the absence of an actual turnaround in business prospects that something becomes a reverse stock split – a consolidation to Brits. This just says that everyone who had 20 shares yesterday has 1 share today – that's for a 20:1 reverse split, which is what EMBK has done. The implication of this is that the Embark stock price should rise 2,000% this morning. It hasn't, it's up that 1,765%. The 235% difference there is around 10% (hey, "around") less than should have happened. So, the nominal price of EMBK stock is up, to please NASDAQ, but the real price of any specific holding, or of the company as a whole, is down that 10%.
This isn't what is supposed to happen with a consolidation, of course not. The removal of that risk of falling off NASDAQ should increase the corporate valuation but this doesn't always work. As here – possibly because investors might prefer to see a real solution, not a nominal one, to the problem.