Tech company Uber (NYSE: UBER) has only been listed on the New York Stock Exchange (NYSE) since 2019 but is a much-talked-about investment proposition thanks to its dynamic business model. The firm actually dates back to 2009, when it started out revolutionising the 'ride-hailing' industry by providing a tech-focused new approach that upgraded certain aspects of that sector.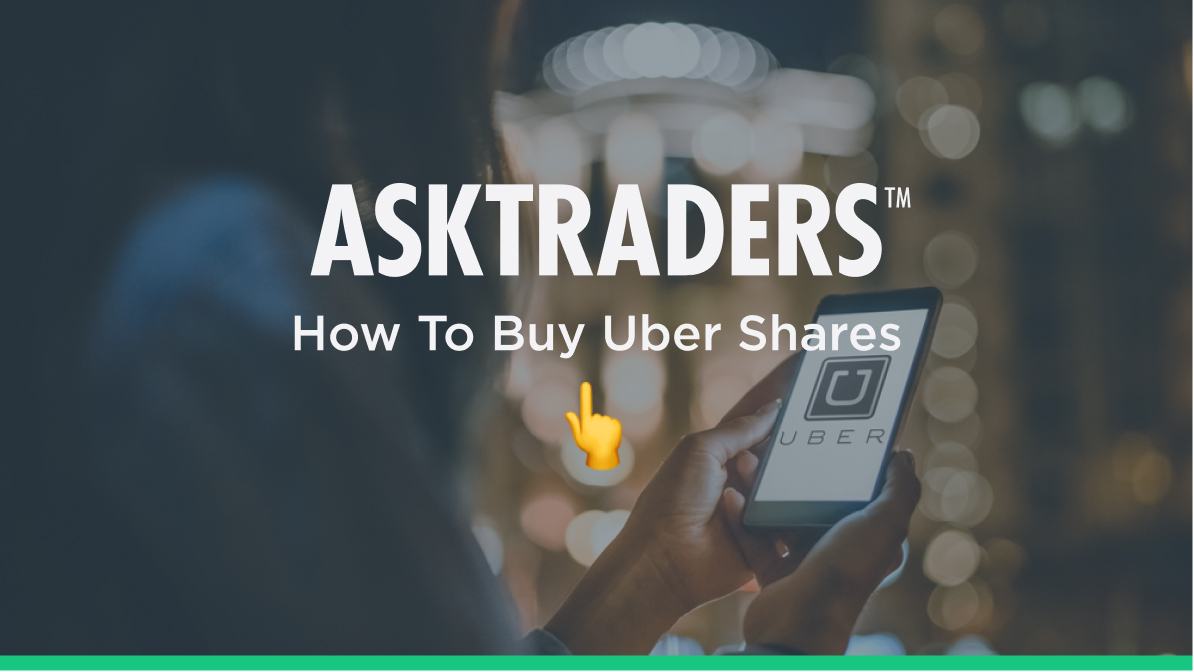 Part of the appeal of the firm is its ability to tap into new business lines, and ride-hailing is now only part of its offering. Being marked as a growth stock with an ambitious approach, it attracts investors looking to scale up on their risk return. However, it's hard to get away from the market risk of a firm that has just recently posted an operating profit. This report will establish the path to take to make sure you choose a safe broker, how to open an account, and how to book that Uber trade.
Overview of Uber
Uber was founded in 2009 by Garrett Camp, a computer programmer, and Travis Kalanick, who had just sold his tech start-up Red Swoosh for $19m. 
Other notable hires included a nuclear physicist and a computational neuroscientist who worked on predicting traffic flow patterns.
The Uber idea morphed out of Camp realising that hiring private drivers was unreasonably expensive and that a complete overhaul of the sector was overdue. The ride-sharing operation uses dynamic pricing so that prices reflect the supply and demand of drivers, passengers, and the firm.
The app launched in 2011 in the city of San Francisco, where the firm's headquarters are still based.
Uber is a prominent player in the 'sharing economy' whereby individual consumer footprints are reduced by traditional items being hired intermittently rather than owned outright. The firm is seen as such a pioneer of a new way of doing things that the next-generation approach is sometimes referred to as 'uberisation.'
Uber Shares: The Basics
Uber Technologies Inc. is listed on the NYSE under the ticker "UBER." The register of shareholders shows the firm has matured from being a tech start-up. The Chief Executive Officer (Dara Khosrowshahi), Chief Legal Officer (Tony West), and Chief Financial Officer (Nelson Chai) still have skin in the game, but institutional investors are now the big shareholders.
Big investors have been drawn into positions thanks to the firm's potential for growth. The 2020 sale of the driverless car operations suggested the firm had moved away from having a bottomless pit of cash available and was more focused on turning a profit.
Given that the company has only recently posted its first operating profit, it is understandable why Uber does not pay dividends. There are no signs of that approach changing in the near future.
Uber shares made their market debut on May 9, 2019, at $45 per share. It was one of the largest IPOs in history, and being a high-profile proposition, its subsequent share-price slide caught the headlines.
Steps to Buy Uber Shares
Uber is a global operator and attracts investors from around the world. Trading US shares is easy to do, even if you're not a US citizen. Online brokers have revolutionised the investment industry and now provide a trustworthy, cost-effective, and user-friendly trading experience. It's easy to buy Uber shares even if you're based in the UK.
You can set up an account, trade, and manage your portfolio within minutes. It's possible to do all this using a desktop or a mobile device, and if you make the right broker choice, you'll be well set up to follow the Uber share price and see how your investment pans out.
1. Choose a Broker
There are hundreds of online brokers operating in the market, but this review of trusted brokers is a handy shortlist of firms that are experienced operators in the market. They all have multi-year track records and operate under license from well-regarded financial regulators.
Buying Uber shares is a reassuringly straightforward process. Trading platforms have been designed with beginners in mind but also offer research and analysis tools to take your trading to the next level. There are educational tools that explain the basics and to make sure your broker is a good fit it is worth spending some time trying out free demo accounts with a few. These are risk-free ways to practice trading using virtual funds.
2. Open & Fund an Account
All you need to set up a demo account is an email address, but to open a live trading account, you are required to share a greater amount of personal information. This is so that brokers can comply with Know Your Client (KYC) rules set out by the regulators. Questions on topics such as your investment aims and experience can actually help you formulate your ideas. Being asked the questions is a sign you're registering with a trustworthy broker.
Once you've completed the onboarding process, it's just a case of transferring funds to your new online account. Most brokers offer a variety of ways of doing this, including bank transfers and debit and credit cards. If you're in a hurry to buy Uber shares, it's worth checking the processing time of each of the different payment methods. Some are instant, but some can take several days.
3. Open an order ticket and set your position size
Once your account is set up and funded, you're ready to trade. You'll be able to locate the market in Uber shares using the 'stock search' function, which will take you to the trading dashboard for that stock. This is where you'll also find price charts and news reports and will have a last chance to check the market before entering the number of shares you want to buy.
4. Set your stops and limits
Before you click the 'buy' button, it's worth considering using Stop Loss and Take Profit orders. These risk-management instructions allow you to build into the system automated instructions to sell some or all of your positions if the price reaches a certain level. If the price moves against you, Stop Losses will close out the position to limit the risk of further losses. If the price goes in your favour, Take Profits orders can be used to lock in the gains. Both make it possible for you to manage your positions without having to follow the markets 24/7.
Limit Orders work in a similar way but relate to the entry point of your trade. For example, if Uber shares are trading at $52 but you think they might fall back slightly in the near future, you can instruct the system to buy at $50 or $48. There's no guarantee you'll get filled at those lower levels, but if it does happen, you'd be starting your trading journey from a better position.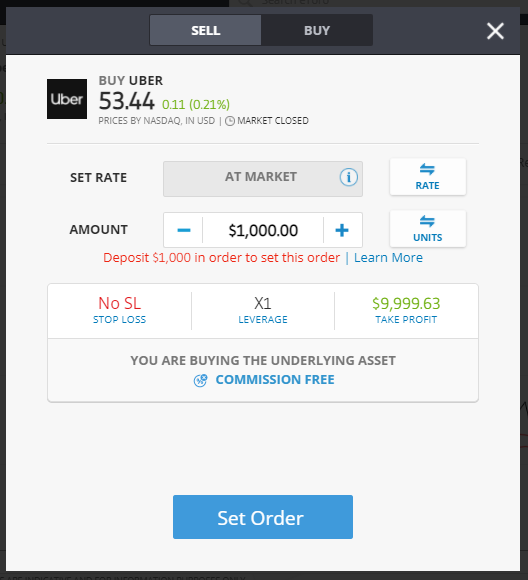 5. Select & Buy Uber Shares
Once all the checks are complete, all it takes to trade Uber shares is a tap or click of the screen.
There are two tips from experienced traders to keep in mind:
Before you click 'buy' or 'sell' UBER— Most online brokers offer markets in share dealing and Contracts for Difference (CFDs). CFDs allow you to use leverage and scale up the risk-return on the trade but involve daily financing fees. If you're looking to buy Uber shares and hold them for more than a few weeks, then it is likely to be more cost-effective to buy Uber outright. This article explores that subject in greater detail.
After you trade —Be sure to check your portfolio and that the position is reacting as you'd expect. Even experienced traders make 'fat finger' errors, such as buying the wrong amount, and it's important to correct such errors before the price gets away from you.
Fees When Trading Uber Shares
The increased popularity of trading and investing can, to some extent, be put down to intense competition between brokers hammering down trading costs.
The chart below details trade execution costs at trusted brokers. All of these make most of their money on the difference between the buy and sell prices they offer their clients — the bid-offer spread.
| | eToro | Plus500 | Markets.com | AvaTrade | IG |
| --- | --- | --- | --- | --- | --- |
| Live Account Fee | No charge | No charge | No charge | No charge | No charge |
| Demo Account Fee | No charge | No charge | No charge | No charge | No charge |
| Bid Offer Spread – Uber shares | 7c | Variable | 13c | 12c | 3c |
| Cash Deposit Fee | No charge | N/A | No charge | No charge | No charge |
| Cash Withdrawal Fee | Yes – $5 per transaction | N/A | No charge | No charge | No charge |
| Inactivity Fee | Yes – $10 per month after 12 months inactivity | Yes – $10 per month after 3 months inactivity | Yes – $10 per month after 3 months inactivity | Yes – $50 per quarter after 3 months inactivity | Yes – £12 per month after 24 months inactivity |
| FX Conversion Fee | Offers accounts in USD, only | Offers accounts in USD, GBP and EUR | Offers accounts in 14 base currencies including USD, GBP, EUR | Offers accounts in USD, GBP, EUR, CHF | Offers accounts in 6 base currencies, including USD, GBP and EUR |
| Minimum Deposit | $200 (or equivalent) | $100 (or equivalent) | $250 (or equivalent) | $100 (or equivalent) | $250 (or equivalent) |
There are other administrative charges to consider.
Some brokers charge separate commissions for trading US-listed stocks like Uber, but shopping around should be able to help you avoid these.
Account inactivity fees might be applied, but there are some potential workarounds to avoid them. At Plus500, for example, you can avoid the charge simply by logging on, so it's worth checking the T&Cs.
Paying fees unnecessarily is to be avoided, but charges do have to be put into context. If your broker offers high-grade research to help you improve your win-loss ratio, then that will likely outweigh it being slightly more expensive in one or another fee category.
Final Thoughts
Uber's brand recognition is extremely strong. Projects range from freight transportation to scooter hire and package delivery. There's little reason that it can't cross over into other non-transport sectors as well. A newly found appreciation of the need to monetise these schemes has encouraged some seasoned investors to take long positions. They'll be hoping to sit back and enjoy the ride, even if they can't quite be sure of the final destination.
There are a lot of variables in play, but there are pointers that the time to buy Uber shares could be now. It's a high-risk-return proposition, but by choosing a trusted broker, you can at least ensure that you're safely buckled up for the ride.