Key points:
The Rivian stock price has fallen 71.5% in 2022 and could be headed lower.
The decline has been driven by multiple factors led by supply chain issues.
What comes next for Rivian and other automakers. Read on to find out.
The Rivian Automotive Inc (NASDAQ: RIVN) stock price has fallen 71.5% in 2022. In addition, the firm recently announced that it would lay off 700 workers (approximately 5% of its workforce) amid a broader industry selloff.

The electric vehicle automaker revealed that it would lay off employees in non-production roles following last year's massive recruitment drive, leaving the company with a significant workforce.
Also read: The Best EV Charging Stocks To Buy Right Now.
However, the move to cut jobs is not unique to Rivian. Other automakers such as Tesla and Ford have also announced similar moves due to macro factors. First, most automakers have struggled to meet their production quotas due to a shortage of crucial parts to build vehicles exacerbated by the rolling lockdowns in China.
For most people, failure to meet production quotas may not sound like a big deal, but it is and here is why. For example, if a carmaker plans to make and sell 100,000 cars in Q3, each for $50,000, it expects to generate $5 billion in revenues. However, if the company produces 70,000 cars, its revenues will fall to $3.5 billion.
The car manufacturer has lost $1.5 billion in revenues since the quarter ended, and a new one has begun. The company will try to meet its production target for the next quarter. Imagine a manufacturer that has missed its production targets for multiple quarters. It will lose billions in potential revenues.
The supply chain problems plaguing car manufacturers started in 2020 with the advent of the pandemic and have never ended. Many have been missing production targets, but the situation just worsened. The current high inflation rates have also left most consumers with less disposable income.
Therefore, you can imagine that not many people will be rushing out to buy new cars when dealing with high gas and food prices due to inflation. Furthermore, car costs have risen as manufacturers factor in higher energy and commodity prices.
Overall, car manufacturers are bracing for tough times ahead. Hence, the latest job cuts and the situation will likely get worse from here onwards.
*This is not investment advice. Always do your due diligence before making investment decisions.
Rivian stock price.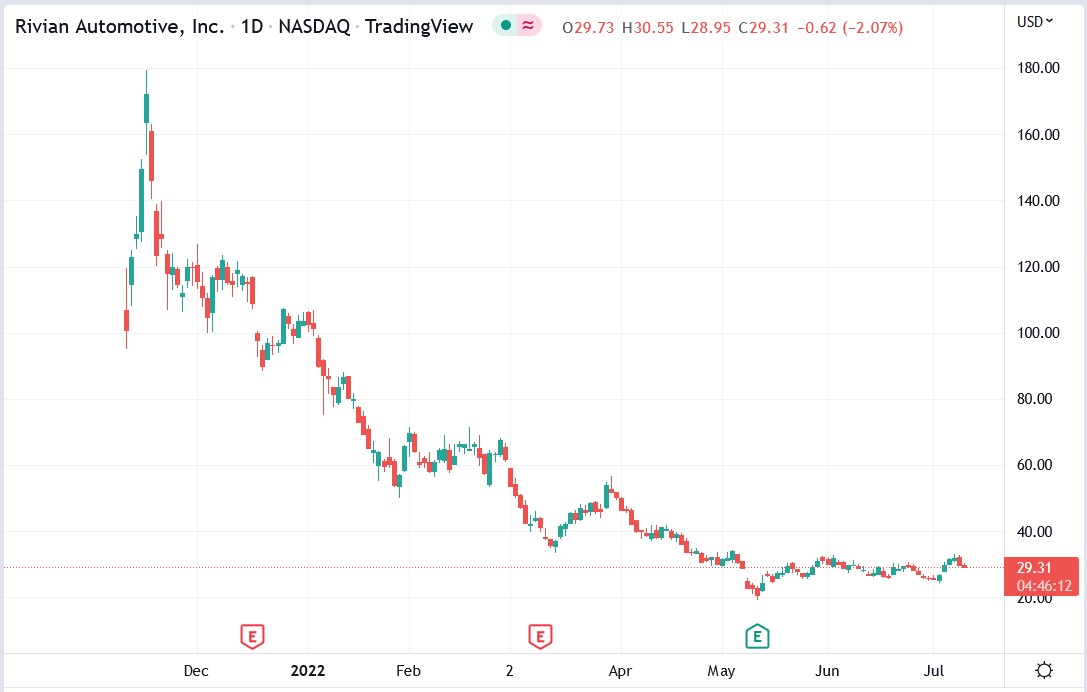 The Rivian stock price has fallen 71.51% in 2022 amid supply-chain shortages that have derailed the entire car manufacturing industry.