Key points:
The Energy Select ETF (XLE) stock is up 51.2% in 2022.
However, the stock might not be ready for a significant pullback yet.
Still, we are likely to get a pullback in the future as demand weakens.
The Energy Select Sector SPDR Fund (NYSEARCA: XLE) has risen by 51.2% this year, and some have started calling for a pullback given crude oil's impressive gains this year. However, are we there yet? Have oil prices peaked?

The above questions are not easy to answer since they depend on many factors that drive the crude oil demand and supply dynamics and investor sentiment towards the energy sector. While the war in Russia is one of the reasons behind the current global supply shortage of crude oil, there is more to the story than meets the eye.
For example, the largest global oil companies have been under immense pressure to cut their oil output and focus on renewable energy sources. This has led many of these companies to sell some of their oil assets, or in some cases, abandon them.
Governments worldwide have bet heavily on renewable energy sources forgetting that it could take some years before the world can wean itself off oil and start relying heavily on other energy sources such as solar and wind energy.
Now the world finds itself in a position where the oil demand is greater than the available supply, which was why oil prices rose for most of last year, long before Russia invaded Ukraine.
Therefore, while crude oil prices have risen significantly this year, pushing the energy industry higher, those calling for a selloff in oil stocks may not be rewarded as soon as expected. Oil prices recently fell from their highs near $130 and are now trading closer to $110.
A decline in oil prices could come from lower demand for the commodity as global manufacturing activities slow down due to high inflation, which has hit consumer spending in the United States and other developed countries.
Therefore, the energy sector is likely headed for a selloff, but it might not be as immediate as some think. But, again, as short term traders and savvy investors, we always let the market guide our trading decisions, and we'll be waiting for those falling prices once the market is ready.
*This is not investment advice. Always do your due diligence before making investment decisions.
XLE stock price.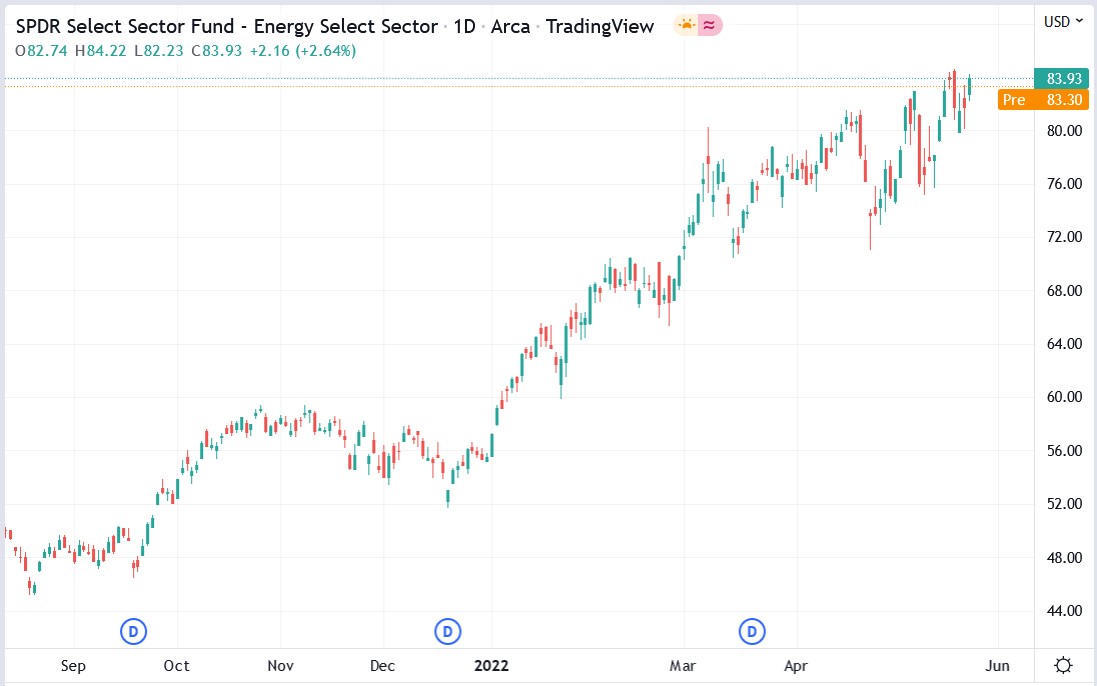 XLE stock price has risen by 51.2% this year. However, we might not be ready for that much-awaited pullback.