Key points:
The EURUSD pair fell today after Russia started mobilising its reservists.
The move indicates that Russia intends to continue the Ukraine war.
The euro fell due to the region's dependence on Russian gas and oil.
The EURUSD currency pair fell after Russian President Vladimir Putin raised the stakes in the Ukraine war by announcing a partial military mobilisation in Russia, which will see some army reservists join the war effort in Ukraine.

The military mobilisation comes a day after Russia announced it would conduct an annexation referendum in the four Ukrainian regions under its control: Kherson, Donetsk, Luhansk and Zaporizhia.
Also read: How the Forex Calendar Can Improve Your Trading.
The two moves by Russia indicate that the Putin regime is not considering an end to the war and that Russia is considering using nuclear weapons in the war to defend its territory once the annexation referendums pass and are approved by Putin.
Some analysts have pointed out that Russia could be looking to boost crude oil prices by signalling that it does not intend to end Russia's incursion into Ukraine. In addition, the move to mobilise its military will see 300,000 reservists join the war effort, a massive boost for the country.
Reports out of Ukraine indicate that Russia has lost thousands of soldiers since the Ukraine conflict started; hence, the latest efforts to bring in army reservists. However, European countries led by France, Germany and the UK have denounced Russia's latest moves.
NATO has also denounced Russia's suggestion that it was willing to use nuclear weapons during the conflict to defend its territory after the upcoming referendums, which have been declared illegal by Western powers.
The single currency came under intense selling pressure, even as Europe braces for a brutal winter with a looming deadline of banning Russia's oil and gas imports in December.
Investors are waiting for the Fed's interest rate announcement scheduled for later today, which could trigger a move higher or lower in the euro. However, given that the market expects the Fed to hike rates by 0.75%, such a move would have a muted impact on the currency pair.
The EURUSD pair is trading at a crucial support level and could rally higher soon if the level holds.
*This is not investment advice.
EURUSD price chart.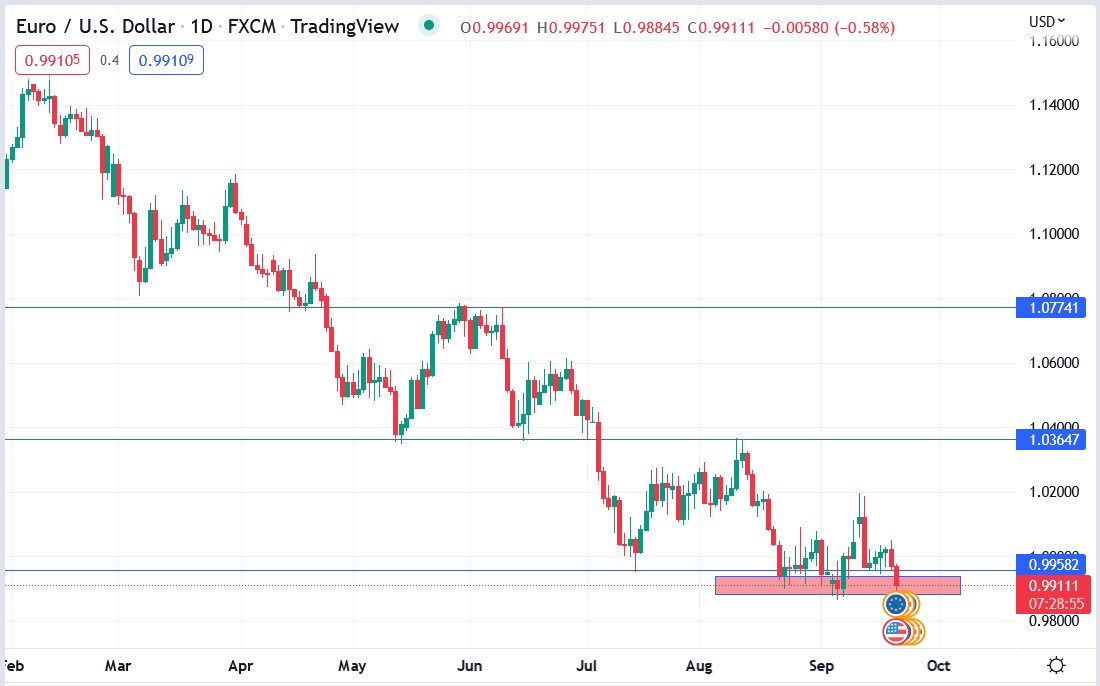 The EURUSD currency pair was trading down 64.7 pips (0.65%) ahead of the Fed interest rate decision.