Key points:
Polymetal cancels 2021 dividend, announces no new one
However, POLY is trying to take actions which would allow a future one
Whether they can thread through the sanctions is the issue
Polymetal (LON:: POLY) has, as we've been saying, not been directly affected by sanctions on Russia or Russian businesses – entirely unlike Petropavlovsk (LON: POG) which was driven bust by them. On the other hand POLY does have to deal with side effects of sanctions and it's this which leads to – reading between the lines that is – the thought that they're not about to declare a dividend. This is not a certainty, note, it's just an opinion gleaned from reading the most recent corporate announcement.

As a result of events, and as we know, there are sanctions on business with Russia. Polymetal is a gold and silver miner with operations in Russia and Kazakhstan, it's possible that such sanctions could directly affect them. As it happens, they don't. None of the directors or major shareholders are directly sanctioned, their bank isn't, their basic mining business isn't. Even that Russian refined gold is no longer good delivery to the bullion markets in London and Chicago doesn't matter as they export either in concentrate or to the Far East anyway.
On the other hand there are indirect effects of sanctions. The ruble exchange rate, ruble inflation in costs, the necessity of using local not international contractors, all have an effect upon costs. So, Polymetal withheld from payment their previously announced dividend. There would also, in the normal course for things, be another one about to be announced now with the interims. Given the current share price – again in normal times – these two together would be substantial. Some 35 to 50% of the current share price in fact. So, will it be paid? The announcement this morning is no, it won't, or they won't, be. It's when will a dividend be paid that now matters.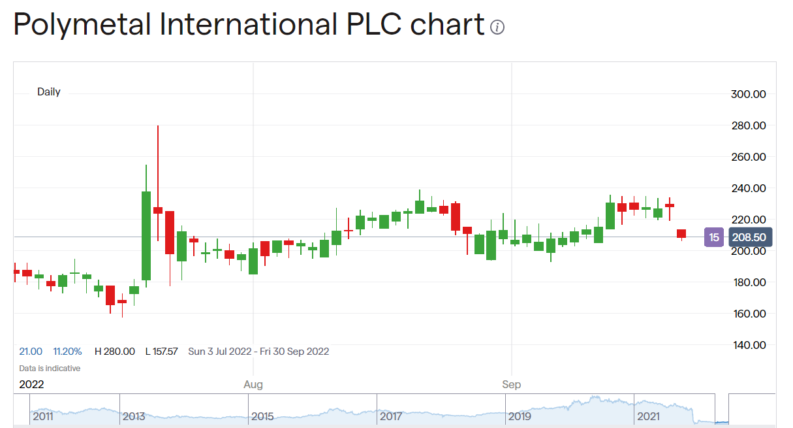 Also Read: The
Five Best Gold And Gold Miner Stocks To Buy Right Now
Sanctions mean that Euroclear does not talk to NSD any more. So, some 22% of the shareholders in POLY cannot be contacted by Polymetal itself. "Until a solution is found, the Board is not minded to propose any corporate action or dividend in which such a sizeable proportion of the Company's shareholder base cannot participate." So, the company is suggesting that those NSD registered shares should be exchanged for certified (we think they mean bearer here, not sure) shares. Even then that would leave 11% of the shareholder base – Russian citizens – without the ability to participate.
Polymetal isn't declaring a dividend now, as they say. It also seems obvious that they'd like to, which is why they're taking the action to bring that closer. But whether that 11% that can't partake – instead of the current 22% – will be enough to allow a dividend, well, time will tell. The postponed and current dividends are definitely cancelled – it's any that might arise in the future that depend upon the share exchange offer.