Shares of home safety products firm FireAngel Safety Technology Group (LON: FA.) have surged on Wednesday after the company said it has signed a long term partnership agreement with a German energy and efficiency service provider for the real estate sector to provide a fully-funded research and development programme for a new generation smoke alarm.
While the partner's name was not disclosed, FireAngel said it was founded nearly 70 years ago and provides services to approximately 12 million apartments worldwide, while in the six months ended 30 September 2020, the partner generated a turnover of roughly €317 million.
FireAngel's share price rallied on the news, climbing to highs of 29.5p. They are currently priced at 27p, up 86.21%.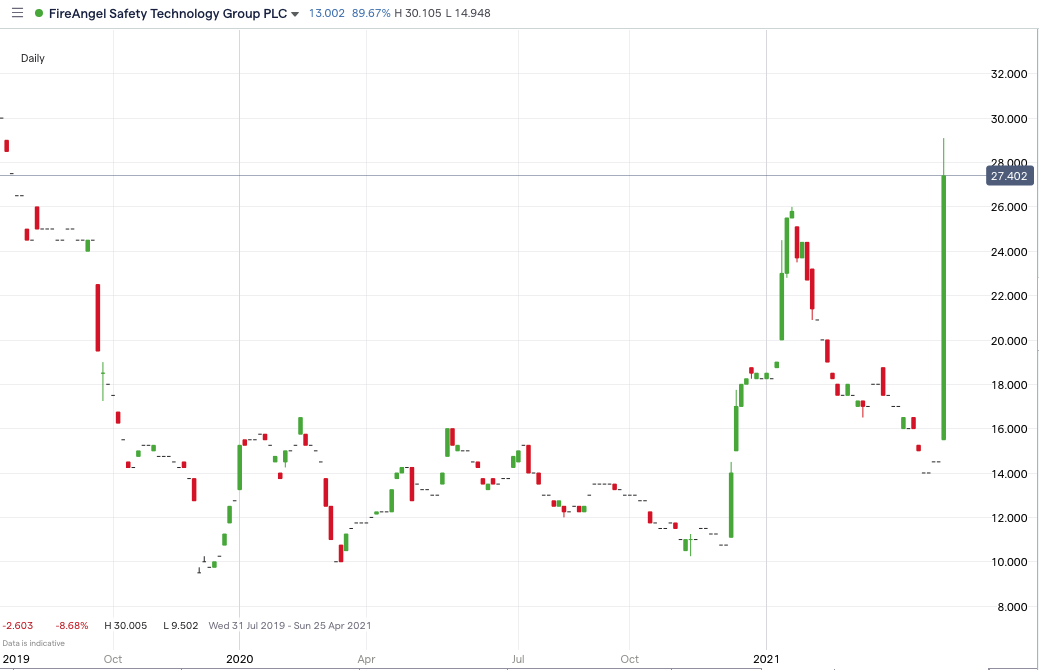 The UK based company will provide the partner with a new 10 year connected smoke alarm based upon its Gen6 platform.
The partner will fund the development phase of the next generation smoke alarm. FireAngel will receive a fee of £1.4 million for the use of its background IP during the development phase.
Once production has begun, a royalty fee per product will be payable to FireAngel with a multi-million volume fee agreed for the initial 30 months.
FireAngel expects to be responsible for the production with a manufacturing partner jointly chosen. The company is also likely to receive a minimum three-year manufacturing commitment and receive a manufacturing and support fee payable for each device delivered.
Seven million new devices are forecasted to be produced, with a minimum of three and a half million expected to be built in the first two and a half years.
John Conoley, Executive Chairman of FireAngel, commented: "This is the most significant development for FireAngel for several years and is expected to be transformational for the Group.
"The directors estimate that, during the life of the partnership, the company should earn up to €21 million in royalty, management and support fees.
"The Company's long-standing commitment to R&D, combined with the adoption of development processes from the IT world, have contributed to us signing this partnership which will be materially cash positive and contribute financially to the Company for the long term."
Should You Invest in FireAngel Safety Shares?
One of the most frequently asked questions we receive is, "what stocks are best to buy right now?" It's a wide-ranging question, but one that we have answered… Our AskTraders stock analysts regularly review the market and compile a list of which companies you should be adding to your portfolio, including short and longer-term positions. Here are the best stocks to buy right now