Key points:
Fisker Inc today set a launch date for its Ocean all-electric SUV.
The EV will be launched at the Mobile World Congress in Spain.
The company's chances of success are high due to its founder's experience.
Fisker Inc (NYSE: FSR) announced that it will launch its Ocean all-electric SUV at the Mobile World Congress in Barcelona, Spain, from February 28 to March 3, 2022.

The company is the latest to throw its hat into the ring in the already crowded EV market. Many startup companies compete for a slice of the nascent market that will grow exponentially in the coming years.
The Ocean SUV will have a range of 250 miles after a single charge, but the top tier Fisker Ocean Extreme could travel up to 350 miles on a single charge. The cars will feature all-wheel drive (AWD) technology powered by a dual-motor.
Fisker also says that its SUVs will have a host of unique safety features that are currently not present in other EVs but did not specify what these will be. Ocean SUVs will have three driving modes, which is standard for the car industry.
Luckily for Fisker investors, Henrik Fisker, the company's co-founder, has experience manufacturing cars. He founded Fisker automotive in 2007 and produced a plug-in hybrid sports car known as the Fisker Karma in 2012 before the firm went under.
Therefore, he has the requisite experience to produce and sell the Fisker Ocean successfully. His first company filed for bankruptcy because the sole battery manufacturer filed for bankruptcy after two battery recalls.
The company will have to differentiate its cars from the rest of the industry if it has to carve a niche in the highly competitive industry. However, many companies are ahead of it in their journey from inception.
We have companies such as Tesla that led the EV revolution and is now a profitable company. In addition, a host of other companies such as Rivian, Lucid Motors, Xpeng and Li Auto have nicely ramped up their production numbers in recent months.
It is too early to say whether Fisker shall succeed or fail in its quest to be the next EV superstar, but it has its work cut out for it going forward.
Fisker could benefit immensely from investors desire to discover the next Tesla that could see its share price soar to stratospheric highs, but this is yet to happen with the current crop of EV companies, given that Tesla invented the market.
However, over the long term, pure EV startups face stiff competition from already established car manufacturers such as Toyota, BMW, Volkswagen, and Ford that have also started producing EVs, which are the industry's future.
Meanwhile, Fisker shares look pretty attractive given the recent selloff. I would bet on Fisker to pull off his ambitious plan to build its first European brand experience centre in Munich and other countries.
*This is not investment advice. Always do your due diligence before making investment decisions.
Fisker stock price.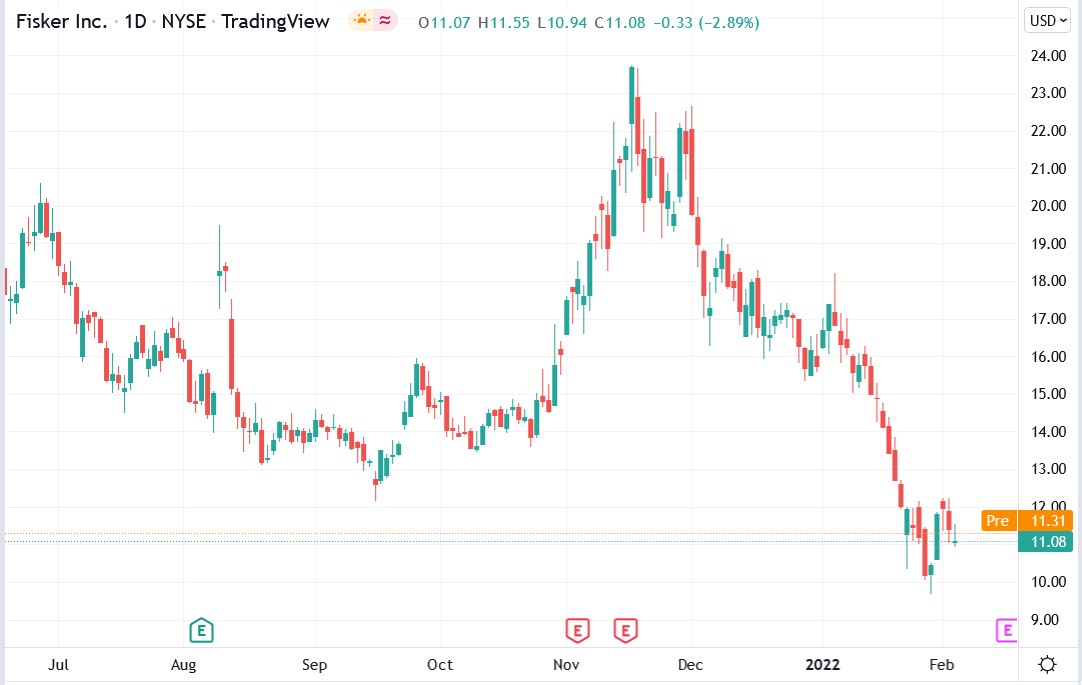 Since January, Fisker stock has fallen 29.56% but could turn around along with other growth stocks.