Key points:
The GBPUSD currency pair was trading up 2.08% on the government's U-turn.
The pair rallied higher after the new finance minister outlined the new fiscal plan.
The GBPUSD pair was trading near a critical resistance level. Will it break it?
The GBPUSD currency pair was trading up 2.08% at writing as the British pound rallied against the US dollar today, driven higher by the u-turn made by the new Chancellor of the Exchequer, Jeremy Hunt, as the UK government backtracks on most of its campaign promises.

Investors noted that the Liz Truss' government has completely reversed its fiscal policies away from the lofty campaign promises of uniform tax cuts such as the 1p income tax cut, which has been eliminated.
Also read: Forex Pivot Points – The Easy Guide For Beginners.
The government also confirmed that it would not proceed with the promised corporate tax rates aimed at attracting companies to set up shop in the UK due to the adverse reaction the policies elicited among market participants.
The pound rallied higher as investors expressed confidence in the new Finance Minister and decided to revise the blanket cap on energy bills to £2,000 annually to April 2023. At that point, the policy will be reviewed.
Investors appreciated the move to backtrack on the move to lower income tax to 19% and scrap the corporate tax cuts, which the minister said would raise about £32 billion for Her Majesty's Treasury.
The pound was headed higher at writing as Jeremy Hunt addressed the House of Commons in a lively session. The Prime Minister's absence during the session was noted as many raised questions as to why she did not bother to appear in person at Parliament.
Many pointed out that Prime Minister Liz Truss had misstepped the mini-budget unveiled a few weeks ago; hence, the need for today's U-turn. However, Liz Truss has her work cut out in regaining the public confidence and the trust of her fellow leaders.
The Bank of England also said that it intends to resume corporate bond sales in the week starting October 24, 2022, and said that it would be ready to start debt buybacks on November 7, 2022.
The GBPUSD currency pair was approaching a crucial resistance level at 1.14695, and many will be watching to see if it can break above this critical level.
*This is not investment advice.
GBPUSD price chart.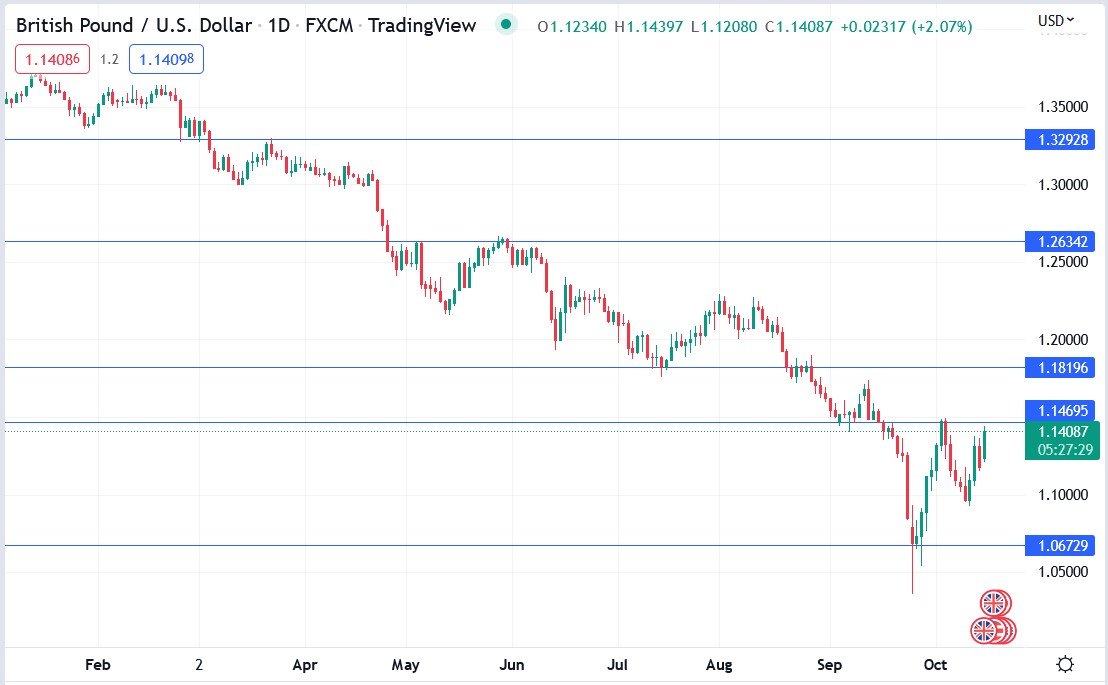 The GBPUSD price chart was trading up 231 pips (2.08%) higher at 1.1409 when publishing.