Shares of Genedrive PLC (LON: GDR) rallied 16.7% today as investors continued to pour into the stock, which has risen 180% since 22nd January when its price bottomed and started climbing.
Since then, the company's shares have risen for three consecutive weeks with the rally receiving a significant boost following the announcement of an agreement with Beckman Coulter on 28th January.
We covered Genedrive stock a few days ago when it spiked 32% higher as investors rushed in following the announcement, a move we noted was driven by the fear of missing out (FOMO).

The stock pulled back for a day and has since rallied higher triggering today's article. Many investors who have missed the rally in Genedrive stock so far may be thinking of jumping in and opening new positions in the company.
Well, given that Genedrive stock just crossed above the crucial 100p support level and is up 180% in three weeks, I'd wait for a pullback before jumping in. It is rare to see a stock with three bullish weekly candles keep rising, which is why I'd wait for a pullback.
The weekly chart below shows that Genedrive stock once rallied higher for seven weeks in early 2020 forming a pretty steep parabolic rally, which later crashed down as is usually the case with such types of rallies. Therefore, we can't rule out a similar surprise rally this time around.
For traders who are willing to buy Genedrive stock at current prices, I would wait for a pullback to areas near the recently broken 100p resistance level now turned into support before opening any new stock positions.*
However, the stock could pullback below the above level invalidating the trade idea.
*This is not investment advice.
Genedrive share price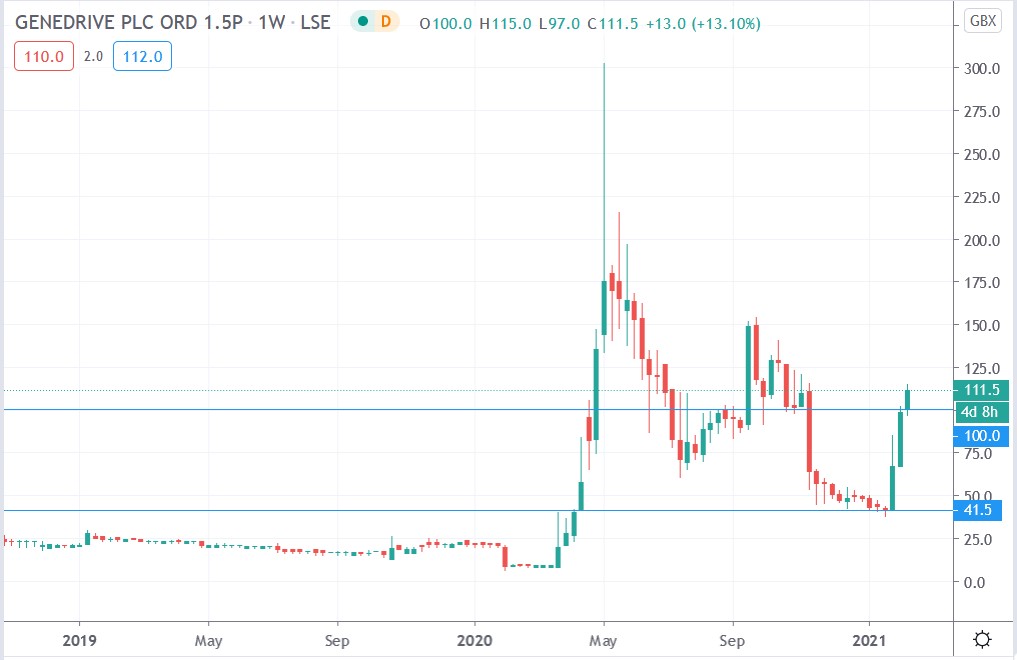 Genedrive shares surged 16.75% to trade at 115p having risen from Friday's closing price of 98.5p.