Tech stock GoDaddy (NYSE:GDDY)share price gains significant momentum
While price was lagging some other tech names, investors saw an opportunity to buy in, and the stock price is now catching up with the peer group
How thin is the air at these levels – well that mainly comes down to your take on future earnings and the seismic shifts the firm is reporting on how the world now does business.
The COVID-19 lockdown encouraged many people to set up a new business, the famous 'side-hustle', or they overhauled and upgraded their firm's existing online presence. Both of those trends have been great news for GoDaddy Inc the American-based publicly traded internet domain registrar and web hosting company.
GoDaddy is the largest domain name registrar in the world and has a market cap above $13bn and a share price, which to some extent rises with the massive shift to online ventures. The 'to some extent' caveat is in place because although the share price has at times printed prices up by 112% from its March lows, it is only 1.25% up from the price marks it registered in February before the market crash.
GoDaddy Inc share price – Daily Candles – 6th January–12th August 2020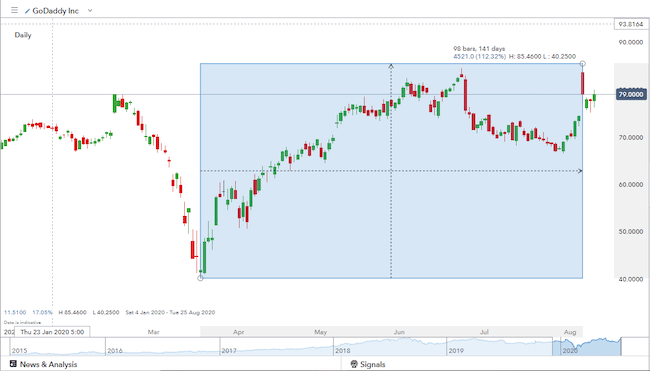 GoDaddy Inc share price – Daily Candles – 6th January–12th August 2020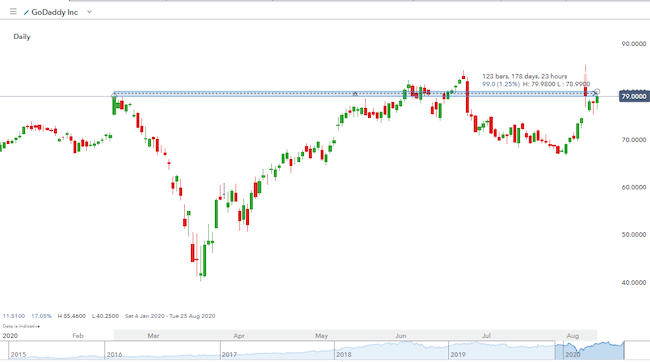 Compare this post-crash performance with Amazon Inc, which is up by more than 40% on its February figure.
Amazon Inc share price – Daily Candles – 6th January–12th August 2020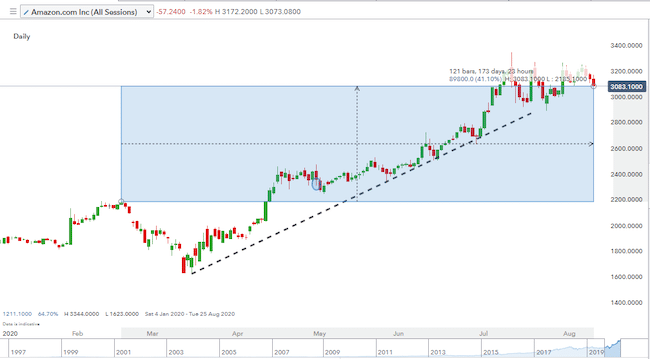 In the last quarter, GoDaddy added 400,000 new customers to take its global total to 20 million. In the UK, the firm's third-biggest market, there was an eye-watering 62% growth in customer numbers. People were already moving online prior to COVID-19 but the pandemic accelerated the move to digital.
A look at the company's fundamentals indicates why GoDaddy has underperformed firms such as Amazon. Share prices are ultimately based on earnings and more specifically, future earnings, and GoDaddy has a P/E ratio of over 90%.
GoDaddy P/E ratio comparison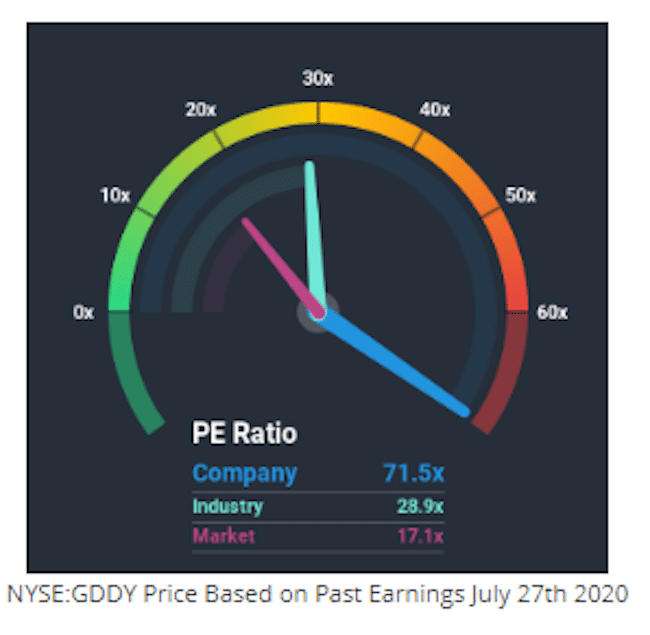 Established market thinking is that a P/E ratio over 30 is expensive, one over 60 is very expensive, and over 90 is extremely expensive. But investors can lose money by buying a company with a P/E of 15 and can make money by purchasing a company with a P/E of 120.

The analyst ratings on the stock are particularly bullish. Analysts following GoDaddy forecast the EPS to climb by 34% per annum during the coming three years. That's significantly higher than the 11% per year growth forecast for the broader market.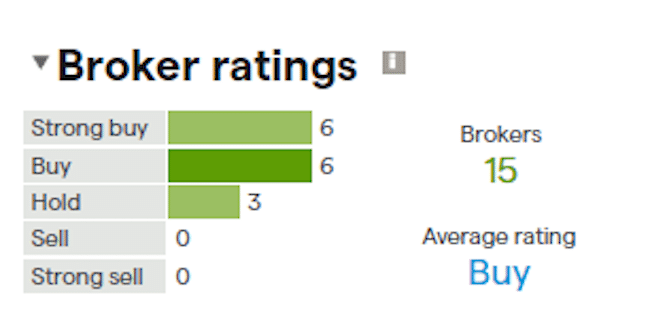 Reasons to buy
The optimism relating to GoDaddy and the reason the firm's share price has risen by 28% in one week is that future earnings are seen to be targeting substantially higher levels than they are currently reaching.
A lot of the attraction for online-only businesses is they don't have overheads such as real-estate costs, which are such a burden for many incumbent firms in the sector. In fact, running a business from home in the UK can have tax advantages. This means new entrants don't have to necessarily outperform their online rivals because there is enough business to be gained from taking business away from structurally weak competitors. By servicing a growth sector, some of the stardust of those entrepreneurs will also fall on GoDaddy.
In a survey of customers, GoDaddy established that 20% of its recent intake had no previous experience of running an online business. Only an optimist would suggest all these will succeed. However, with relatively low overheads many entrepreneurs may be taking the view 'if at first you don't succeed…' and being such a significant trend can only point to more start-ups waiting in the wings.
The debate about the chances of a COVID-19 second wave continues, but even if you take the recent uptick in cases as the tail-end of the first wave, it is clear to see that governments are choosing lockdown as their preferred policy tool. After a world-beating 102-day run of no 'local infection' cases, a three-day lockdown of the city of Auckland has been announced after four new cases were confirmed. Non-essential businesses will be shut and 1.6 million people will be given the time to work on their new online projects.
While the historical Earnings Per Share (EPS) growth rate for GoDaddy is 103.7%, investors should focus on the projected growth instead. The company's EPS is expected to grow by 42.3% this year, smashing the industry average EPS growth of 27.9%.
Reasons to hold
In the tech space, there is always the threat of one of the big FAANG stocks taking an interest in your sector and starting their own project. Whether or not these are ultimately successful is often of little concern for the behemoths which have pockets so deep they can run failing projects almost indefinitely. Not great news for the shareholders of Amazon and Facebook, however, they are accustomed to turning a blind eye to the many projects which don't take off because the 'moon shots' which succeed make up for it. For firms like GoDaddy, the risk is being left to compete against a billionaire's pet project.
GoDaddy is by no means a small company and its strong brand position possibly makes it a take-over target for the bigger players. The firm has also built relationships with the tech giants. For example, in March 2018, Amazon Web Services (AWS) announced that GoDaddy is migrating the vast majority of its infrastructure to AWS as part of a multi-year transition.
Valuation metrics at Zacks's show that GoDaddy Inc. may be fairly valued. The analysts there currently rate GoDaddy Inc. as a 'Zacks Rank 3', and they are expecting an inline return from the GDDY shares relative to the market in the next few months. So, an absence of fireworks then but a chance to buy the dips. Depending on your appetite for frequent trading, it is a chance to ease out of positions if and when price spikes.
Reasons to sell
There's no information like insider information and recent share dealing by those with intimate knowledge of the firm does raise a red flag. Over the last 12 months, all insider dealing has been stock sales and 3–6 months ago there was a spike in activity.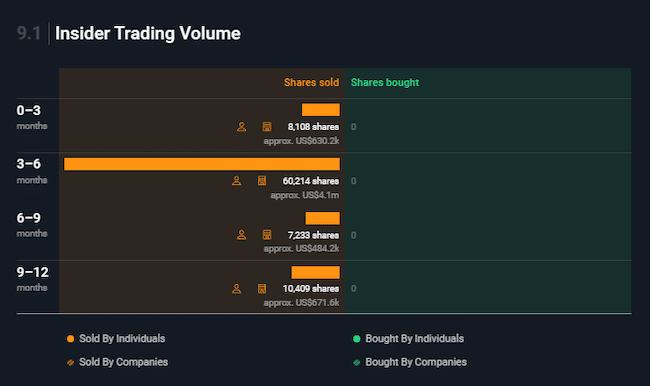 The firm recently released its earnings to the market. The data shared was shared after-hours on August the 5th and caused a 14% overnight price spike.
"Q2 was a very strong quarter for GoDaddy," said GoDaddy CEO Aman Bhutani.
"In addition to delivering great financial results, we found innovative ways to improve our products and allocate resources to drive long-term value for customers and shareholders."
Source: GoDaddy
Consolidated Second Quarter Financial Highlights

The gap from that date has not yet been 'filled' which might cause some with a more technical approach to hold off buying in at current levels. But if price should fall and touch that point, then it could be a chance to buy a dip in a stock positioned to capitalise on the 'new normal'.
GoDaddy Inc share price – Hourly Candles – 1st August–12th August 2020