Key points:
Panmure's cut Halfords to hold from buy, with a 150p target
But is that enough to explain the 11% fall?
Could it be worries over resurgent inflation?
Halfords (LON: HFD) shares are down another 11% in London today and there's no obvious news driving this. Yes, there's an analyst release on their purported value but that's a significant move on just the one research note. It's possible that there's a reaction to inflation going on here. A reaction that might not even be fair but then prices are, in markets, what prices are in markets. There's nothing fair about it all at all. Halfords is down 62% on the year to date so there are those two opposing views to deal with – things revert to the mean so it will rise, or that sort of a fall indicates a serious problem that has to be solved.

As to the research note about Halfords that's from Panmure which slashed their rating on the shares. From a buy to a hold, with the target price coming down from 300p to 150p. Note that we always should downgrade a broker's advice by one step – hold is sell, sell is run screaming from the room etc. The specific issue Panmure has with Halfords is its gearing. This isn't something all that desirable in a weak retail environment, especially when there are significant lease exposures. That's their reasoning at least.
It's also possible to construct our own ideas as to why this has happened. We are operating in something of an information vacuum as there's been no other news nor release. But it's entirely possible – note possible – that investors are seeing Halfords as being geared to the inflation rate. However sensible that idea might be – or not – it does aid in explaining the facts.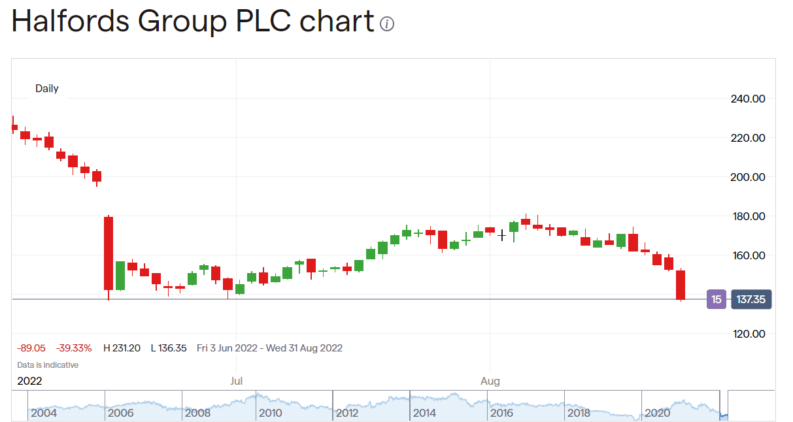 Also Read: Five Best Recession Proof Stocks
We could take the Panmure note to be the reason. But it's also possible to go one step further. Back in June Halfords shares dropped 25% and change in one day on inflation worries. The problem was that they were facing higher input costs – both FX from sterling's decline and also inflation from logistics problems – but weren't able to push up their own prices to compensate. So the inflation jaws were crushing margins etc. Well, OK, if we've now got the idea that Halfords is subject to inflationary pressures, geared to them in fact, then that would aid in explaining today's share price movement.
For yesterday – so this morning's newspapers – is when the wilder claims of much higher inflation beamse public. Some are thinking that energy prices will take it to 18%. Others are even predicting 22% before it's brought under control. We can see the link there – inflation exposed stock, high inflation predictions, why not a significant price movement?
Given that much of what Halfords retails is a discretionary purchase that could in fact be enough. Higher inflation curbs sales but with a cost base heavy on geared leases – that'll crush margins.
Now, whether all that's true is another thing. But it is the sort of exercise we need to go through to explain share price movements like this. For only when we've come to a view as to what has caused a price move like that at Halfords can we then go on to decide how to trade it.