Key points:
Alba Minerals' share price surged 20.9% on the JV buyout at Clogau.
The miner just bought out the remaining 10% of the Clogau mine.
Investors cheered the move due to the reasons outlined below.
The Alba Mineral Resources plc (LON: ALBA) share price surged higher after the mining company announced that it had bought out its joint venture partner to take 100% ownership of the Clogau Gold Project in Wales, United Kingdom.

The mining company is expected to pay £400,000 to acquire the 10% stake previously owned by Gold Mines of Wales Limited (GMOW) while also buying back a 3% smelter return royalty owned by the seller lowering the royalty payment to 1%.
Also read: Five Best Gold and Gold Mining Stocks To Buy Now.
Investors cheered the announcement that would make Alba Mineral Resources the mine's sole owner, given the large number of gold targets identified by the company and the former gold workings outside the mine's footprint.
Alba Minerals intends to issue 200 million new shares priced at 0.2p each to pay for the acquisition, representing a 25% premium to yesterday's closing price of 0.16p. The new shares will have a 12-month lockup period and are accompanied by 81.93 million two-year share warrants exercisable at 0.4p each.
Significantly few companies can issue 200 million shares at a premium to their current price, which means that the market agrees that the firm's share price should be higher than its current price. Alba Minerals not only pulled off such a unique capital raise but also managed to issue exercisable warrants at twice the price of the new subscription shares.
Therefore, it is clear that investors are confident in Alba's prospects; hence, they were willing to pay more for the company's share price than its current price. In addition, the company has been making progress at the mine and is proceeding with plans to dewater the Llechfraith Shaft at Clogau Gold Mine.
*This is not investment advice. Always do your due diligence before making investment decisions.
Alba Minerals share price.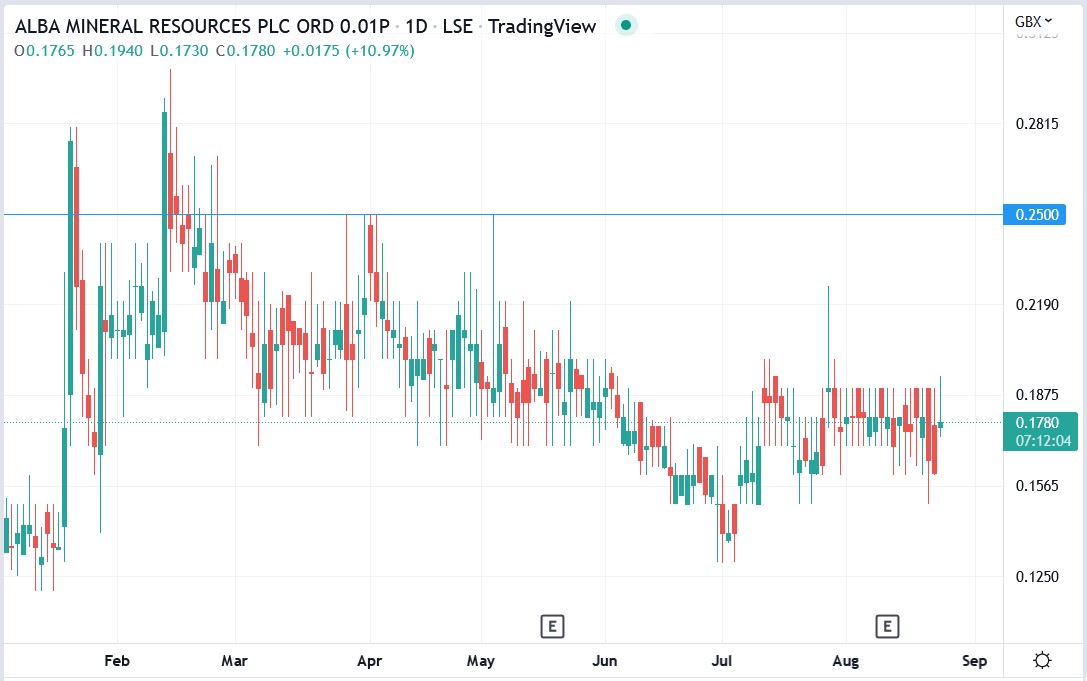 The Alba Minerals share price surged 20.87% to trade at 0.1605p, rising from Monday's closing price of 0.1940p.