Key points:
Novavax stock plunged 26.7% despite impressive Q1 results and profits.
The company achieved some critical milestones despite missing estimates.
There's still hope for Novavax despite its shares selling off aggressively.
Novavax, Inc. (NASDAQ: NVAX) stock price crashed 26.7% during premarket trading after its Q1 earnings results were released. It missed both analysts' revenue and profit forecasts despite recording its first profitable quarter.

The biotech company revealed that it generated a net profit of $203 million, translating to $2.56 earnings per share compared to Q1 2021's net loss of $222.7 million ($3.33 loss per share).
Novavax's revenues came in at $704 million, missing the Zacks analysts' consensus estimates by 19.83%, while its profits also missed analysts' expectations.
Today's selloff in NVAX shares was driven by the fact that the company had failed to beat analysts' expectations over the past four quarters earning its management team the tagline of overpromising and underdelivering.
Novavax shares were already down 62% in 2022 before today's announcement, so the company's situation just got worse.
However, on the bright side, the company notched its first profitable quarter since its Juen 1, 2021 IPO, which is a significant milestone, despite not meeting many of its targets.
The biotech company shipped 31 million doses of its COVID-19 vaccine in the first quarter, making it almost impossible to hit its target of shipping 2 billion vaccine doses by the end of the year.
The low COVID-19 vaccine shipments were attributed to Novavax not receiving a vaccine order from Covax, the global alliance buying and shipping vaccines to developing countries. However, the company's management remains hopeful that it will receive an order from Covax.
Novavax could also get its COVID-19 vaccine approved in the United States at its meeting with the US Food and Drug Administration (FDA) on June 7, 2022, which could open the US market to the company, leading to more sales.
The company also reported positive results from the phase I/II clinical trial of the COVID-19-Influenza Combination vaccine candidate, which could further develop the vaccine.
Stanley C. Erck, Novavax's President and CEO, said: "Novavax has been successful in launching our protein-based COVID-19 vaccine worldwide and executing on our plans for ongoing label expansions for pediatrics and homologous and heterologous boosting. Reinforced by our first profitable quarter, with $704 million in revenue, we are continuing our robust commercial rollout."
While investors were disappointed by Novavax's Q1 earnings results, the company deserves credit for the various milestones during the quarter.
*This is not investment advice. Always do your due diligence before making investment decisions.
Novavax stock price.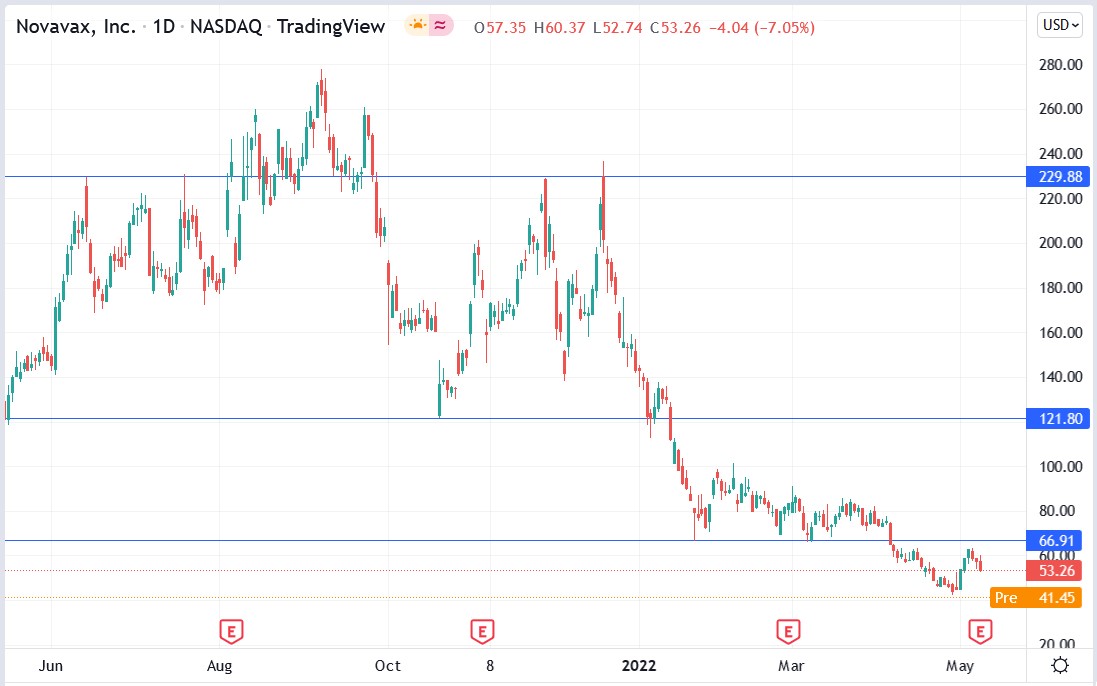 Novavax shares fell by 26.73% to trade at $39.02, falling from Monday's closing price of $53.26.