Key points:
EVgo stock rallied higher after winning a contract from the city of Portland.
The company will install eight fast chargers and 44 level 2 chargers.
Investors are waiting for the company's Q1 earnings results tomorrow.
The Evgo Inc (NASDAQ: EVGO) stock price edged higher today after the City of Portland selected the company as its EV charging partner to install EV charging stations on property owned by the city.

The EV charging company will be tasked with installing eight direct current fast chargers (DCFC) and up to 44 Level 2 chargers across Portland, Maine. Investors cheered the announcement, as evidenced by the rally in EVgo stock.
EVgo shares have fallen by 36.22% in the past month, with many hoping that the stock will reverse course and head higher in future. Investors are currently waiting for the company's Q1 results set to be released tomorrow, which could fuel a rally higher.
The decline witnessed in EVgo stock was not unique to the company. Other EV charging companies, such as Chargepoint and Blink Charging, saw a similar decline in their stock prices last month as US stocks pulled back on high inflation and the projected Fed rate hikes.
The company prides itself on being the first North American EV charging network powered by 100% renewable electricity, a significant selling point in today's investment market.
Most investors are concerned about the environmental impact of the companies whose stocks they buy, and many specifically want to invest in companies that champion sustainability and work hard to protect the environment.
EVgo's sustainable operations are aligned with the City of Portland's goal of reducing 80% of its emissions by 2050 and switching to 100% clean energy for all its power needs by 2040.
Colin Murchie, EVgo's Senior Director of Business Development, said: "Portland has always been a place that recognizes the different ways to sail a ship, and a combination of fast charging and Level 2 charging are exactly what's needed for Portland's teachers, city employees, residents and visitors to meet their needs as they shift to EVs."
EVgo shares are trading near a crucial long-term support level, but I would wait for tomorrow's Q1 results before deciding.
*This is not investment advice. Always do your due diligence before making investment decisions.
EVgo share price.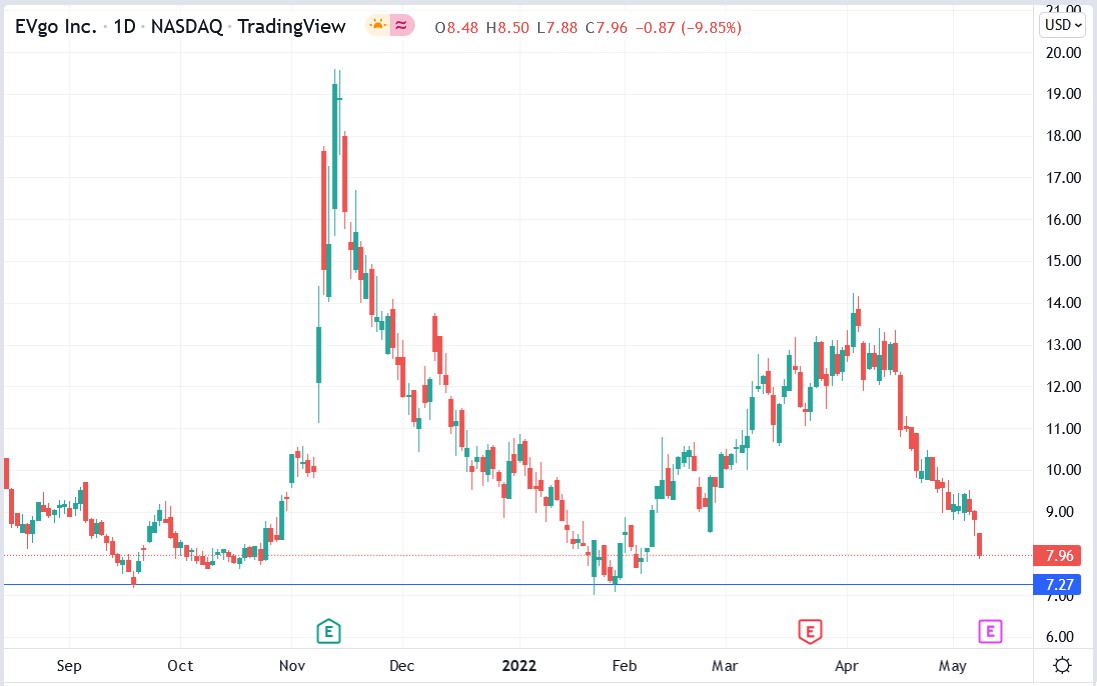 EVgo shares have fallen by 36.22% in the past month, with tomorrow's Q1 results crucial to its future performance.