Key points:
Li Auto shares edged 5.13% higher on upbeat Q1 2022 results.
The EV manufacturer's revenues improved compared to last year.
However, its vehicle deliveries were lower than in Q4 due to lockdowns.
The Li Auto Inc (NASDAQ: LI) stock price edged higher after the Chinese EV manufacturer released its Q1 earnings results before the US markets opened on Tuesday.
The EV company revealed that it generated 9.56 billion yuan ($1.51 billion) in revenues during the first three months, beating analysts' estimates of RMB 9.467 billion.
The Q1 figures marked a 167% improvement to the RMB 4.147 billion generated in Q1 2021 but were a 10.3% decline from the figures reported in Q1 2021. The company delivered 31,716 vehicles in Q1, representing a 152.1% improvement from last year's Q1 figures and a 10% decline to Q4 2021 figures.
Li Auto's margins kept improving as the firm's margins rose to 22.6% in Q1 2022 compared to 22.3% in Q4 2021 and 17.3% in Q1 2021.
The EV manufacturer reported a loss of RMB 10.9 million in Q1 2022, representing a 97% decline from the RMB 360 million loss reported in Q1 2021. However, the figures were less impressive since it generated a net income of RMB 296 million in Q4 2021.
Li Auto shares were trading higher at writing since investors were impressed mainly by the EV company's vehicle deliveries despite the numerous lockdowns in China as the country fights the resurgence of COVID-19 infections.
As we have pointed out in the past, China's zero-COVID policy and the resulting lockdowns have forced many companies to cut production since they rely on Chinese suppliers for many parts used in their vehicles.
Many hope that China will reconsider its zero-COVID policy and adopt the more relaxed approach taken by western countries. However, experts are now warning that china's lockdowns could significantly derail the global economy's growth this year.
Li Auto's R&D expenses rose to RMB 1.37 billion in Q1 2022 as the company hired more R&D employees and compensated them, combined with the higher costs associated with developing new products.
The company said it expects to deliver between 21,000 and 24,000 vehicles in Q2 while generating RMB 6.16 billion – 7.04 billion in revenues.
*This is not investment advice. Always do your due diligence before making investment decisions.
Li Auto share price.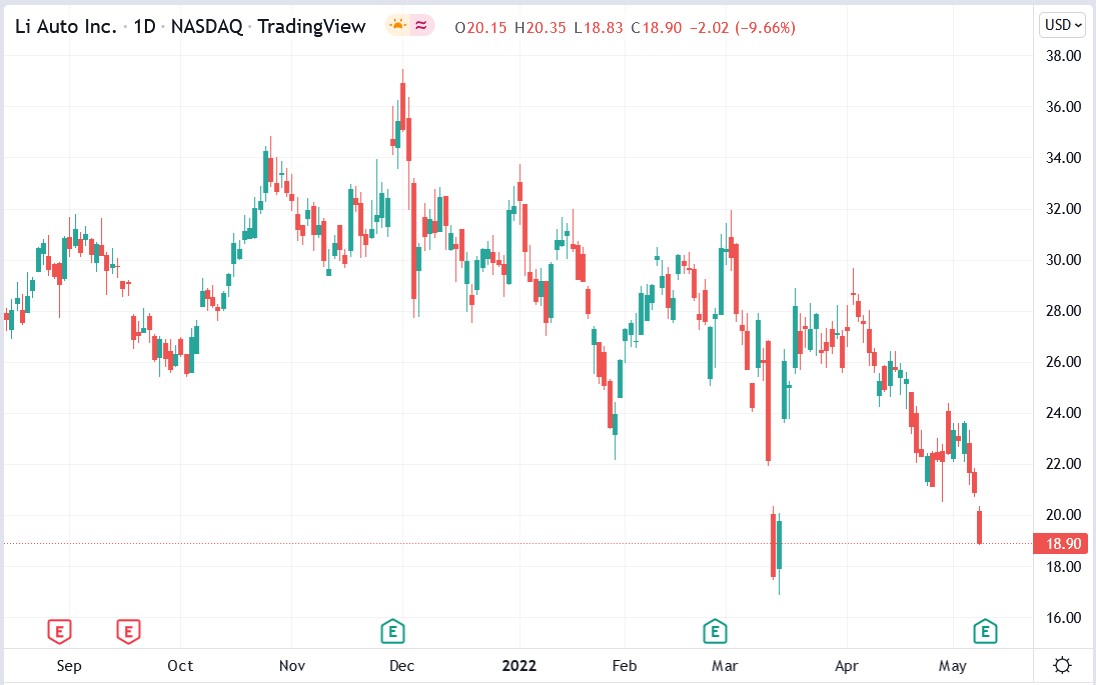 Li Auto shares have fallen 41% in 2022 amid a broad industry selloff but could rally higher following today's results.