Like a mountain of other retailers, the COVID-19 pandemic had a significant impact on GameStop.

The brick and mortar firm plans to close 450 stores this year, and its earnings decreased 13.21%, resulting in an $84.10 million loss during Q3 2020. But surprisingly, it has been one of the most sought after stocks in 2021 after a monumental battle between retail investors who are apart of the WallStreetBets subreddit and Wall Street itself.
First, let's briefly touch on What Happened With GameStop?
Just two weeks ago GameStop shares were sitting around the $40 mark, while in April 2020, they were trading as low as $2.57, but Thursday saw its shares trade above the $500 level after a monstrous move.
It all started when an account in the WallStreetBets subreddit, "DeepFuckingValue", analysed the stock, concluding that it was undervalued…
Elsewhere, several prominent hedge funds and short-sellers were betting against GameStop. Some of those with short positions included Citron Research and Melvin Capital.
However, according to Vice, the guys at WallStreetBets had identified a weakness in the strategies of these hedge funds that put millions of dollars into shorting the stock, and so they kept buying, forcing a short squeeze.
And when last week, Citroen Research released its report on why they believe the stock was going to $20, it prompted a new wave of retail buying, causing the Wall Street hedge funds severe losses meaning they were forced to cover their short positions (buying the stock), resulting in GameStop shares being pushed even higher.
Why Did Brokers Restrict GameStop Trading?
On Thursday several brokers halted trading in GameStop shares and other stocks such as AMC Entertainment and Koss Corporation.
Brokers such as Robinhood and Webull stopped traders from buying shares of those companies while other firms such as Interactive Brokers, Charles Schwab, IG, and TD Ameritrade imposed restrictions and tightened requirements on who could buy and short the shares.
This started a wave of claims, with public outcry as investors believed the brokerages were protecting Wall Street from extreme losses.
However, the brokers claimed "extreme volatility" caused them to suspend trading. This isn't uncommon, and it has been done before, but it was GameStop's suspension for most of the day that caused many to ask questions and call foul.
Even US politicians and lawmakers got involved with Democratic Representative Alexandria Ocasio-Cortez tweeting:
"This is unacceptable. We now need to know more about @RobinhoodApp's decision to block retail investors from purchasing stock while hedge funds are freely able to trade the stock as they see fit.
"As a member of the Financial Services Cmte, I'd support a hearing if necessary."
While Conservative Senator, Ted Cruz replied replying saying he "fully" agreed.
Most of the retail investors' anger was focused at US trading app Robinhood, mainly since they sell most of their order flow to Citadel, a hedge fund which invested in Melvin capital to provide them with an emergency influx of cash after they got into trouble from their short bets in companies such as GameStop.
There were even rumours that Citadel reloaded on shorts before ordering Robinhood to close GameStop trading.
Late on Thursday, many brokers began to ease the restrictions with Robinhood stating that limited trading of stocks, such as GameStop, would be allowed on Friday and it was a risk management decision and not made on the direction of the market makers they route to.
"As a brokerage firm, we have many financial requirements, including SEC net capital obligations and clearinghouse deposits. Some of these requirements fluctuate based on volatility in the markets and can be substantial in the current environment," said Robinhood in its statement
"To be clear, this was a risk-management decision, and was not made on the direction of the market makers we route to," the company added.
In simpler terms, the reason access to trading these stocks was restricted is because brokers were reacting to higher costs, as clearinghouses (an institution that facilitates the exchange of payments, securities, or derivatives transactions) who act as broker's counterparties, raised margin requirements to protect its members from the rise in volatility.
These new margin requirements meant that Robinhood, among others, did not have the capital required to cover the margin, meaning they had to restrict access to the stock.
GameStop Shares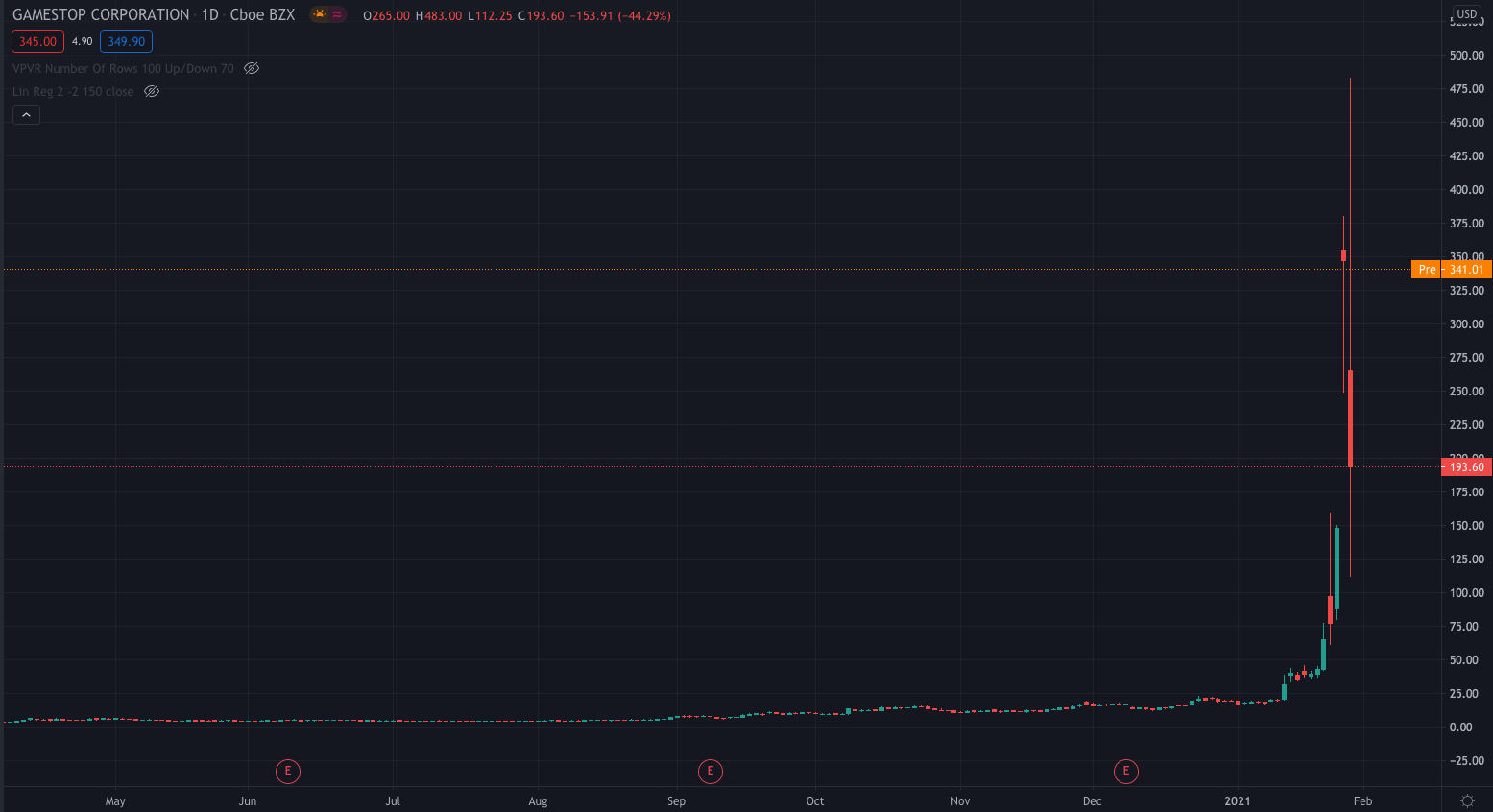 While trading these stocks won't be entirely restricted on Robinhood and Webull on Friday there will still be some limitations.
However, this hasn't stopped GameStop's stock price from surging higher, currently up 101% at $390 pre-market on Friday while AMC Entertainment shares are up 54% at $13.29.