Key points:
The IMB share price recently rallied higher after issuing a solid dividend.
However, should you buy IMB shares based solely on its dividend payout?
Read on to find out where we think IMB shares are headed.
The Imperial Brands PLC (LON: IMB) share price recently rocketed higher after the tobacco company released its H1 2022 earnings results. The company also announced a 7.8% dividend payout attracting hordes of dividend hunters. But does the healthy dividend justify adding Imperial Brands to your investment portfolio?

The short answer is maybe not. Looking at the weekly IMB share price chart below, we can see that IMB shares have been in a long term downtrend since hitting highs of over 4100p from June to August 2016, with the downtrend gathering momentum over the years.
The long term decline in IMB's share price is based on the underlying fundamentals of its tobacco business, with many people now viewing smoking as a dead man's endeavour. It is no longer cool to be a smoker despite how many ads the cigarette manufacturers plaster all around us.
However, while the demand for cigarettes has decreased over time, other segments such as e-cigarettes and vapor devices have skyrocketed, especially among the young, who currently make up the largest population group in most developed countries, which is where IMB markets its products.
Therefore, the company must invest heavily in capturing a significant portion of the vapor and e-cigarette markets to survive over the long term. However, the firm's latest results do not indicate that it has captured enough market share in the tobacco alternatives market.
Phillip Morris, one of Imperial Brands' biggest competitors, recently made a $16 billion offer to acquire Swedish Match, a smaller rival, to boost its portfolio of alternatives deemed less harmful than traditional cigarettes.
IMB still has a long way to go since it generated £101 million ($126 million) from its next-generation brands, including heated tobacco and e-cigarettes, out of its gross revenues of £3.5 billion.
Circling back to IMB's weekly price chart, we can see that its share price has finally bottomed and is now headed higher. A break above the  1801p resistance level would bring the 2044p resistance level into play. I would buy once we get above 1801 on the weekly chart.
Still, a move lower to the 1505p level would present a better buying opportunity. However, a break below 1500p would invalidate the bullish thesis.
*This is not investment advice. Always do your due diligence before making investment decisions.
IMB share price.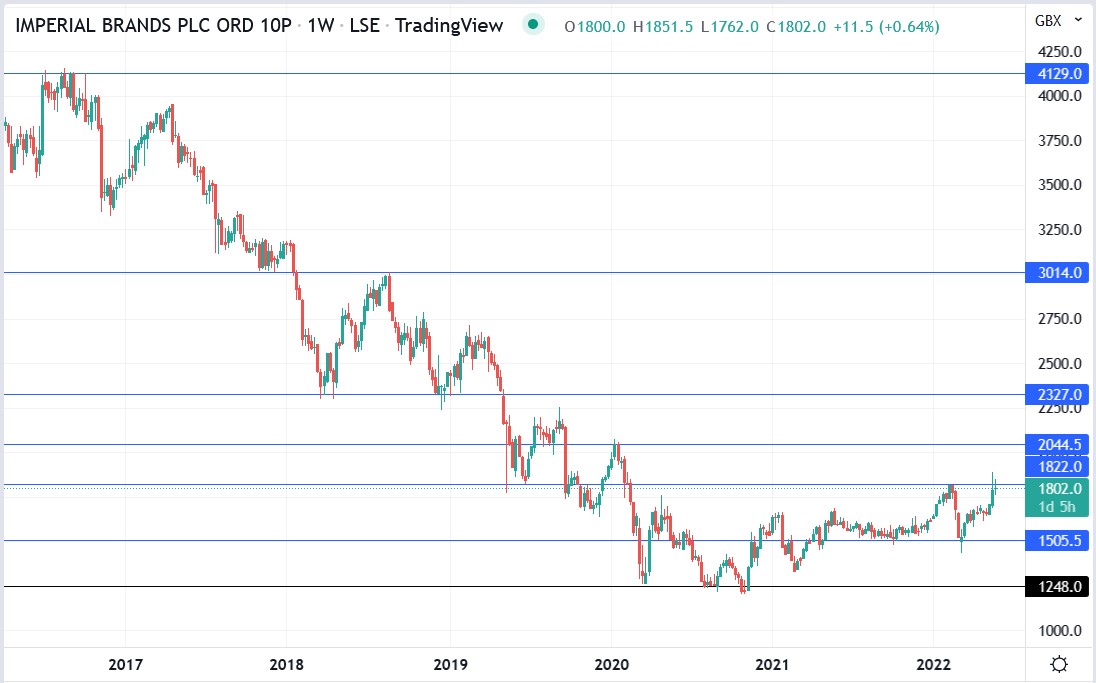 IMB shares have been in a long term decline since September 2016, but they have bottomed.