Key points:
Canada Goose shares are down 45% in 2022
Demand for luxury goods remains strong
The company beat earnings and is confident for the year ahead
With room for growth, could now be the time to buy?
Canada Goose (NYSE: GOOS) has been on the slide for a fair few weeks now.

Considering the current market conditions, and the fact the brand is associated with winter clothing, it is understandable.
NYSE-listed shares of the winter clothing manufacturer are down 48.7% this year, but premarket on May 19th, they are up over 8%. The company posted earnings before the bell, beating expectations and forecasting full-year profit above market estimates, with the company encouraged by strong demand for its luxury parkas and jackets.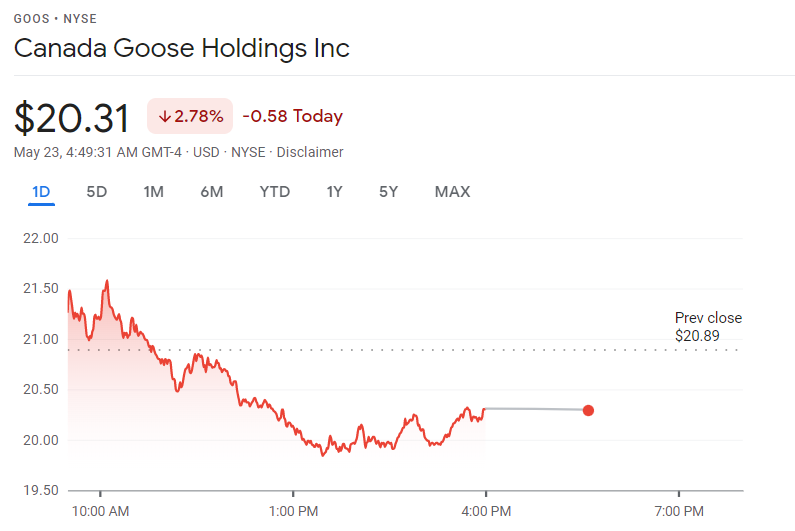 Despite record levels of inflation, demand for luxury goods has seemingly remained strong in both Europe and the US. For example, watches of Switzerland, the biggest retailer of Rolex watches in the UK, recently revealed that sales rose 48% in March, April, and May compared to the same period last year. In addition, Burberry recently announced a 4% rise in full-year pre-tax profits to £511m.
OK, so what does this mean for Canada Goose?
Well, the stock has declined every May since 2019, and today's premarket rise, while providing a period of reprieve for investors, may not be enough to halt the seasonal slide.
Again it's important to remember that the company experiences a significant dip in demand from around March onwards as the Winter season fades.
Even so, it is optimistic for the year ahead.
Take a look at traffic data on the Canada Goose website from SemRush.We can see the demand pattern clearly changing over the past three months…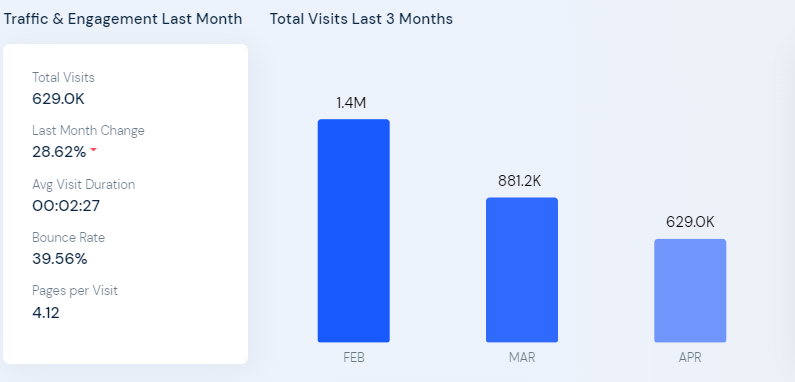 There is always a significant dip post-winter. However, that dip doesn't tend to flatten until around mid-June.
With the company having just five stores in the US, four in Europe, 10 in China, and nine in Canada, web data can provide a unique insight into demand trends.
However, the amount of physical Canada Goose stores also suggests there is room for growth for the company.
So could we see a further decline in its share price?
Given the current market conditions and seasonality trends, I would not at all be surprised if there was another leg lower.
In its latest earnings report, the company said it had seen improved traffic and lower levels of operating disruptions globally, including mandatory closures, while it has also seen a return to regular trading levels in Mainland China during the peak selling season.
However, it still has 4 of 16 retail stores in the market currently closed as a result of Covid-19 restrictions, with "the remainder currently facing significant traffic impacts."
Canada Goose is also insulated from supply chain challenges that have hit other companies.
While its recent earnings beat is a positive for the company, I believe there could still be room to continue lower in the short term if negative sentiment persists. However, over a longer timeframe, the stock is beginning to look attractive.