Key points:
Risk Off Theme Has Seen Stocks and Bonds Sell Off This Week
Crypto Market Have Moved Sideways, Even Higher
Is This the Start of A Short-Term Decoupling?
The past week has seen a plunge in global stock averages in many cases to new 2022 lows. Cryptocurrency markets have been in a positive consolidation phase in the same period. This could be signalling the start of a decoupling of the correlation between these asset classes that has dominated in 2022.

Risk Off Theme Has Seen Stocks and Bonds Sell Off This Week
The resumption of a "risk off" phase across global financial markets in the last week has been at least partially driven by the high volatility created by the UK government's mini-budget, which saw tax cuts and increased spending cause meltdowns for the Pound and UK Gilt market. In turn, this had contagion impacts on UK and global stock indices. The US stocks averages also plunged lower, aided by ongoing recession/ inflation fears and ongoing hawkish comments from Fed speakers. The S&P 500 and Dow Jones Industrial Average have hit new 2022 lows this past week.
Also Read: Are these Cryptocurrencies potentially recession proof?
Crypto Market Have Moved Sideways, Even Higher
Over the same time frame, the past week, most of the cryptocurrency market has remained in sideways consolidation ranges. In fact, looking at the market leaders, Bitcoin (BTC) and Ether (ETH), these have actually racked higher this past week and remain above mid-September lows and also the summer 2022 bear market lows.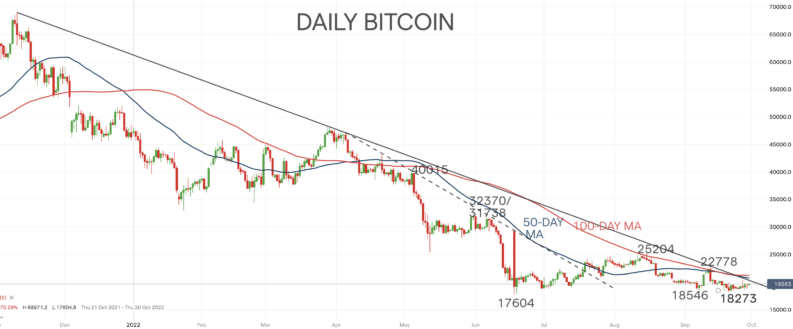 Is This the Start Of A Short-Term Decoupling?
For most of 2022, the cryptocurrency market has tracked the global and primarily US stock indices. This recent price action might be signalling at least the start of a short-term decoupling of this price action, possibly indicating potential outperformance by crypto assets. A rebound in stocks could herald a stronger up wave in cryptocurrencies.