Key points:
The USDCAD currency pair rallied higher as the loonie remained weak.
Expectations of Fed hikes drove the Canadian dollar's weakness.
The positive Canadian GDP growth data was largely overlooked.
The USDCAD currency pair was trading up over 1% as the Canadian dollar remained weak against its US peer despite the release of upbeat Canadian GDP growth data. According to Statistics Canada, the country's GDP expanded by 0.1% in July, adding to the 0.1% increase recorded in June.

However, the US dollar remained stronger than its Canadian peer after the release of the US jobless claims data showing that the number of new claims fell to 193,000, beating analysts' estimates of 215,000 and the previous figure of 209,000.
Also read: Is Forex Trading Profitable?
The Canadian dollar's weakness was initially driven by falling crude oil prices, given that the country is a net oil exporter. Falling crude oil prices usually lead to a weaker loonie, which is why the currency could not rally against the US dollar despite the upbeat GDP growth data.
Furthermore, the erosion of the risk-on sentiment that largely dominated markets yesterday also contributed to the loonie's overall weakness. The US dollar's strength was also linked to the risk-off sentiment, given its safe-haven status.
Today's Canadian GDP data was significant given that the Bank of Canada relies on GDP growth data when making its interest rate decisions. The upbeat GDP growth data could give the BoC room to raise interest rates further if needed to fight record-high inflation.
The loonie's rally was dampened by Statistics Canada's comment that GDP growth in August remained unchanged, which tempered investors' expectations, given that the country's GDP had expanded for two months in a row while many other countries are witnessing GP contraction.
The positive US jobless claims data also contributed to the pair's rally, showing that the unemployment rate is not rising, which could allow the Fed to continue hiking interest rates aggressively.
Today's rally in the USDCAD currency pair could be attributed to investor expectations of the Fed hiking interest rates more aggressively than the BoC.
*This is not investment advice.
USDCAD price chart.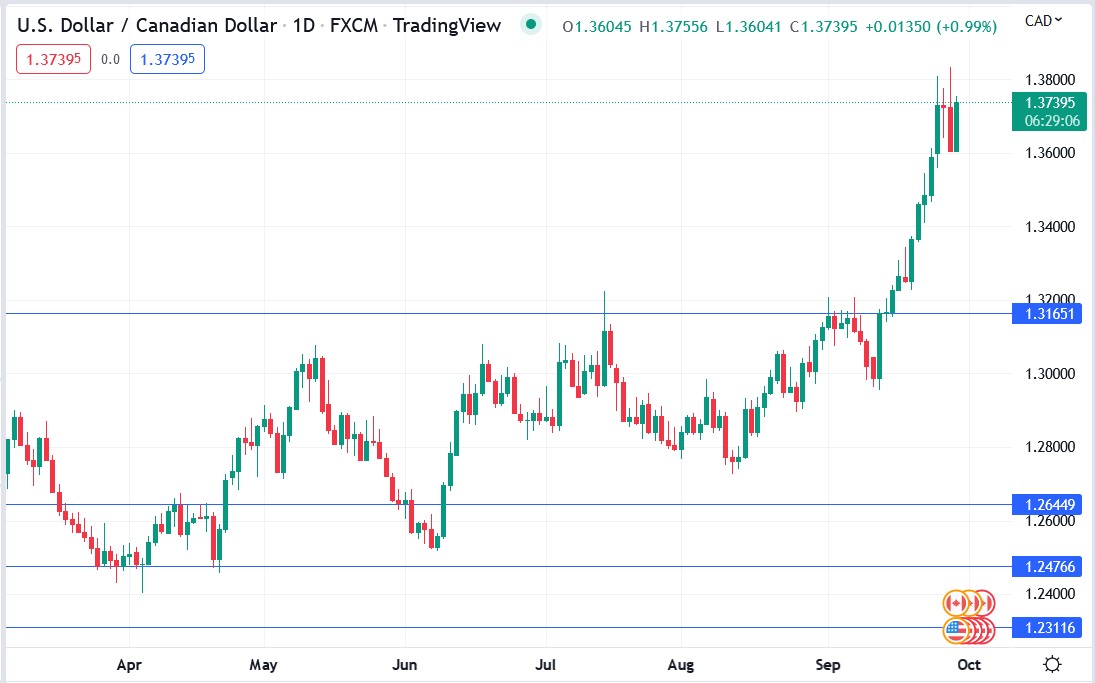 The USDCAD currency pair was trading up 142.5 pips (1.05%) as the US dollar remained stronger than its Canadian peer.