Key points:
Jet2 shares have risen 18.2% this year amid pent-up travel demand.
The stock just hit a resistance level, but can it break above the level?
A break above the critical level could lead to further gains in future.
The Jet2 PLC (LON: JET2) share price has risen 18.2% since the year started despite all the challenges facing the airline industry amid surging Omicron variant cases globally.

The airline that organises package tours and flights for tourists has seen demand for its shares surge as investors look forward to a rebound in airline travel in the summer months.
Jet2 shares just broke above a crucial resistance level before falling back below it after sellers stepped in, but the overall sentiment among investors and analysts is still largely bullish.
However, as contrarian investors, we must ask ourselves, are investors getting ahead of themselves in bidding up travel stocks?
The bulls' facts touted include the high vaccination rates in most developed countries, including the UK, Jet2's home market and many European countries.
Another bullish factor is the pent-up demand for vacations. Unfortunately, many holidaymakers have never travelled in the past two years since the coronavirus pandemic in March 2020, leading to massive lockdown restrictions.
We cannot ignore the above factors, given what we have seen in the past. When people started travelling immediately, most governments relaxed some of the restrictions associated with the coronavirus pandemic.
Many of us remember the partying scenes from Florida that made headlines during President Donald Trump's tenure when the state refused to impose restrictions on tourists and holidaymakers.
However, at the time, many sensible people decided to stay away from the sunny beaches and popular travel destinations because of the significant threat posed by the coronavirus pandemic.
Fast forward to today, and most people are vaccinated and accept that the coronavirus pandemic will be a part of their daily lives for the foreseeable future. As a result, there is little holding people back from vacationing and travel except for government restrictions.
Therefore, we can expect a surge in airline travel and holiday bookings during the summer months due to the pent-up demand and the relaxed attitude from many people regarding the threat posed by the coronavirus pandemic.
It is never fun to be the person warning people that buying airline stocks might be a classic case of buying the rumour and selling the news since the more such shares rally, the more likely we are to get a significant pullback in future.
*This is not investment advice. Always do your due diligence before making investment decisions.
Jet2 share price.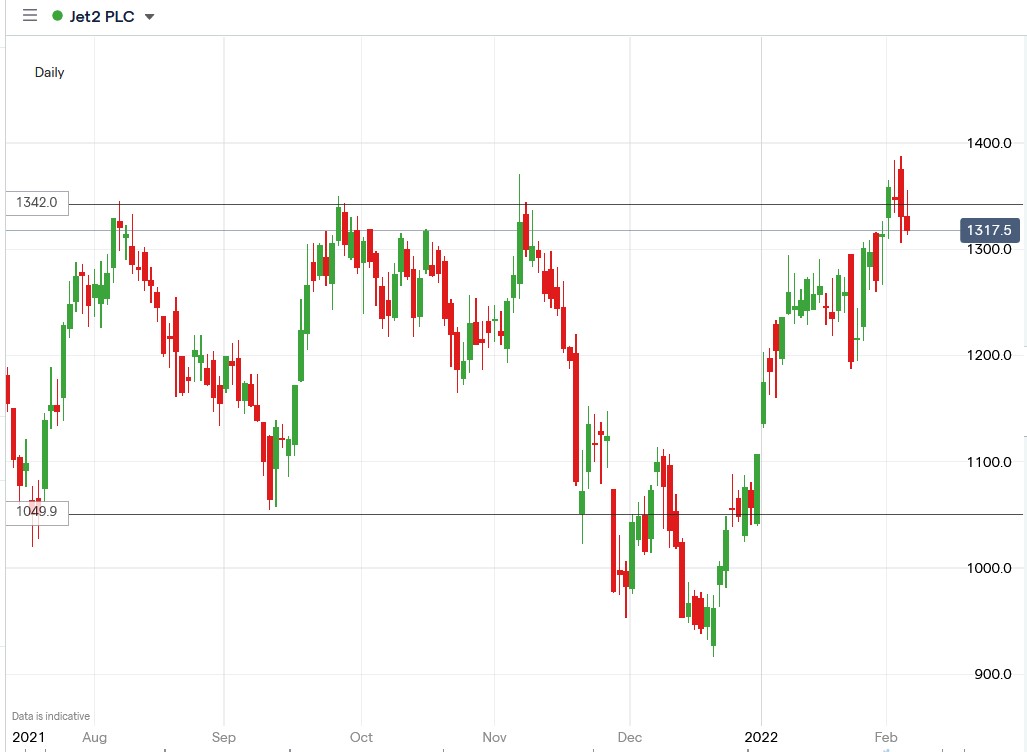 Jet2 shares have risen 18.25% despite the airline industry's multiple challenges. What's next?