Key points:
Alien Metals share price rallied 12% after releasing positive sample results.
The sample results indicated the presence of high-grade iron near the surface.
Investors cheered the move, as seen in the company's share price rally.
The Alien Metals Ltd (LON: UFO) share price rallied 12% after revealing that it has uncovered more high-grade iron ore at its Hancock mine from the latest samples collected from a surface pit on the mine.

One of the highlights of today's announcement was that the high-grade iron ore deposits start just 1 metre below the surface, making it easy and very cost-effective for the company to extract and process the iron ore.
The company took a bulk sample from Ridge C resource of the mine weighing 2,378kg, which had significant iron ore deposits, with test results indicating that the sample contained up to 62.2% of iron ore.
Alien Metals took the bulk sample from a pit 7m long, 1.5m wide and with a maximum depth of 2.5m dug on the side of the drill platform that hosted the diamond drill rig.
The company confirmed it would use the latest sample results, the diamond drilling results and reverse circulation (RC) drilling results to create an updated resource estimate.
The miner later filled in the sample pit and rehabilitated it according to the recommended environmental best practices.
Alien metals took nine samples from the sample pit to create the bulk sample resulting in an accurate representation of the deposit.
Investors cheered the results, as evidenced by the Alien Metals share price rally, but the stock did run into resistance at the 0.924p level, as shown on the daily chart below. I will be watching to see if the UFO shares can break above the crucial resistance level.
Bill Brodie Good, Alien Metals CEO & Technical Director, commented: "We have continued to fast track this excellent project and, in conjunction with the recent third phase of the drilling programme, we took the opportunity to excavate a significant bulk sample to advance the mine development side of the workstreams. The high-grade nature of these results demonstrate the quality of the project and continue to give us great confidence in the planning and development process we are progressing. The team has delivered again in difficult conditions, and we have now made a significant next step in the development of the project. I look forward to updating the market on more news as we get it."
Alien Metals shares have risen 28.37% this year, bucking the massive downtrend that engulfed the stock markets since the year began. However, the shares will likely rally higher later this year, and I would buy on any significant dips.
*This is not investment advice. Always do your due diligence before making investment decisions.
Alien Metals share price.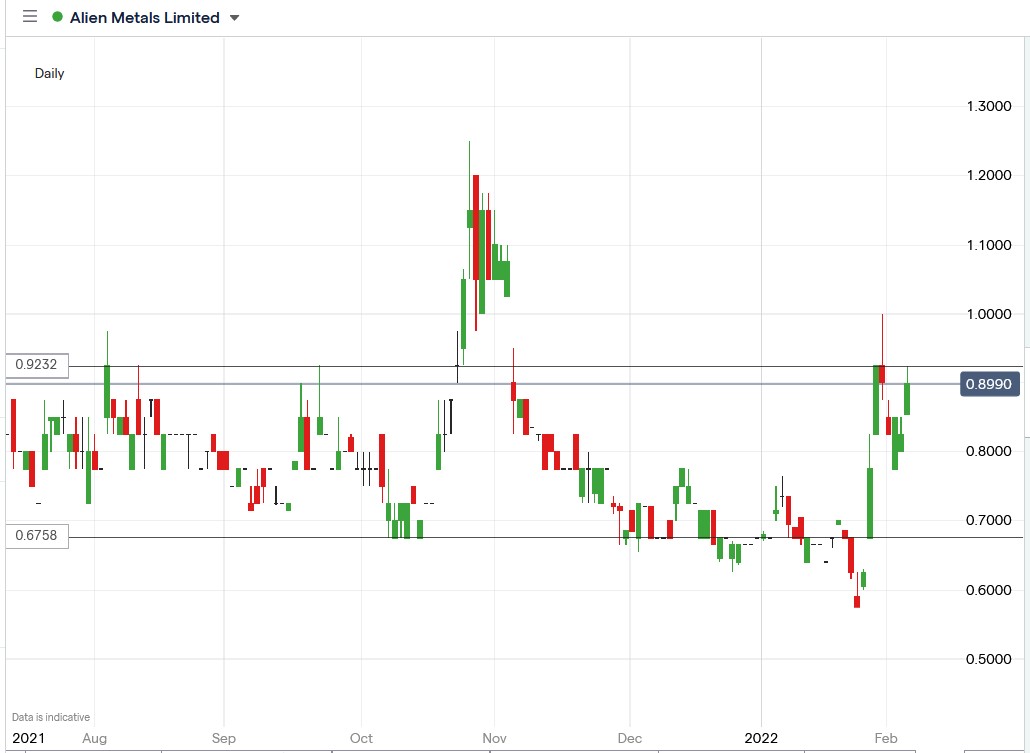 Alien Metals share price rallied 12% to trade at 0.924p, rising from Thursday's closing price of 0.825p.