Key points:
ZIM dropped 15% on reports the shipping boom is over
Shipping is a hugely cyclical market
That means turning points can be very sharp
ZIM Integrated Shipping (NYSE: ZIM) stock fell near 15% yesterday on reports that the shipping cycle was turning. This being the most important thing to know about shipping stocks, it's a hugely cyclical market. There are times to be bullish and times to be bearish, the big trick is to know when the cycle is turning.

Shipping is also not just the one market, there are several within that overall name. Container shipping is different from dry cargos, which is different from oil and so on. We need to differentiate between those sectors.
So, as the world recovers from the pandemic lockdown we know that global shipping is in chaos. Except that it's not really – container shipping is, dry and oil aren't so much. We also know that changes in the reports of Russian oil are going to rile the tanker market for a bit, think that problems at Ukraine ports will move the dry market.
But what we really need to know is that supply is rather elastic. Sure, it takes a few years to get a new vessel on the water. But the decision to not scrap one takes only a moment and immediately increases supply. So, what we have is a market where demand can change rapidly – as it has done – and supply more slowly but is still adaptable. This leads to wild swings in prices. But the prices do not all move in conjunction.
Here's the Freightos container index: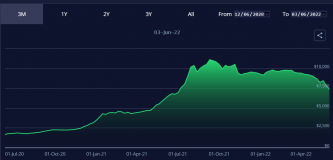 And here's the Baltic Dry (grains, ores, etc):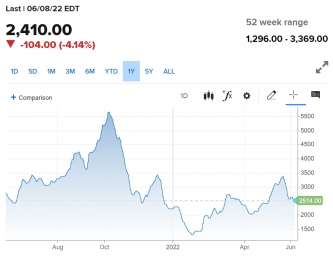 As we can see those aren't moving in lockstep. We need therefore to be careful about thinking about "the shipping market" and the component parts of it. Maersk (NASDAQ: MAERSKA) might continue to do very well out of containers for a while, while the grain shippers not so much for example.
However, the thing we've really got to think about is the cyclical nature of the markets in shipping. Prices do soar at times, yes. Ship value go way up, so they don't get scrapped. The global fleet thus expands by whatever amount doesn't get scrapped. That means that supply can and will expand by up to 10% a year – which means that prices can collapse. Only when they do do those old ships then get scrapped and the cycle starts all over again. The thing we're looking for, therefore, is when is the top of the market?
As we've seen from Performance Shipping actual ship owners are unloading their equity in ships. That's an indication that some at least are calling that top of the market.
It could well be that the shipping sector is now one to be out of. For once supply rises then prices – given that both supply and demand are relatively inealsatic here – change hugely. It's only a few years back that oil tankers (again, another part of the market) were on lease for less than their daily running costs. Way too soon to predict a return of those conditions but the peak of the market might well have passed.