Key points:
The Lucid stock price traded sideways despite analysts' bullish sentiments.
Investors seem to be avoiding EV stocks at the moment for various reasons.
Many EV stocks, including Tesla, have been falling lately.
The Lucid Group Inc (NASDAQ: LCID) stock price traded sideways despite the bullish sentiment from analysts regarding its prospects. The EV manufacturer yesterday reported that it produced 2,282 vehicles in Q3, which was more than triple the vehicles produced in Q2.

The company is now firmly on track to meet its 2022 full-year production target of 6,000-7000 vehicles. However, yesterday's 3.48% rally and today's sideways premarket trading do not reflect the optimism shares by analysts regarding the company.
Also read: The Best Electric Car Stocks To Buy.
Moreover, the trend is not unique to Lucid Motors; industry leader Tesla's stock price kept falling on Monday despite the company reporting record deliveries in China on the same day. Tesla delivered 83,135 China-made electric vehicles (EVs) in September, breaking its previous record, yet the good news was not reflected in its stock price.
Investors sentiment towards EV stock seems to be at an all-time low, as evidenced by the lacklustre performance of such stocks in the recent past despite releasing positive production numbers.
Lucid shares were falling at writing, and investors could be in for further losses since the stock broke below a crucial long-term support level last week and is still trading below it. I wouldn't buy LCID shares until they reverse course and break back above the former support level, which has now turned into resistance.
The underlying fact could drive the recent hesitance by investors to buy EV stocks. Many believe that the impressive EV sales are only driven by government subsidies in most countries led by the US and China. Many are also questioning whether EV companies are overvalued, given their lower production number compared to traditional car companies.
Overall, the current outlook for the EV sector is not promising, but the situation could change in the future. Meanwhile, Elon Musk just launched a new perfume for men known as Burnt Hair, described as "the essence of repugnant desire". The product is likely to be a hit among his loyal followers.
*This is not investment advice.
Lucid Group stock price.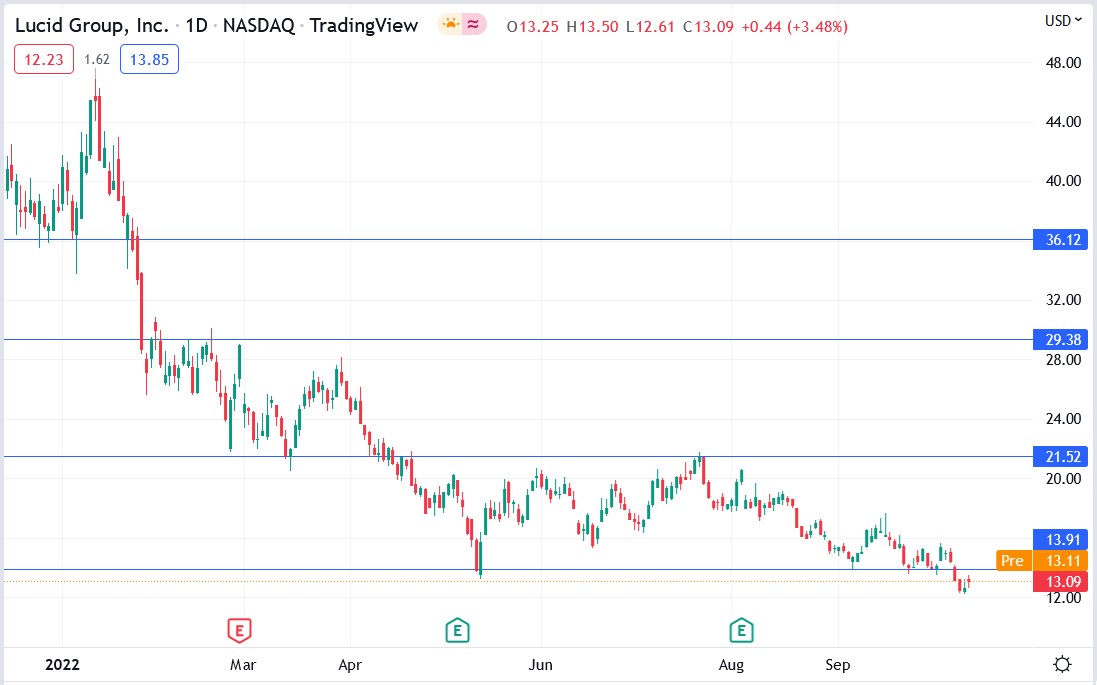 The Lucid Group stock price was trading up 0.15%, slightly above Wednesday's closing price at writing.