Key points:
Dogechain is a new crypto that should not be confused with Dogecoin.
The new blockchain claims to be a layer 2 network targeted at developers.
However, the token's price has skyrocketed after listing on Kucoin.
There's a new crypto in town known as Dogechain, which many influencers in the Dogecoin community have distanced themselves from. Nevertheless, the new blockchain launched last week has garnered media and investor attention after news emerged that it had offered Dogecoin creator Billy Markus $14 million to promote it.

News that the crypto influencer who was one of the brains behind Dogecoin declined the offer was seen as a signal of his loyalty to the 'DOGE' community, despite having left the project soon after its creation in 2015 and does not own any of the coins.
Also read: All You Need To Know About Crypto Staking.
Well, if only he kept his coins, instead of buying a Honda Civic, he would have made a lot of money from the coin after it became a meme coin and garnered a cult following known as the DOGE community.
Many people in the Dogecoin community have dissociated themselves from Dogecoin, saying that it is another upstart looking to benefit from the massive popularity of the meme coin, whose name it resembles.
A leading crypto investigator revealed that a wallet with ties to the project's developers received over 20 billion Dogechain tokens and started unloading them onto unsuspecting buyers shortly after the new blockchain was launched.
Crypto investors should be extra vigilant following the recent collapse of projects such as Terra Luna,w which had good intentions and was extremely popular among investors before their spectacular crashes.
A significant number of scam crypto projects are also promoted as the next big thing, only for their creators to fleece investors and disappear from the public. Unfortunately, the crypto industry is also full of serial fraudsters who have discovered that there is little governments are doing to stop them.
While it is too early to tell whether Dogechain is a scam or a legitimate project, a significant red flag is that the project developers choose to mimic Dogecoin's name without any affiliation with the project.
All of the leading crypto projects have unique names that are meant to uniquely identify them, not to have users confuse the project with an existing one. While this is not a clear indicator of robust projects, it is usually a good start.
Furthermore, what Dogechain offers is not unique since it claims to be a layer-2 network offering Ethereum (ETH)-based developers an opportunity to create deFi apps, NFTs, and other DOGE-based crypto solutions.
*This is not investment advice.
BTCUSD price chart.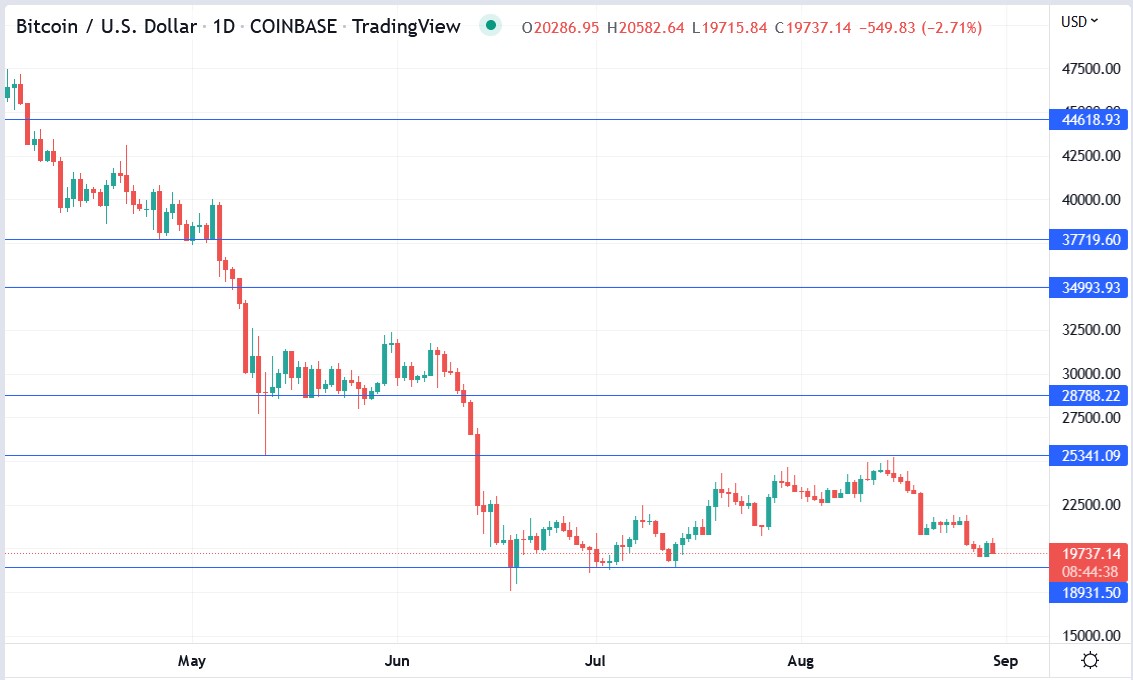 After Powell's hawkish speech, the crypto market capitalisation fell below $1 trillion over the weekend.