Marinus Pharmaceuticals (NASDAQ: MRNS) stock price has made significant gains so far today after the company announced that its Phase 3 trial for ganaxolone achieved its primary endpoint.
The trial conducted was used to evaluate the use of oral ganaxolone in children and young adults with CDKL5 Deficiency Disorder (CDD), which is a rare genetic epilepsy.
Marinus stated that the patients in the trial showed a significant reduction in 28-day major motor seizure frequency.
The company now plans to submit an NDA for ganaxolone for the treatment of CDD to the US Food and Drug Administration (FDA).
"We believe we are one step closer to providing the first treatment indicated for CDD and plan to continue our investments in the oral ganaxolone franchise," said Scott Braunstein, MD, Chief Executive Officer of Marinus Pharmaceuticals.
Marinus said it plans to explore commercialisation opportunities for ganaxolone in CDD.
The company also announced yesterday that it has entered into a five-year development contract with the Biomedical Advanced Research and Development Authority (BARDA) to support the development of ganaxolone for the treatment of Refractory Status Epilepticus (RSE) caused by nerve agent exposure.
BARDA will invest $21 million to fund the Phase 3 trial for ganaxolone in RSE, with up to $30 million in additional funding if the trial results in a positive outcome.
"On a successful development, BARDA and Marinus may negotiate a procurement agreement for a supply of ganaxolone for potential response to nerve gas exposure threats," Marinus said in its press release.
Marinus share price…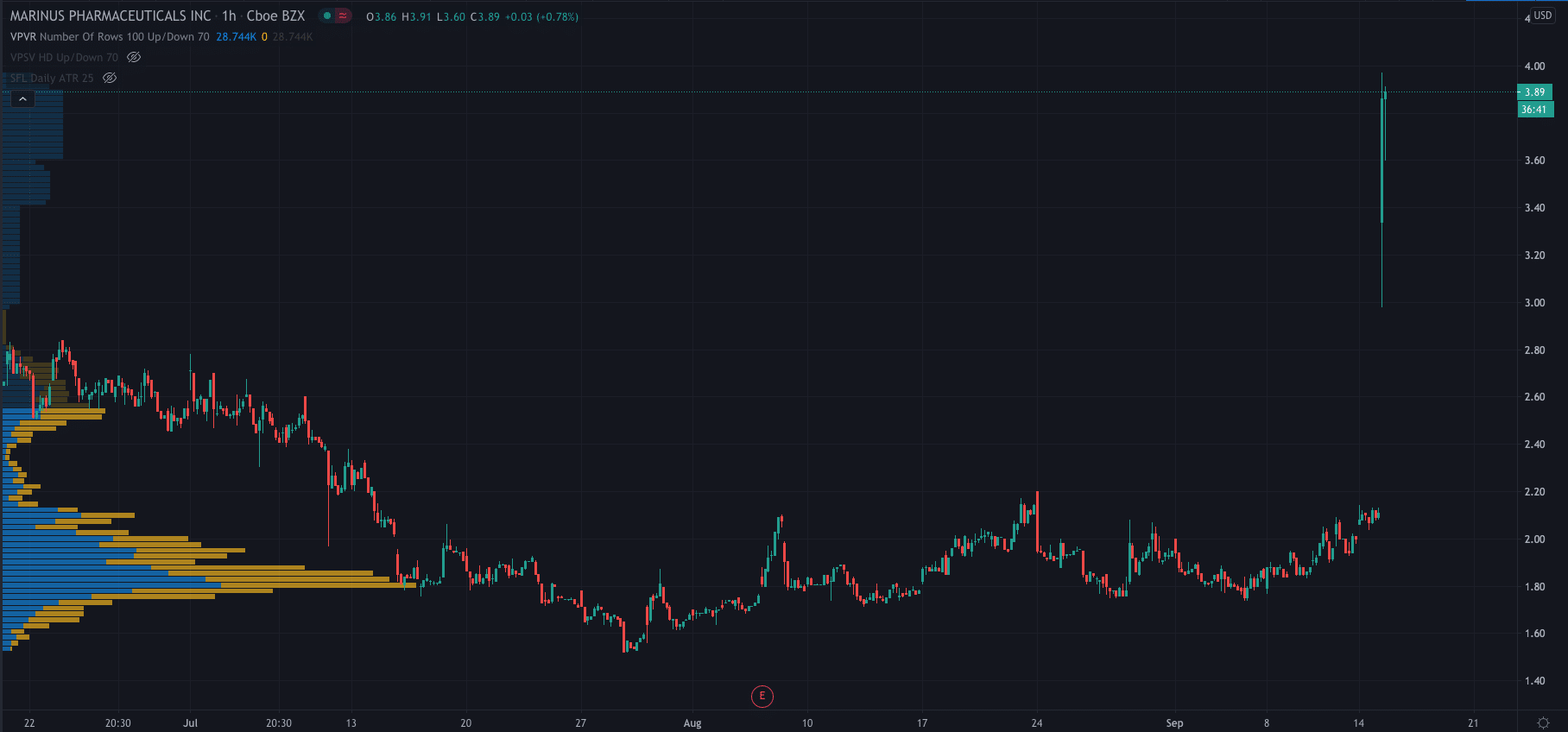 The company's shares have exploded higher after yesterday's announcements and are currently trading at $3.89 per share, up over 83%. The high of the day so far is $3.97.
PEOPLE WHO READ THIS ALSO VIEWED: