Shares of British pub chain Marston's PLC (LON: MARS) are up 29% this year and have formed a bullish ascending triangle on the daily chart indicating a possible bullish breakout in future.

The pub operators shares have edged higher this year but have been unable to break above the 105p level, which has acted as a massive resistance level since early February.
Several attempts by bullish traders to break above the level have failed as the bears have stepped in each time and pushed the shares lower.
The bulls have been building momentum on each pullback and appear ready to take over, as evidenced by the ascending triangle pattern on the daily chart below.
The fundamental picture also looks promising based on its plans to reopen 700 of its managed and franchised outlets with beer gardens in England following the government's reopening plans.
Marston's was forced to close all its pubs when the third national lockdown in England was announced and has lost £3 – £4 million each week since then.
The company recently announced that its owners and creditors had given it some leeway, with bondholders showing their support in a string way, which relieves the financial pressure on the firm.
The impending departure of Marston's CEO, Ralph Findlay, who has led the company for the past 20 years, creates some uncertainty about the pub chain's future.
Still, given the firm's strong performance recently, it is unlikely that a new CEO will make drastic changes to its operations and long-term plans once appointed.
Marston's future looks bright, and traders interested in opening new positions should wait for a convincing break above the resistance level before jumping in.*
*This is not investment advice.
Marston's share price.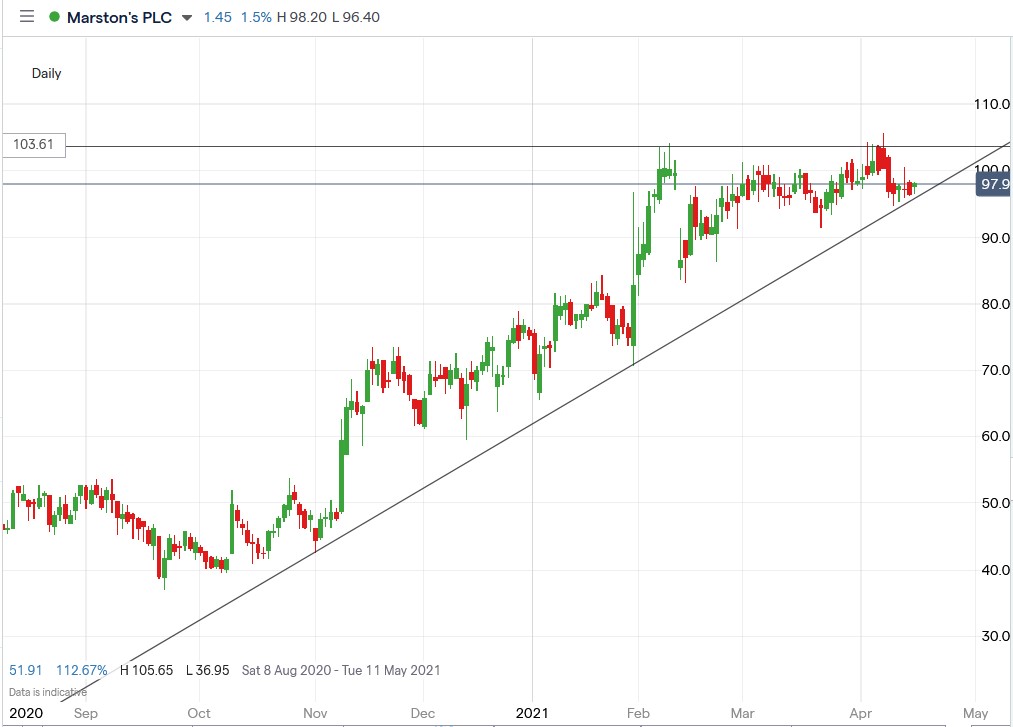 Marston's shares are up over 29% this year and have formed a bullish ascending triangle pattern. Can they break out?