It's a high risk-return strategy, but one that has many fans. No one would suggest you allocate all of your capital to small growth stocks, but it is possible to manage your investment in ways that tilt the odds in your favour. We'll look at insider tips and tricks on how to stock pick, construct your portfolio and select the right broker with small UK investments. Then we'll break down the steps you need to follow to take a position in some of the small stocks that are right now generating a lot of interest in the investment community.
Know Your Risk Tolerance
Investing in small stocks can be a brutal experience. Not only can you make substantial losses, but the double-whammy is that stocks you back might momentarily promise mega-gains – to then only fizzle out.
The easiest risk-management advice to digest is to only invest an amount of money you can afford to lose.
This not only ensures you'll be able to keep the lights on at home but ironically can also increase the chances of your portfolio ultimately being successful. Emotion is the enemy of successful trading and small stocks are fully caffeinated. If you have too much at stake, that increases the risk. In the heat of the moment, you could make a trading decision you might come to regret. Investing in small stocks is going to be a bumpy ride, so factor that in, trim your risk and stick to your strategy.
Best Small Investments in the UK
1. Surface Transforms Plc – The best overall small investment in the UK
Recent share price activity in Surface Transforms bears all the hallmarks of a stock suddenly being identified as being undervalued. The firm is the only UK based manufacturer of next-generation carbon-ceramic brake discs for the automotive and aircraft industries. The back story is that the firm's patented CCST product weaves carbon fibres into a matrix, which makes them technologically superior to rivals that use 'chopped' fibres.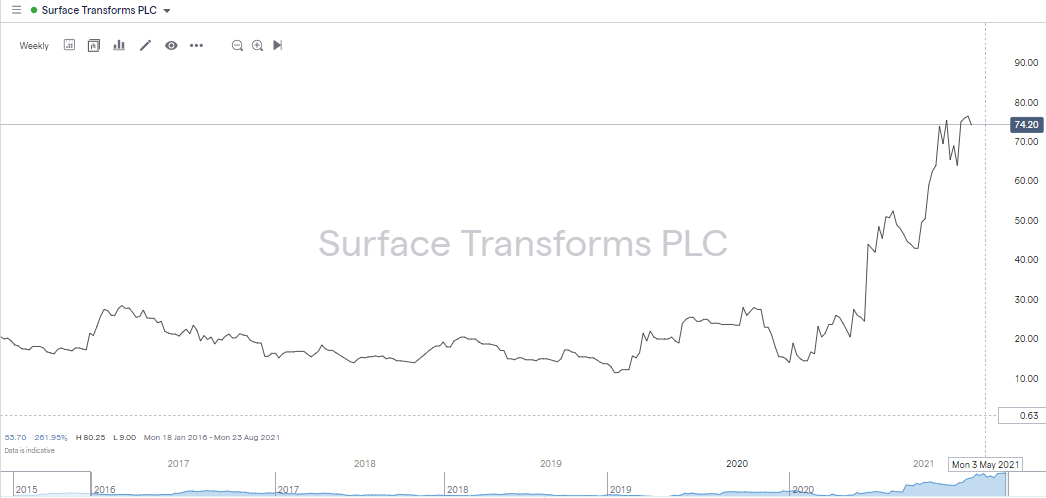 The automotive industry is predicted to see a lot of 'churn' as customers upgrade from carbon-based to electric vehicles. Airlines are always looking to make their planes more efficient and CCST brakes can be 70% lighter. While the aviation industry was hit hard by the COVID-19 pandemic, a lot of the bad news is already priced in and even grounded planes need regular servicing.
2. EKF Diagnostics – The best medical sector small stock investment
The COVID-19 pandemic has brought medical and healthcare stocks back into the spotlight. While vaccine makers have grabbed the headlines, firms that play supporting roles also look set to benefit from governments and consumers being prepared to attribute more of their spending to products that might improve or save their lives.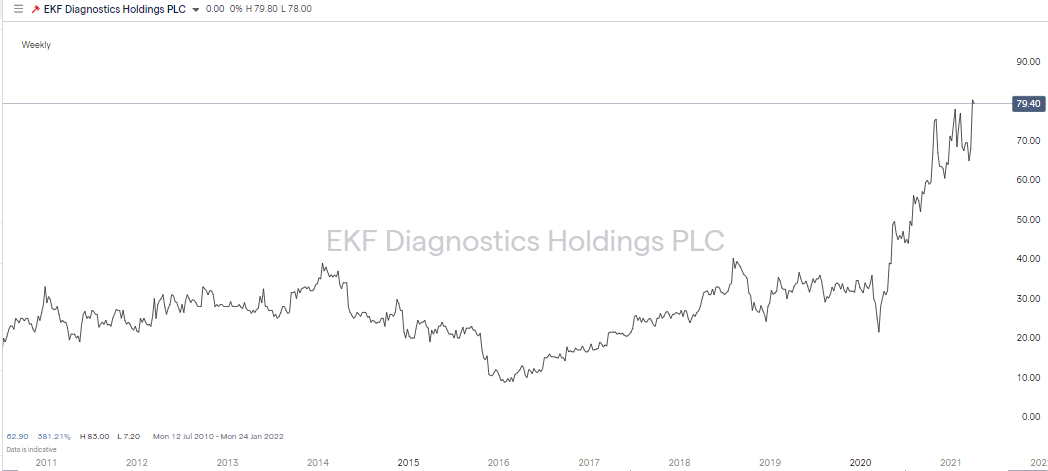 EKF Diagnostics played a small part in managing the COVID-19 crisis and it manufactured and distributed a wide range of medical products. It's flying under the radar to some extent as its primary revenue sources are point of care and laboratory devices, which it exports to more than 100 countries. EKF is a prime example of a small company that embraces its size and uses it to its advantage. The agile business model saw profits increase by 180% between 2019 and 2020.
3. Bidstack Plc – The best tech sector small stock investment
The tech sector is a popular hunting ground for investors looking for the next big thing. Back in 2019, many thought they'd found one such stock when the Bidstack share price surged from 4.2p to 42.0p in six months. Since then, the share price has plummeted back to around 5.8p but it has at least demonstrated the extent to which it can flex its muscles.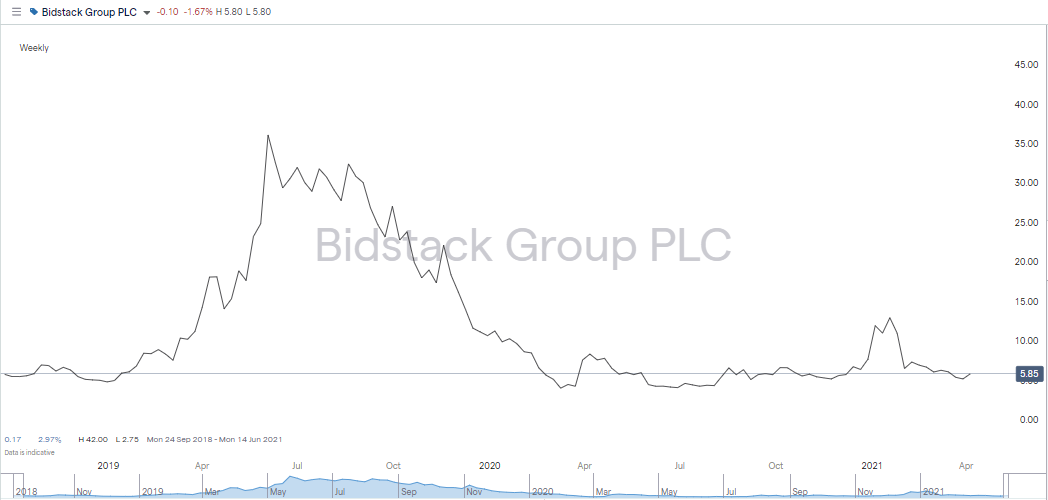 Bidstack specialises in placing adverts into online games in a way that the user experience is not impacted. It's a competitive space and small players do run the risk of being squeezed out by tech giants with deep pockets. That being said, if advertising spend picks up, as it tends to do after economic slumps, then Bidstack looks likely to prosper or even potentially be bought up.
4. Alien Metals Limited – The best high-risk small stock investment in the UK
Mining precious metals is a hit and miss affair and the Alien Metals multi-year price chart shows the firm has, unfortunately, had a string of the latter. The miner might be about to turn a corner. It is being run by a new management team that managed to successfully tap-up investors for further funding in Q4 of 2020.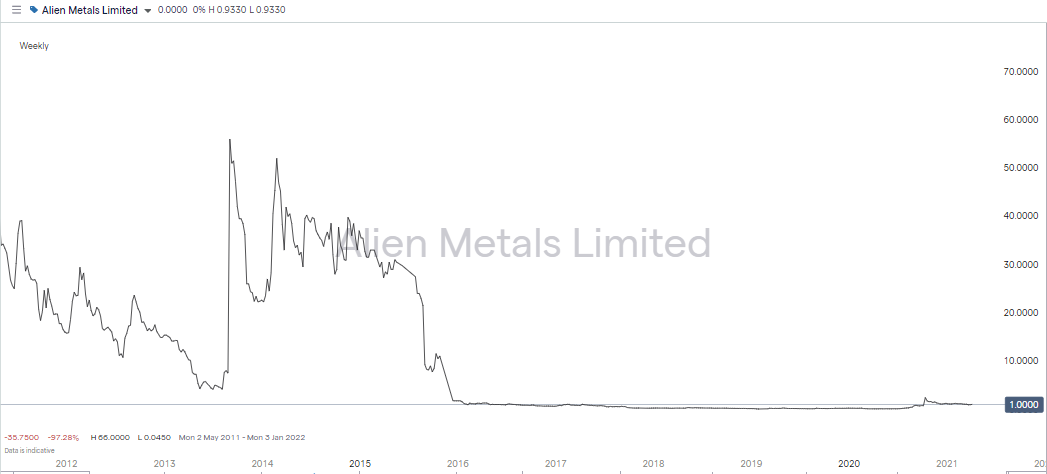 Cash investment was forthcoming because Alien Metals has been progressing its long list of early-stage mining ventures towards the stage where they start extracting metals out of the ground. The firm's timing could be spot on, with a potential commodities super-cycle on the horizon.
The Advantages of Small investments
Small investments are all about potential returns and a higher risk-return ratio.
Mispricing – The lack of coverage of small-cap stocks creates more opportunities for mispricing due to information not being so widely shared.
To the moon – There are countless real-world examples of small firms getting things right and their share price sky-rocketing.
The Disadvantages of Small investments
Backing your small investment ideas with hard cash is very much a 'buyer beware' proposition. There are some inherent risks associated with even the best small investments.
Coverage – The lack of coverage, which can lead to mispricing, is a double-edged sword. You might find yourself struggling to find information on a small investment you hold.
Liquidity – Trading volumes can be lower than in larger firms. This can lead to wider spreads, and if liquidity completely dries up, you might find it hard to get out of a position.
Sector concentration – Some sectors, such as mining and tech, are full of candidates for small investments. If you diversify your portfolio and, for example, hold six small mining stocks, you have limited single stock risk, but you are still exposed to the fortunes of the wider commodity market.
Corporate governance – Some of the 'mispricing' can be down to factors that aren't disclosed on the balance sheet. If you're using fundamental analysis to pick stocks, be sure to consider the dynamics of the management team, as these can greatly influence share price.
Catalysts – The market is full of investors who analysed a small stock and found it to be undervalued but never reaped the expected financial rewards. You may well find yourself having to be patient for an event to take place that leads to greater interest and more buying pressure.
How to Securely Invest Money Online
Market risk, the possibility that price might move in the wrong direction, is an unavoidable part of investing. There are other risks that need to be considered and managed. A lot of this involves applying a degree of common sense when working through the steps involved with opening an online investment account.
1. Find a Safe Broker
There are a few factors to consider when choosing your broker. The first is account security.
Make sure your chosen broker is regulated by a tier-1 authority such as one of the below:
The Financial Conduct Authority (FCA)
The Australian Securities and Investments Commission (ASIC)
The US Securities and Exchange Commission (SEC)
Cyprus Securities and Exchange Commission (CySEC)
2. Find a Broker That Supports Small Investing
Different brokers focus on different markets. Some specialise in providing no-frills access to the major forex markets. But if you're looking to make small investments that make money, you're going to need a broker that operates in those markets.
3. Research Small Investment Opportunities in the UK
If your broker provides access to the small UK stocks, it's also likely to have research, analysis and news content on some of the best investment ideas for small investors. It's possible to set up news and price alerts so that you can let your broker do a lot of the monitoring work for you.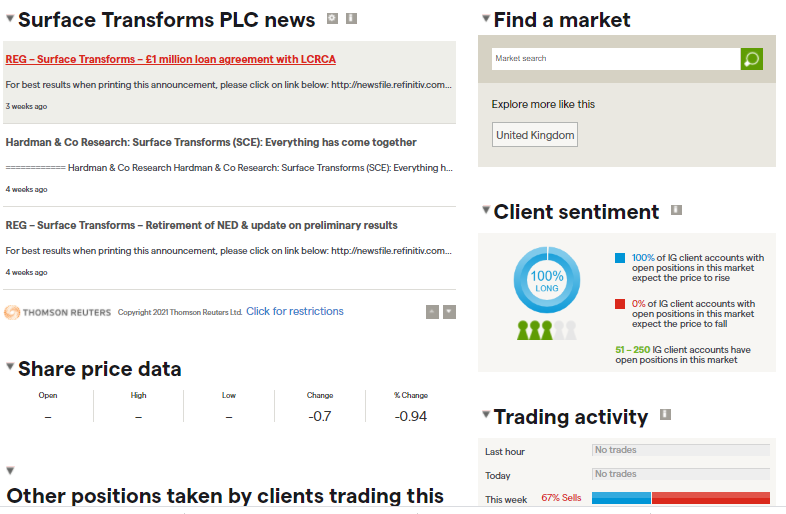 Source: IG
4. Open and Fund an Account
Signing up with an online broker and making small investments in the UK is a particularly user-friendly experience. The platforms have been designed with beginners in mind and the whole process can be done online and in a matter of minutes.
If you make the wise choice of using an FCA-regulated broker, then you'll be set up with an online account very similar to any other online bank account. You'll be the only person who has access to the account and brokers offer a variety of payment methods, with credit card, debit card and wire transfer being the most popular.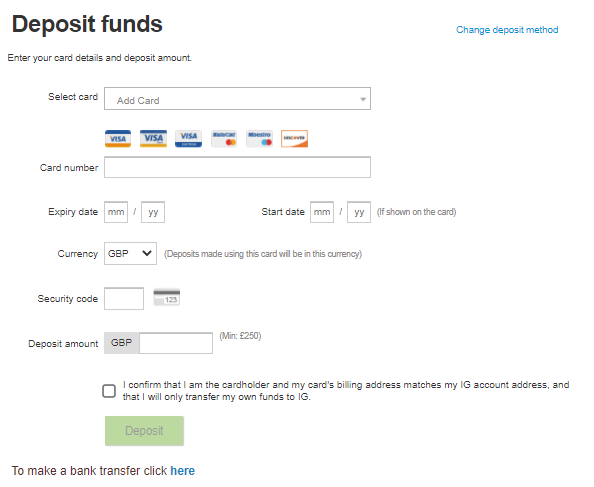 Source: IG
5. Select and Buy Small UK stocks
Once your account is set up and funded, you're ready to go. Buying stocks is as simple as locating the market on your broker's trading platform and using the search function. Depending on whether you're using a desktop or mobile device, buying small investments is as easy as clicking a button or tapping a screen. You'll need to enter the amount you want to buy. Depending on your strategy, you might want to consider using stop-loss or take profit orders, which are designed to let the system automatically trade out of positions to help you manage your risk.
6. Final Checks After Trading
As your investment in small UK stocks might be a long-term strategy, it's important to run a few final checks soon after trading. Even pro traders make 'fat-finger' errors and ensuring you actually bought what you wanted to buy is a golden investment rule and best done before market prices move too far.
Access the portfolio section of your account and check the basic data fields such as trade size, direction (buy or sell, and instrument name. This is also where you'll be able to see live prices update you on the profit or loss of each position.
Check you bought outright and not the CFD version of your target small UK stock. Most brokers offer both types of trading. While CFDs have certain advantages, which are craved by short term investors, if you're holding your position for more than a few weeks buying outright tends to be more cost-effective. A more detailed analysis of the pros and cons of both approaches can be found here.
Final Thoughts
Online brokerage accounts are one of the best ways to invest small amounts of money in UK stocks. Some have minimum opening balance requirements that are lower than £100. Though realistically speaking, having a larger balance can help you diversify risk by spreading your investment across different names.
It's a high-risk strategy, which means it is slightly ironic that taking the 'boring' decisions of choosing a trusted broker and investing in small size, can actually increase your chances of success.