Shares of UK pub chain Marston's PLC (LON: MARS) are up 12.9% this year and appear to have reversed the slow downtrend that ensued in April after hitting the 105p level.
The company's shares formed a broad sideways trending market after topping out at the 100p level in February and later in April as sellers stepped in amid the uncertainty occasioned by the coronavirus pandemic.
Martson's share price has rallied higher after the recent relaxation of most of the coronavirus-related restrictions in the UK, which saw nightclubs reopen for business without any restrictions.

Most people have embraced the relaxed rules and are going out to pubs in large numbers providing a significant tailwind for Marston's business given its network of over 1,500 pubs in Britain and Scotland.
Investors also cheered the recent appointment of Hayleigh Lupino as Marston's new Chief Financial Officer (CFO) effective October 3. Hayleigh has been with the company for 18 years and has an in-depth understanding of its business operations.
Hayleigh will take over from the current CFO, Andrew Andre, who will take over the Chief Executive Officer (CFO) role once the current CEO Ralph Findlay on October 2, which also marks the end of its financial year.
Investors seem to approve of the executive changes at Marstons, which represent a continuation of the company's current operations, given that the two have been with the pub operator for decades.
Meanwhile, Marstons shares are expected to keep performing well in the coming months if the UK does not reintroduce the recently-lifted coronavirus-related restrictions.
Aggressive traders may find the current prices attractive as they target the 100p resistance level with a stop-loss order below the 77p support level. However, nothing is guaranteed in the market.
*This is not investment advice.
Marston's share price.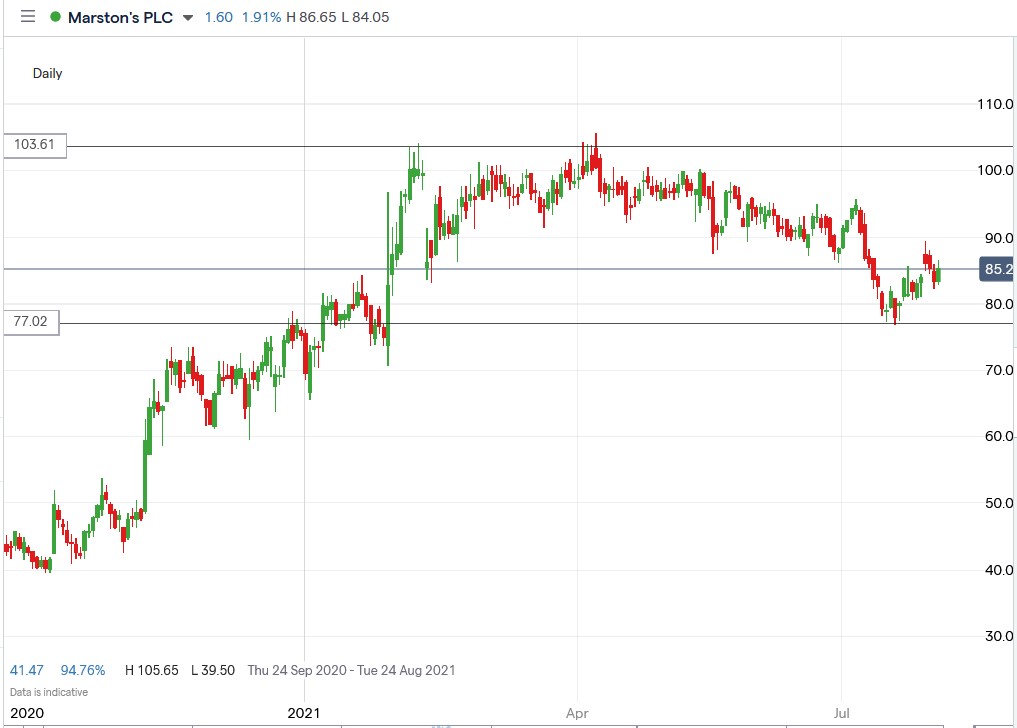 Marston's shares are up 12.9% in 2021 and seem to be headed higher. Are they a buy?
Should You Invest in Marston's Shares?
One of the most frequently asked questions we receive is, "what stocks are best to buy right now?" It's a wide-ranging question, but one that we have answered… Our AskTraders stock analysts regularly review the market and compile a list of which companies you should be adding to your portfolio, including short and longer-term positions. Here are the best stocks to buy right now