Shares of John Menzies plc (LON: MNZS) just broke above a resistance level that has been in place since March 2020, and many are wondering just how far the shares can go.
The aviation and logistics company recently released its full-year financial results for 2020, where its revenues fell 37%, driven by the travel restrictions necessitated by the coronavirus pandemic lockdowns.
The company booked a one-time restructuring fee of £70.2 million, while its revenues fell to £824.4 million compared to the £1.325 billion recorded in 2019. The company sunk into a pre-tax loss of £120.5 million loss compared to the £39.6 million profit it booked in 2019.
The aviation company's cargo business remained resilient throughout the year, with its cargo forwarding business leading in performance as the ground handling and refuelling business, which recorded a more considerable drop.
Menzies said that two-thirds of the cost-saving measures are permanent. They represent measures such as the closure of its ground operations in several cities and employees' redundancy.
Menzies shares could rally up to the 400-450p zone from a technical perspective, but this will not be a straight journey. The company expects its finances to improve in Q2 and gather momentum in H2 2021, which could support the rally.
The weekly chart below indicates that such a move could unfold over a couple of months, supported by the proper fundamentals.
However, nothing is guaranteed in the markets, and we could see the shares break back below the support level and head lower, invalidating the above thesis.
Menzies share price.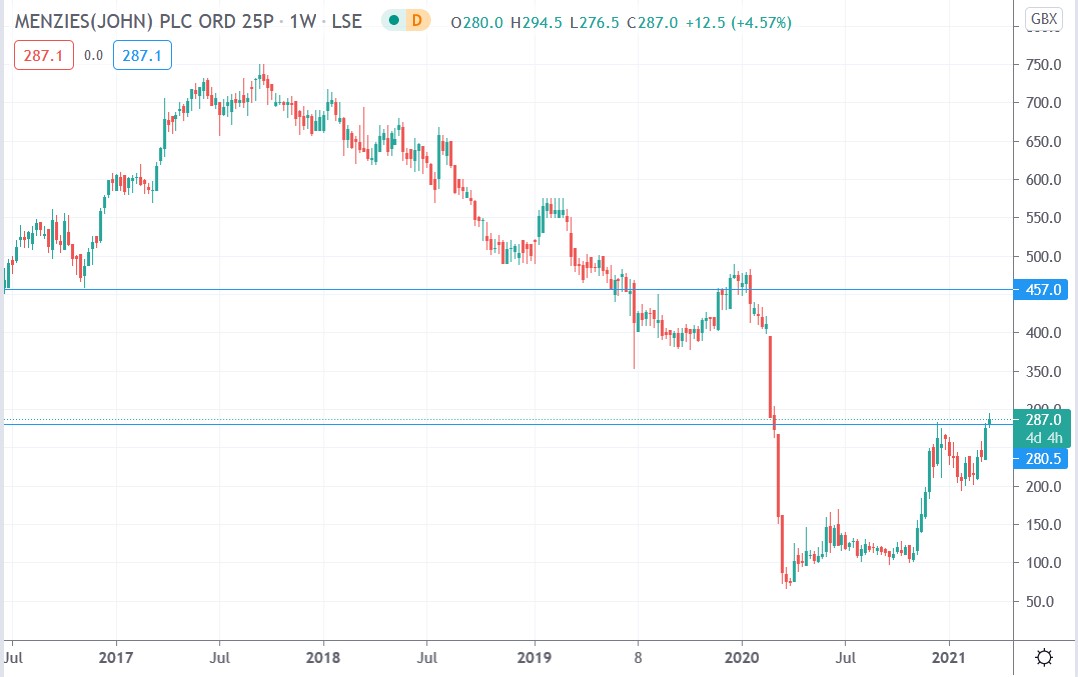 Menzies shares just broke above a resistance level and are up 9.8% this year; how far can they rise?